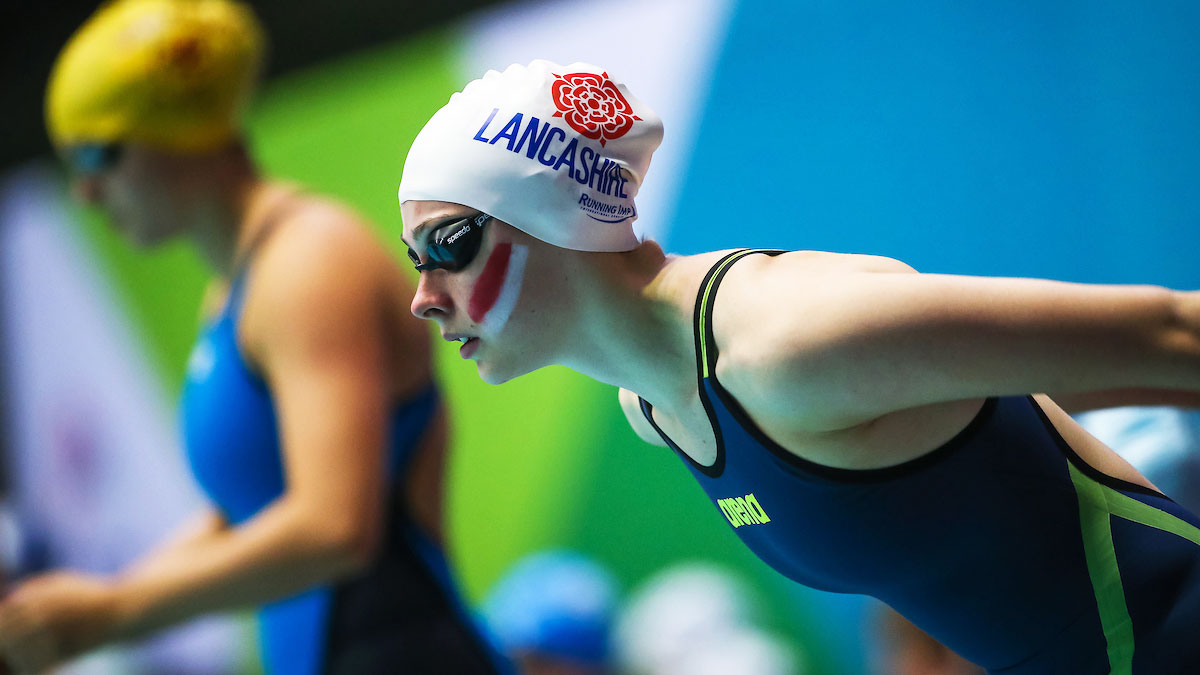 Lancashire
Lancashire are the most successful county in the history of the County Team Champs, having won the title 20 times, including for 14 consecutive years between 2002 and 2015.
Division: One
Last Year: 2nd in Division One (486 points)
Twitter: @SwimLancashire

Honours: Winners 1975, 1976, 1977, 1978, 1979, 1982, 2002, 2003, 2004, 2005, 2006, 2007, 2008, 2009, 2010, 2011, 2012, 2013, 2014, 2015; Runners-up 1974, 1997, 1999, 2016; Third in 1990, 1993, 2000
Lancashire at the County Team Champs
Lancashire are the most dominant team in County Team Championship history, having won the event 20 times in total, including for 14 consecutive years between 2002 and 2015.
Niamh Robinson and Olivia Herron both picked up maximum points for the county 12 months ago as they finished on 486 points – just seven shy of their title-winning tally from 2015.
Robinson touched first in the 16/17 Yrs 100m Fly while Herron was one of the eye-catchers in the youngest age group as she put nearly two seconds on the field as a debutante in the 12/13 Yrs 100m Breast.
Stockport Metro's Herron looks set to defend her crown in the 100m Breast at this year's Champs, as well as taking on the 100m Fly for which she is fourth fastest on paper.
Lancashire boast a typical wealth of talent as they aim to recapture the overall title. Ellesmere College Titans' Pia Murray holds the second fastest 100m Back entry and the fastest entry in the 14/15 Yrs 100m Fly, having finished fourth in the same age group last year.
Murray's Ellesmere teammate Kyo Tanner is also second fastest entry in the 14/15 Yrs 100m Free, having claimed the 15 Yrs 50m Free title at the 2017 British Summer Champs.
City of Manchester's Jack O'Brien has a good track record at the event, winning the 14/15 Yrs 100m Breast in 2015 before second place in the 16/17 Yrs last time out.
Pioneer 79's Ben Martin also returns for his second year in the top age group, holding the third fastest entry time in the blue riband 100m Free after a fourth place finish in 2016.
| Roster 2017 | | | |
| --- | --- | --- | --- |
| 100m Free | | | |
| Name | Club | Age | PB |
| Chiara Tommasello | City of Manchester Aquatics | 14 | 1:03.55 |
| Samuel Ellis | City of Liverpool SC | 14 | 57.89 |
| Holly White | City of Liverpool SC | 15 | 58.41 |
| Kyo Tanner | Ellesmere College Titans SC | 16 | 53.29 |
| Emma Whittingham | Southport SC | 18 | 58.60 |
| Ben Martin | Pioneer 79 Swimming Club | 18 | 51.47 |
| 100m Back | | | |
| Name | Club | Age | PB |
| Gabriel Taylor-Rimmer | Bolton Metro Swimming Squad | 13 | 1:10.36 |
| Chiara Tommasello | City of Manchester Aquatics | 14 | 1:06.29 |
| Gabriel Glynn | Horwich Leisure Centre SC | 15 | 1:02.91 |
| Pia Murray | Ellesmere College Titans SC | 16 | 1:03.12 |
| Emily Peck | Preston SC | 17 | 1:04.89 |
| Matthew George | City of Salford SC | 17 | 59.58 |
| 100m Breast | | | |
| Name | Club | Age | PB |
| Olivia Herron | Stockport Metro SC | 14 | 1:11.84 |
| Jake Reynolds | Horwich Leisure Centre SC | 14 | 1:11.38 |
| Charlotte Hulme | Ramsbottom SC | 16 | 1:15.04 |
| Ben McEvoy | City of Salford SC | 16 | 1:10.39 |
| Emily Lawrence | Preston SC | 17 | 1:12.60 |
| Jack O'Brien | City of Manchester Aquatics | 18 | 1:03.73 |
| 100m Fly | | | |
| Name | Club | Age | PB |
| Olivia Herron | Stockport Metro SC | 14 | 1:05.99 |
| Ellis Cleworth | City of Liverpool SC | 14 | 1:02.61 |
| Ewan Wilson | City of Salford SC | 15 | 1:02.31 |
| Pia Murray | Ellesmere College Titans SC | 16 | 1:01.62 |
| Alisdair Stout | City of Manchester Aquatics | 17 | 56.94 |
| Emily Keays | City of Salford SC | 18 | 1:03.34 |
| Relay | | | |
| Name | Club | Age | |
| Nathan Holmes | Preston SC | 13 | |
| Kirsten Dronsfield | City of Manchester Aquatics | 14 | |
| Meadow Dronsfield | City of Manchester Aquatics | 14 | |
| Lucy Hardey | City of Liverpool SC | 16 | |