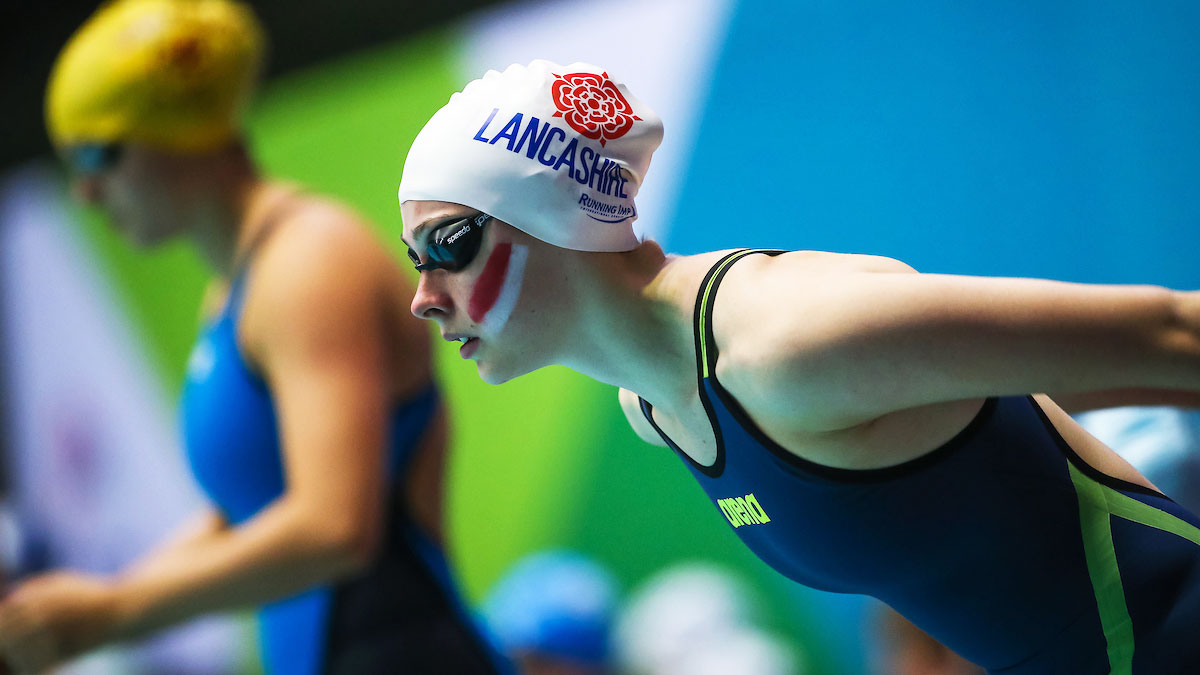 Lancashire
Lancashire are the most successful county in the history of the County Team Champs, having won the title 20 times, including for 14 consecutive years between 2002 and 2015.
Division: One
Last Year: 2nd in Division One (486 points)
Twitter: @SwimLancashire

Honours: Winners 1975, 1976, 1977, 1978, 1979, 1982, 2002, 2003, 2004, 2005, 2006, 2007, 2008, 2009, 2010, 2011, 2012, 2013, 2014, 2015; Runners-up 1974, 1997, 1999, 2016; Third in 1990, 1993, 2000
Lancashire at the County Team Champs
Lancashire are the most dominant team in County Team Championship history, having won the event 20 times in total, including for the past 14 consecutive years.
While they didn't quite reach 500 points last year, they scored 493 to finish a full 46 points clear of Yorkshire.
Trafford Metro swimmer Jack O'Brien was the only individual swimmer to bring home maximum points 12 months ago. He won the 14/15 Yrs 100m Breaststroke.
But Lancashire's typical strength in depth was underlined by victories in all three age groups of men's relay, as well as the final Mixed 6x50m Medley Relay.
Once again, the Red Rose boast an intimidating team with talent coursing through their age groups.
O'Brien steps up into the 16/17 Yrs Age Group while Crosby's Athena Clayson won the 12/13 Yrs 100m Freestyle two years ago.
Leyland Barracudas swimmer Pia Murray won 100m Fly gold at this year's British Summer Championships. City of Liverpool's Tobey Ryland also reached the British Summer Championship podium with bronze in the 50m Fly.
In the youngest age group, 12-year old Olivia Herron from City of Salford caught the eye as she won the 100m and 200m Breaststroke double, as well as 100m Fly gold, at the ASA Summer Nationals.
| Roster 2016 | | | |
| --- | --- | --- | --- |
| 100m Free | | | |
| Name | Club | Age | PB |
| Charlotte Rens | Crosby SC | 14 | |
| Gabriel Glynn | Horwich Leisure Centre SC | 14 | |
| Kyo Tanner | Ellesmere College Titans SC | 15 | |
| Athena Clayson | Mount Kelly Swimming | 16 | |
| Benjamin Martin | Pioneer 79 Swimming Club | 17 | |
| Anna Doughty | Chorley Marlins SC | 18 | |
| 100m Back | | | |
| Name | Club | Age | PB |
| Kate Forster | Southport SC | 14 | |
| Gabriel Glynn | Horwich Leisure Centre SC | 14 | |
| Athena Clayson | Mount Kelly Swimming | 16 | |
| Marcus Dey | City of Salford SC | 16 | |
| Niamh Robinson | Mount Kelly Swimming | 17 | |
| Matthew Pomford | City of Liverpool SC | 17 | |
| 100m Breast | | | |
| Name | Club | Age | PB |
| Olivia Herron | Stockport Metro SC | 13 | |
| Isaac Brennand | Horwich Leisure Centre SC | 14 | |
| James Pettener | City of Liverpool SC | 15 | |
| Emily Lawrence | Preston SC | 16 | |
| Jack O'Brien | City of Manchester Aquatics | 17 | |
| Anna Doughty | Chorley Marlins SC | 18 | |
| 100m Fly | | | |
| Name | Club | Age | PB |
| Olivia Herron | Stockport Metro SC | 13 | |
| Sean Tsai | Millfield School | 14 | |
| Pia Murray | Ellesmere College Titans SC | 15 | |
| Tobey Ryland | City of Liverpool SC | 15 | |
| Niamh Robinson | Mount Kelly Swimming | 17 | |
| Matthew George | City of Salford SC | 17 | |
| Relay | | | |
| Name | Club | Age | |
| Jennifer Green | Wigan SC | 14 | |
| Kate Leddy | Saddleworth SC | 14 | |
| Joseph Burns | Prescot Swimming Club | 14 | |
| Kieron Tattersall | Ramsbottom SC | 14 | |
| Emma Jones | City of Salford SC | 15 | |
| Emily Peck | Lancaster City SC | 16 | |
| Billy Dewhurst | Preston SC | 16 | |
| Emily Keays | City of Salford SC | 17 | |
| Emma Whittingham | Southport SC | 17 | |
| Daniel Austin | City of Salford SC | 18 | |