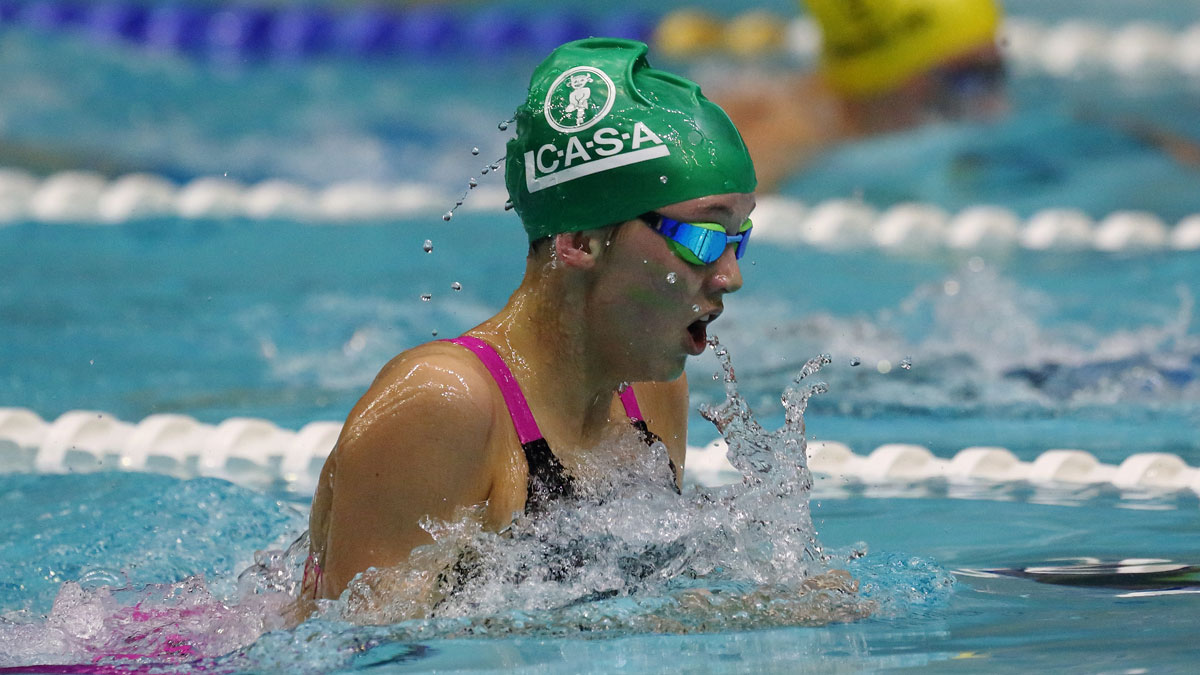 Lincolnshire
Lincolnshire are an East Midlands county who won Division Two in 1999.
Division: Two
Last Year: 9th in Division Two (372 points)
Twitter: @LincsASA
Honours: Division Two Winners 1999; Division Two Runners-up 2005
Lincolnshire at the County Team Champs
After an encouraging fifth place in 2015, Lincolnshire fell away from the chasing pack in Division Two last year, placing ninth overall.
Isabel Spinley took the county's only maximum points on the day, winning the 16/17 Yrs 100m Butterfly with nearly two seconds in hand on the field.
Deepings swimmer Spinley will be hoping to complete the double and sign off from the County Team Champs in style this year.
She won 100m Fly silver and 200m Fly bronze at this year's British Summer Champs and comes into the 100m Fly with the fastest entry time on paper.
All signs point to a big points haul from Grantham's Freya Colbert in the 12/13 Yrs age group. Colbert has the fastest entry time for both the 100m Free and 100m Back.
Stamina shouldn't be a problem for the 13-year old as she won medals over 200m, 400m and 800m Free at this year's British Summer Champs.
Lincolnshire will be looking to the experience of Bethany Walker and Sophie Hart, competitively ranked in their events in the top age group.
Meanwhile, City of Linc Pentaqua's William Barber could picked up some big points in the 14/15 Yrs age group. He's ranked second fastest entry for the 100m Back and third fastest for the 100m Free.
| Roster 2017 | | | |
| --- | --- | --- | --- |
| 100m Free | | | |
| Name | Club | Age | PB |
| Max Turner | City of Linc Pentaqua SC | 13 | 1:04.55 |
| Freya Colbert | Grantham SC | 14 | 58.55 |
| Lydia Smith | Gainsborough Dolphins SC | 15 | 59.79 |
| William Barber | City of Linc Pentaqua SC | 16 | 54.91 |
| Bethany Walker | City of Linc Pentaqua SC | 18 | 57.45 |
| William Swain | Boston Amateur SC | 18 | 53.90 |
| 100m Back | | | |
| Name | Club | Age | PB |
| Joseph Vickers | Boston Amateur SC | 13 | 1:15.22 |
| Freya Colbert | Grantham SC | 14 | 1:05.94 |
| Lydia Smith | Gainsborough Dolphins SC | 15 | 1:05.90 |
| Sophie Hart | Lincoln Vulcans SC | 16 | 1:04.64 |
| William Barber | City of Linc Pentaqua SC | 16 | 1:00.19 |
| Thomas Lewis | Grantham SC | 17 | 59.58 |
| 100m Breast | | | |
| Name | Club | Age | PB |
| Max Turner | City of Linc Pentaqua SC | 13 | 1:22.04 |
| Katie Scott | Boston Amateur SC | 14 | 1:20.87 |
| Madeleine Barnes | Grantham SC | 15 | 1:18.03 |
| Louis Metselaar | Deepings SC | 15 | 1:11.33 |
| Cameron Chow | Lincoln Vulcans SC | 17 | 1:10.35 |
| Bethany Walker | City of Linc Pentaqua SC | 18 | 1:11.73 |
| 100m Fly | | | |
| Name | Club | Age | PB |
| Jack Robinson | Boston Amateur SC | 12 | 1:16.39 |
| Jemma Housego | Grantham SC | 13 | 1:11.68 |
| Abigail Farkas | Grantham SC | 15 | 1:05.18 |
| Tom Adams | Deepings SC | 16 | 1:00.80 |
| Isabel Spinley | Deepings SC | 17 | 1:01.68 |
| Kendall Wilkins | Grantham SC | 18 | 1:02.36 |
| Relay | | | |
| Name | Club | Age | |
| Iona Colbert | Grantham SC | 12 | |
| Laura Dickinson | Lincoln Vulcans SC | 13 | |
| Henry Crust | City of Linc Pentaqua SC | 13 | |
| Jamie Green | City of Linc Pentaqua SC | 13 | |
| Reuben Heywood | Kingston Synchronised SC | 13 | |
| Holly Leggott | Deepings SC | 15 | |
| Matthew Broughton | City of Linc Pentaqua SC | 15 | |
| Eve Beer | Lincoln Vulcans SC | 16 | |
| Abbie Phillips | Grantham SC | 16 | |
| Molly Colbert | Grantham SC | 17 | |
| Thomas Neal | Deepings SC | 18 | |