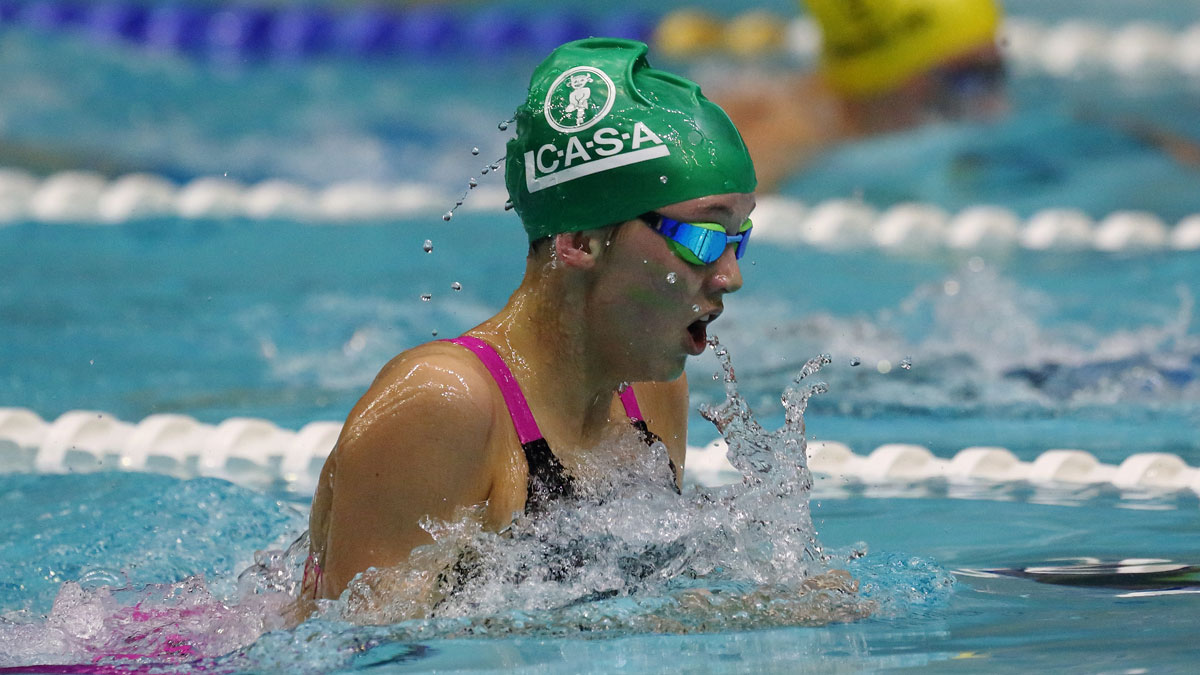 Lincolnshire
Lincolnshire are an East Midlands county who won Division Two in 1999.
Division: Two
Last Year: 9th in Division Two (372 points)
Twitter: @LincsASA
Honours: Division Two Winners 1999; Division Two Runners-up 2005
Lincolnshire at the County Team Champs
Lincolnshire fell just six points shy of promotion last year, finishing fifth on 439 points. They will be desperate to go at least one better this year, having not competed in Division One since 2006.
The county picked up two race wins last year with Alex Wray touching first in the 16/17 Yrs 100m Freestyle and Tara Haworth claiming maximum points in the 16/17 Yrs 100m Butterfly.
Lincoln Vulcans swimmer Haworth returns for her final year in the Championships, having made four finals at the British Summer Championships earlier in the season.
The county looks to have a strong hand in the oldest age group. City of Lincoln Pentaqua swimmer Bethany Walker won 50m Breast bronze at the British Summer Champs then landed 100m Free gold at the ASA Summer Nationals the following week.
Deepings' Isabel Spinley is also well ranked, having finished fourth over both 100m and 200m Fly at the British Summer Champs.
Meanwhile, Matthew Broughton's PB 1:12.30 puts him amongst the favourites in the 12/13 Yrs 100m Breaststroke while Lincoln Vulcans' Sophie Hart won bronzes over 50m and 200m Backstroke at this year's ASA Summer Nationals.
| Roster 2016 | | | |
| --- | --- | --- | --- |
| 100m Free | | | |
| Name | Club | Age | PB |
| Bethany Eagle-Brown | Deepings SC | 14 | 1:03.16 |
| Ethan Grace-Riches | Lincoln Vulcans SC | 14 | 58.31 |
| William Barber | City of Linc Pentaqua SC | 15 | 56.35 |
| Sophie Hart | Lincoln Vulcans SC | 16 | 1:01.62 |
| Bethany Walker | City of Linc Pentaqua SC | 17 | 58.72 |
| William Swain | Boston Amateur SC | 17 | 53.90 |
| 100m Back | | | |
| Name | Club | Age | PB |
| Erin Easton | City of Linc Pentaqua SC | 14 | 1:12.06 |
| Ethan Grace-Riches | Lincoln Vulcans SC | 14 | 1:04.56 |
| William Barber | City of Linc Pentaqua SC | 15 | 1:03.46 |
| Sophie Hart | Lincoln Vulcans SC | 16 | 1:04.64 |
| Tara Haworth | Lincoln Vulcans SC | 18 | 1:06.15 |
| Luke Elliott | South Lincs Competitive SC | 18 | 58.97 |
| 100m Breast | | | |
| Name | Club | Age | PB |
| Katie Scott | Boston Amateur SC | 13 | 1:22.52 |
| Matthew Broughton | City of Linc Pentaqua SC | 14 | 1:12.30 |
| Tom Adams | Deepings SC | 15 | 1:11.80 |
| Grace Wilson | Lincoln Vulcans SC | 16 | 1:14.72 |
| Bethany Walker | City of Linc Pentaqua SC | 17 | 1:12.70 |
| Hedley Butlin | City of Linc Pentaqua SC | 18 | 1:07.35 |
| 100m Fly | | | |
| Name | Club | Age | PB |
| Brandon Smith | Gainsborough Dolphins SC | 13 | 1:18.00 |
| Bethany Eagle-Brown | Deepings SC | 14 | 1:11.54 |
| Abigail Farkas | Grantham SC | 15 | 1:06.39 |
| Tom Adams | Deepings SC | 15 | 1:01.82 |
| Isabel Spinley | Deepings SC | 17 | 1:03.35 |
| Luke Elliott | South Lincs Competitive SC | 18 | 57.99 |
| Relay | | | |
| Name | Club | Age | |
| Thomas Scott | Louth Dolphins SC | 13 | |
| Katie Lancaster | Lincoln Vulcans SC | 14 | |
| Lydia Smith | Gainsborough Dolphins SC | 15 | |
| Dara Clarke | City of Linc Pentaqua SC | 15 | |
| Callum Hart | Lincoln Vulcans SC | 15 | |
| Bailie Harrison | Deepings SC | 16 | |
| Oliver Taylor | Lincoln Vulcans SC | 16 | |
| Sofie Schneider | Louth Dolphins SC | 18 | |