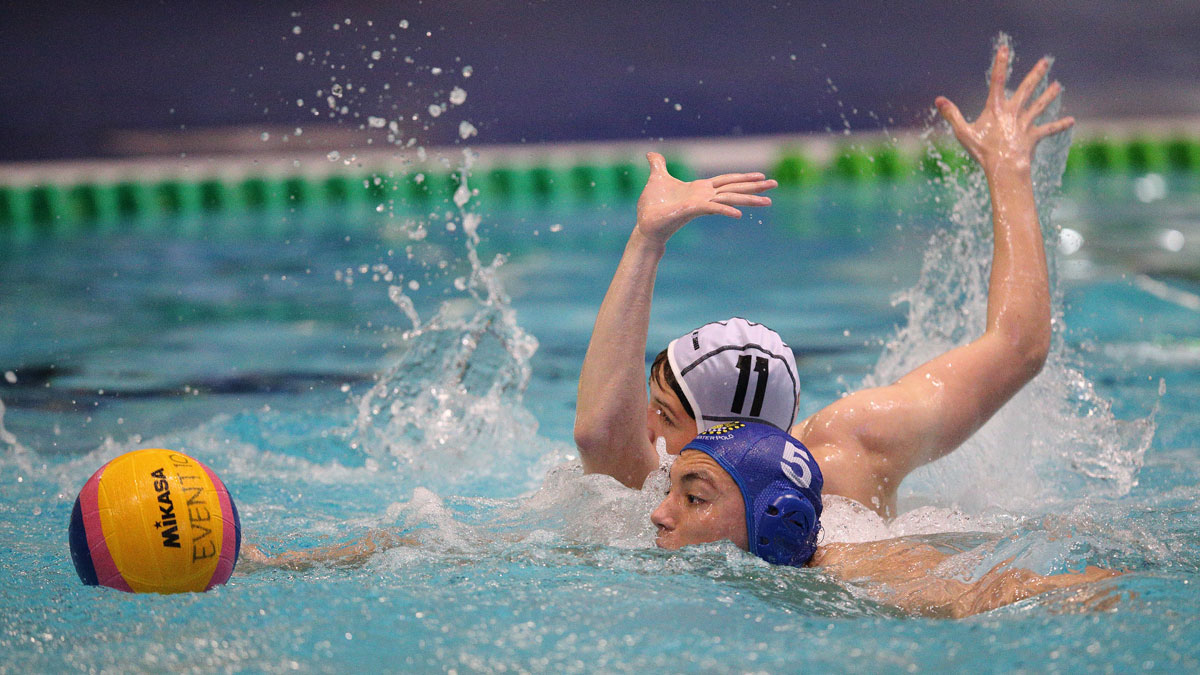 U15 National Age Groups: Live Scoreboard
11/05/2017
The Swim England Water Polo U15 National Age Group Championships take place at Manchester Aquatics Centre on 14 – 15 October 2017.
The boys' competition will take place on Saturday 14 while the girls' competition will take place on Sunday 15.
Both competitions involve group stages before play-off matches later in the day.
City of Manchester A won the 2016 boys' title while Otter will go for a hat-trick of consecutive titles in the girls' event.
Follow the action from this year's event below. Note that during live action this page is automatically updated every 2 minutes. The results will display final scores only and tables updated accordingly.
Fixtures and Results
Group Stage
| Group A | | | |
| --- | --- | --- | --- |
| City of Manchester | 4 – 9 | Iceni | FT |
| City of Manchester | 4 – 12 | Otter | FT |
| Iceni | 2 – 13 | Otter | FT |
| Group B | | | |
| Newton Abbot | 13 – 3 | City of Sheffield | FT |
| Newton Abbot | 16 – 0 | Otter Futura | FT |
| City of Sheffield | 16 – 0 | Otter Futura | FT |
| Group C | | | |
| City of Liverpool | 9 – 2 | Nova Centurion | FT |
| City of Liverpool | 8 – 0 | Cheltenham | FT |
| Nova Centurion | 4 – 5 | Cheltenham | FT |
| Group A | | | | | | |
| --- | --- | --- | --- | --- | --- | --- |
| Team | P | W | D | L | GD | Pts |
| Otter | 2 | 2 | 0 | 0 | 19 | 4 |
| Iceni | 2 | 1 | 0 | 1 | -6 | 2 |
| City of Manchester | 2 | 0 | 0 | 2 | -13 | 0 |
| Group B | | | | | | |
| --- | --- | --- | --- | --- | --- | --- |
| Team | P | W | D | L | GD | Pts |
| Newton Abbot | 2 | 2 | 0 | 0 | 26 | 4 |
| City of Sheffield | 2 | 1 | 0 | 1 | 6 | 2 |
| Otter Futura | 2 | 0 | 0 | 2 | -32 | 0 |
| Group C | | | | | | |
| --- | --- | --- | --- | --- | --- | --- |
| Team | P | W | D | L | GD | Pts |
| City of Liverpool | 2 | 2 | 0 | 0 | 15 | 4 |
| Cheltenham | 2 | 1 | 0 | 1 | -7 | 2 |
| Nova Centurion | 2 | 0 | 0 | 2 | -8 | 0 |
Play-Off Stage
| 7-9 Play-Off | | | |
| --- | --- | --- | --- |
| City Of Manchester | 11 – 6 | Otter Futura | FT |
| Nova Centurion | 12 – 3 | City Of Manchester | FT |
| Otter Futura | 1 – 9 | Nova Centurion | FT |
| Quarter Finals | | | |
| City Of Liverpool | 7 – 5 | Iceni | FT |
| City Of Sheffield | 12 – 2 | Cheltenham | FT |
| 5-6 Play-Off | | | |
| Iceni | 3 – 8 | Cheltenham | FT |
| Semi-Finals | | | |
| Newton Abbott | 10 – 2 | City Of Liverpool | FT |
| Otter | 5 – 8 | City Of Sheffield | FT |
| Bronze Match | | | |
| City Of Liverpool | 6 – 1 | Otter | FT |
| Final | | | |
| Newton Abbott | 11 – 3 | City Of Sheffield | FT |