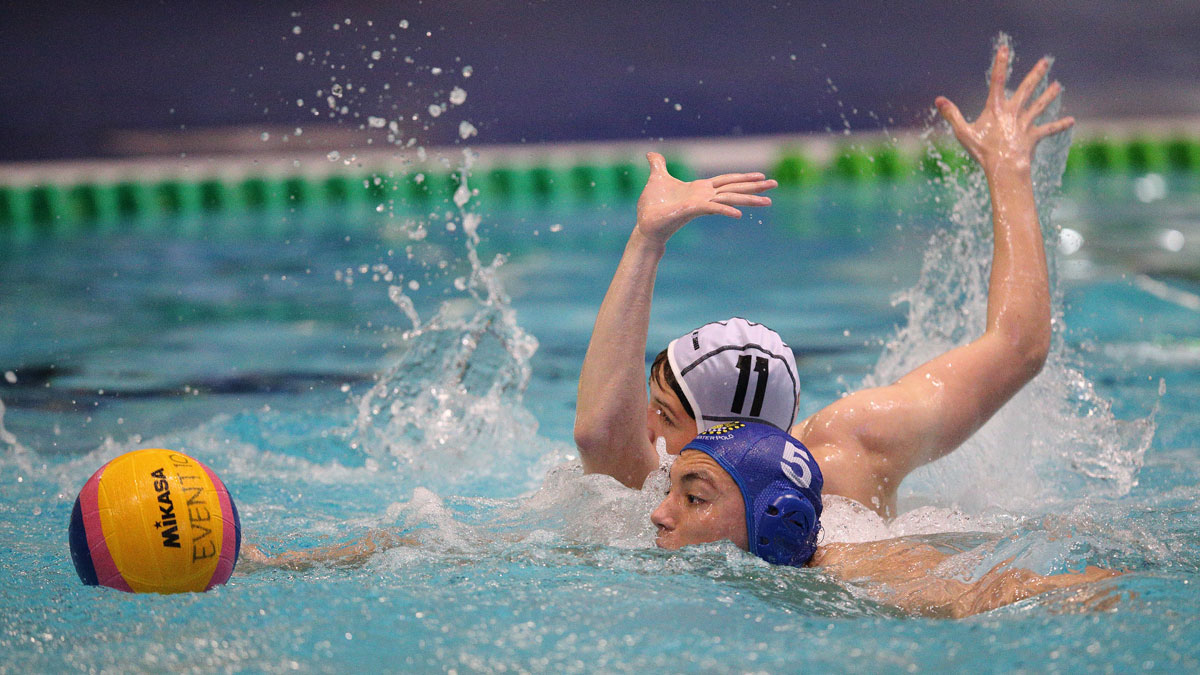 U14 Inter Regionals: Live Scoreboard
11/05/2017
The Boys' U14 Inter Regional Championships take place on 9 – 10 December 2017.
The competition will be hosted by the West Midlands region and held at Walsall Gala Baths.
The group stages will take place on Saturday 9 December, as well as two matches on Sunday 10 December. The knockout stages will then follow later on Sunday.
North West Tigers will be aiming to defend their title in the boys' event and are top seeds in Group A.
The Tigers have won two of the three stagings of the U14 Championships, claiming the inaugural title in 2014 before reclaiming the crown last time out.
North East Steelers, who won gold in 2015 before losing out in the final in 2016, are seeded second and go in Group B.
Follow the action from this year's event below. Note that during live action this page is automatically updated every 2 minutes. The results will display final scores only and tables updated accordingly.
Playoff Stage Results
| 9 - 10 Playoff | | | |
| --- | --- | --- | --- |
| East Midlands | 14 – 3 | North West Ravens | FT |
| Semi Finals | | | |
| London | 6 – 8 | West Midlands | FT |
| North East Steelers | 6 – 4 | North West Tigers | FT |
| 7-8 Playoff | | | |
| East | CANC | Scotland | FT |
| 5-6 Playoff | | | |
| South West | 12 – 4 | South East | FT |
| 3-4 Playoff | | | |
| London | 6 – 8 | North West Tigers | FT |
| Final | | | |
| West Midlands | 5 – 1 | North East Steelers | FT |
Group Stage Results
| Group A | | | |
| --- | --- | --- | --- |
| London | 4 – 5 | South West | FT |
| North West Tigers | 9 – 2 | East Midlands | FT |
| London | 8 – 2 | East | FT |
| South West | 6 – 1 | East Midlands | FT |
| East | 4 – 9 | North West Tigers | FT |
| East Midlands | 5 – 9 | East | FT |
| North West Tigers | 8 – 6 | South West | FT |
| London | 8 – 4 | North West Tigers | FT |
| East | 2 – 8 | South West | FT |
| East Midlands | 4 – 9 | London | FT |
| Group B | | | |
| --- | --- | --- | --- |
| North West Ravens | 3 – 8 | West Midlands | FT |
| North East Steelers | 3 – 2 | Scotland | FT |
| West Midlands | 7 – 1 | Scotland | FT |
| North West Ravens | 2 – 9 | South East | FT |
| Scotland | 10 – 8 | North West Ravens | FT |
| South East | 4 – 4 | North East Steelers | FT |
| North East Steelers | 5 – 2 | West Midlands | FT |
| Scotland | 2 – 12 | South East | FT |
| South East | 3 – 4 | West Midlands | FT |
| North West Ravens | 2 – 10 | North East Steelers | FT |
Group Tables
| Group A | | | | | | |
| --- | --- | --- | --- | --- | --- | --- |
| Team | P | W | D | L | GD | Pts |
| London | 4 | 3 | 0 | 1 | 14 | 6 |
| North West Tigers | 4 | 3 | 0 | 1 | 10 | 6 |
| South West | 4 | 3 | 0 | 1 | 10 | 6 |
| East | 4 | 1 | 0 | 3 | -13 | 2 |
| East Midlands | 4 | 0 | 0 | 4 | -21 | 0 |
| Group B | | | | | | |
| --- | --- | --- | --- | --- | --- | --- |
| Team | P | W | D | L | GD | Pts |
| North East Steelers | 4 | 3 | 1 | 0 | 12 | 7 |
| West Midlands | 4 | 3 | 0 | 1 | 9 | 6 |
| South East | 4 | 2 | 1 | 1 | 16 | 5 |
| Scotland | 4 | 1 | 0 | 3 | -15 | 2 |
| North West Ravens | 4 | 0 | 0 | 4 | -22 | 0 |