Four British records broken in opening session at British Masters Championships
June 2, 2023
Four British records were broken in the opening session of the 2023 British Masters Championships in Sheffield.
The competition kicked off with the 800m Freestyle event where Jo Beardsworth, Peter Dixon, Suzanne Noble and Joan Edwards all set new British best times.
They were each presented with their medals by new Swim England President Doug Whitlam.
The first record of the day was broken by Edwards in the Women's 65-69 Years event.
The delighted Gateshead and Whickham swimmer celebrated as she touched the wall, setting a time of a 11:39.70.
It broke Audrey Cooper's previous record by just 0.16 which she set back in 2019.
Cooper (Silver City) still had something to celebrate after winning silver with Jayne Stephenson (Gloucester Masters) completing the podium.
Not to be outdone, Noble was next to sound the record claxon with as she broke Britain's top time in the 60-64 Years 800m Freestyle.
She won her age group by 48.05 in a stunning display from the East Anglia swimmer.
The effort saw her break her own record in the event, beating her previous best by more than three seconds.
Winchester's Catherine Munroe won silver (48.05) and Verity Dobbie from Gateshead and Whickham finished third.
Jo Beardsworth then set a British Women's 55-59 Years record time of a 10:34.79.
The Harrogate swimmers time knocked almost four seconds off Nuala Muir-Cochrane's previous record of 10:38.12 who was 11 seconds behind Beardsworth on the day.
Barnet's Muir-Cochrane took home the silver medal with St Albans Masters swimmer Suzanne Welham winning bronze.
Peter Dixon ended the session with the fourth British record of the day after his impressive swim in the final heat.
Dixon's time of a 9:22.94 was the third quickest man across all the age groups as he beat the top British time for his age by a massive 30 seconds.
East Leeds' Andrew Carr won silver with Matthew Grant (Gateshead and Whickham) in third.
You can see all the medallists from the opening session of the 2023 British Masters Championships below.
Images – Morgan Harlow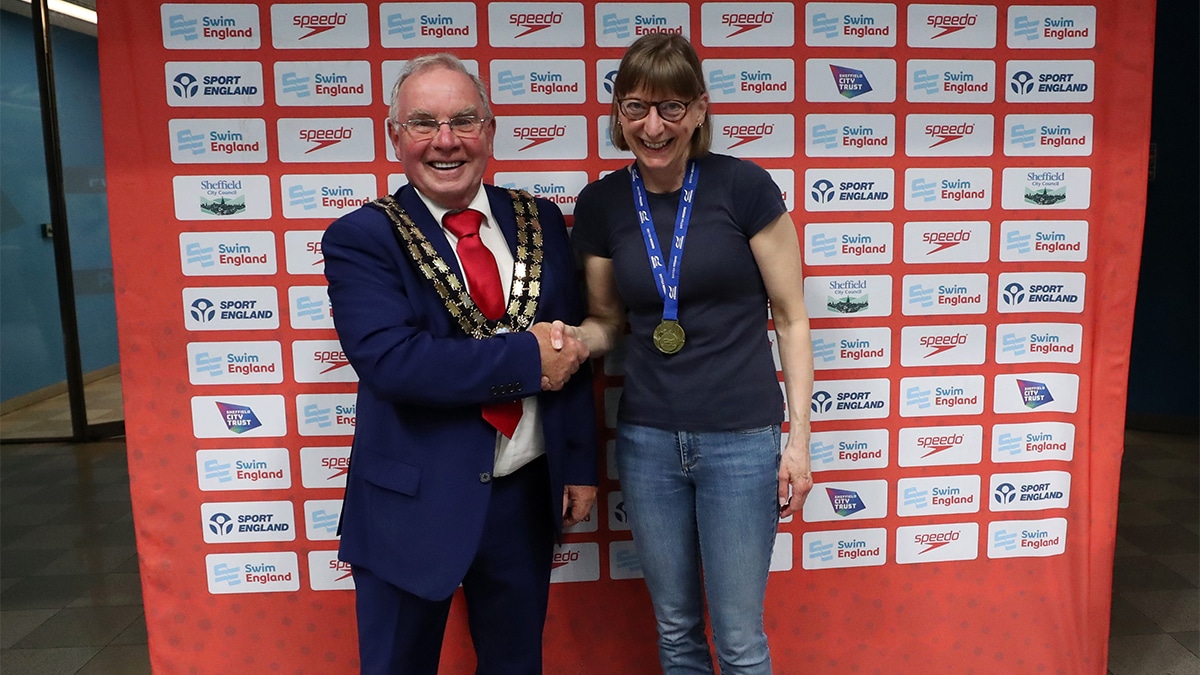 Day one, session one medal Roll of Honour
Men's 800m Freestyle
18-24 Years
1. Robert Addis, 9:56:60, West Norfolk
25-29 Years
1. Thomas Allen, 10:25:33, Flitwick
30-34 Years
1. Daniel Mills, 8:52:92, Trafford Met
2. Michael Tansini, 9:35:50, City of Cambridge
3. Jason Beckett, 10:45:35, Kidlington
35-39 Years
1. Dan John, 9:02:43, Reading
40-44 Years
1. Chris Barlow, 10:05:92, Newmarket
2. Guy Armstrong, 10:25:30, Mway Maritime
3. David Wood, 11:10:41 ,Wycombe District
45-49 Years
1. Simon Joyce, 10:17:50, Kidlington
50-54 Years
1. Colin Ovington, 9:27:53, Gateshead and Whickam
2. Christopher Morgan, 10:16:71, Otter
2. Stuart Gibbs, 10:25:68, Tigersharks
55-59 Years
1. Peter Dixon, 9:22:94, Newham and UEL
2. Andrew Carr, 9:54:38, East leeds
3. Mathew Grant, 10:56:46, Gateshead and Whickam
60-64 Years
1. Mark Jones, 10:37:94, Warrington Masters
2. Mark Strakosch, 10:44:13, Hemel Hemp
3. Stephan Ham, 10:54:84, Rochford
65-69 Years
1. Simon Veale, 10:49:46, Totnes
2. Ian Murray, 12:00:78, Flitwick
70-74 Years
1. Eddie Riach, 11:03:98, Milngavie and Bearsden
2. Steve Folsom, 11:56:09, Teddington
3. Nick Minns, 12:42:16, City of Lincoln Pentaqua
75-79 Years
1. Chris Dunn, 11:30:40, Hatfield
2. Peter Stephens, 14:10:96, Spencer
80-84 Years
1. Michael Read, 15:47:68, Brighton
2. David Hall, 16:12:20, Witney
Women's 800m Freestyle
18-24 Years
1. Lucy Cadden, 9:36:69, City of Derby
2. Shannon Dalligan, 9:50:30, West Suffolk
3. Emily Inns, 10:07:61, Altrincham
25-29 Years
1. Hannah Dodwell, 9:50:14, Raf Swim
2. Emma Wheeler, 10:41:65, teamipswich
3. Fiona Westcough, 11:00:43, Enfield Squad
30-34 Years
1. Kelly Mcintosh, 10:16:04, Silver City
2. Lucy Recchia, 10:44:58, East Leeds
3. Gemma Cannon, 10:53:56, Felixstowe
35-39 Years
1. Sara Holman, 10:20:14, KSK
2. Kath Baker, 10:32:07, Portsmouth NorthSea
3. Carol Locker, 10:35:29, Heart of Midlands
40-44 Years
1. Rebecca Lennon, 11:30:01, Trafford Metro
45-49 Years
1. Ceri Edwards, 9:50:37, Portsmouth Northsea
2. Jessica Partridge, 10:09:60, Gloucester Masters
3. Susan Evans, 10:46:84, Biggleswade
50-54 Years
1. Deborah Tuck, 10:48:59, Cleethorpes
2. Alison Lapping, 10:55:61, Milngavie and Bearsden
3. Judy Prior, 11:30:43, Enfield Squad
55-59 Years
1. Jo Beardsworth, 10:34:79, Harrogate
2. Nuala Muir-Cochrane, 10:45:95, Gateshead and Whickam
3. Suzanne Welham, 11:49:14, St Albans
60-64 Years
1. Suzanne Noble, 10:58:56, East Anglian
2. Catherine Munro, 11:46:61, Winchester
3. Verity Dobbie, 12:11:99, Gateshead and Whickam
65-69 Years
1. Joan Edwards, 11:39:70, Gateshead and Whickam
2. Audrey Cooper, 12:06:01, Silver City
3. Jayne Stephenson, 12:44:38, Gloucester Masters
70-74 Years
1. Susan Haigh, 13:04:73, EXE Masters
2. Valerie Thorp, 14:11:63, City of Derby
75-79 Years
1. Rose Dudeney, 14:41:97, Mid Sussex
80-84 Years
1. Susan Lauder, 18:59:83, Spencer
85-89 Years
1. Jenny Ball, 18:40:91, Ryde SC