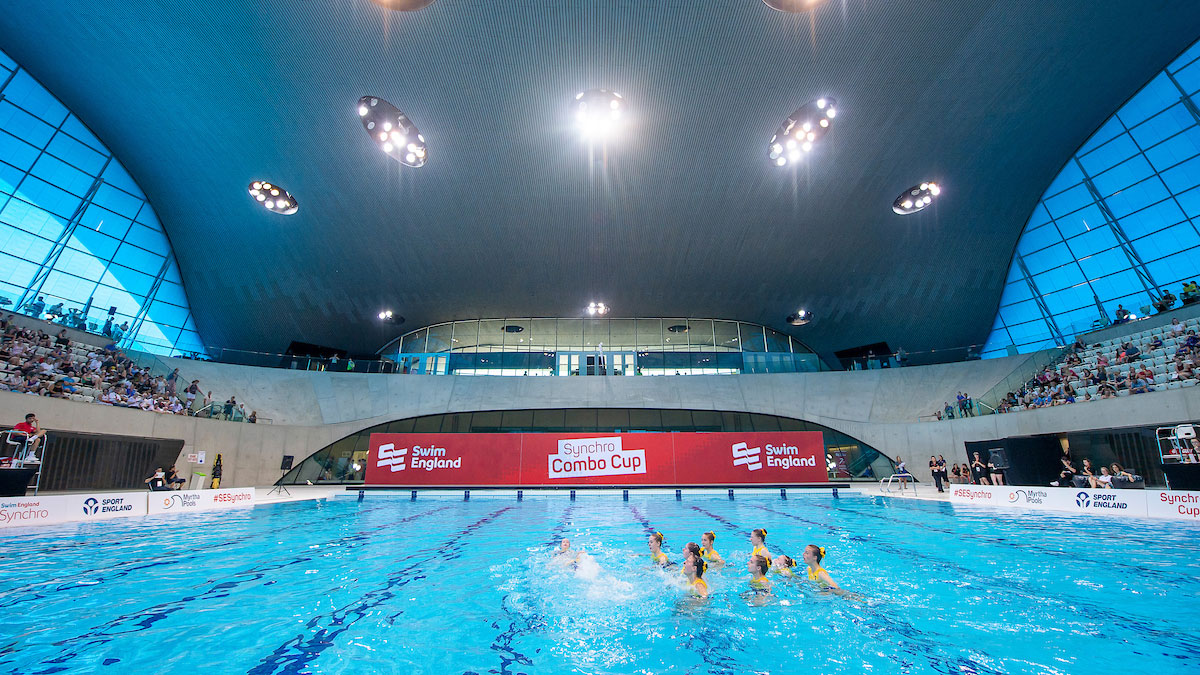 Combo Cup 2019 Live Scoreboard
July 1, 2019
Welcome to the Swim England Synchro Live Scoreboard page.
You can use our live scoreboard to view the latest scores and provisional results as they come in from the Swim England Synchro Combo Cup 2019.
The competition took place on Saturday 6 July.
Refresh this page to see the latest scores and results when the page is live.
Live Scoreboard
| Division 1 | 12 & Under | | |
| --- | --- | --- | --- |
| Club: | Team Bath | Start | 23 |
| Swimmers: | Belle Mcken | Pen | 0 |
| | Darcey Walker | Score | 44.9333 |
| | Esme Stoneman | | |
| | Hannah Moody | | |
| | Holly Knight | | |
| | Nell Bloomfield | | |
| | Orla Archer-Pratt | | |
| | Sophie Starkey | | |
| | Sofia Hassane | | |
Live Results
| Division 1 | 12 & Under | | | |
| --- | --- | --- | --- | --- |
| Club | Start | Pen | Score | Rank |
| Reading Royals | 21 | 0 | 50.7667 | 1 |
| Sevenoaks | 10 | 0 | 48.6333 | 2 |
| Rushmoor | 17 | 0 | 47.4667 | 3 |
| Cheltenham | 11 | 0 | 47.2000 | 4 |
| London Regional | 1 | 0 | 47.1000 | 5 |
| Bramcote Team 1 | 15 | 0 | 47.1000 | 6 |
| City of Salford | 3 | 0 | 46.3667 | 7 |
| Rugby | 2 | 0 | 45.1333 | 8 |
| Kingston Team 1 | 16 | 0 | 45.1333 | 9 |
| Gateshead | 9 | 0 | 45.0667 | 10 |
| Portsmouth & District | 18 | 0 | 45.0000 | 11 |
| Team Bath | 23 | 0 | 44.9333 | 12 |
| Halifax Team 1 | 5 | 0 | 44.6333 | 13 |
| Bramcote Team 2 | 7 | 0 | 44.3667 | 14 |
| Kingston Team 2 | 22 | 0 | 43.3667 | 15 |
| Walsall | 12 | 0 | 42.8000 | 16 |
| City of Birmingham | 13 | 0 | 42.3667 | 17 |
| Witney & District | 4 | 0 | 42.0333 | 18 |
| Erith & District | 14 | 0 | 41.1000 | 19 |
| Halifax Team 2 | 6 | 0 | 40.2333 | 20 |
| Taunton Deane | 19 | 0 | 40.2333 | 21 |
| St Austell | 8 | 0 | 40.0000 | 22 |
| City of Leeds | 20 | 0 | 39.9000 | 23 |
Combo Cup
| Top 10 | | | |
| --- | --- | --- | --- |
| Club | Rank | Points | Events |
| Reading Royals | 1 | 51 | 6 |
| Rugby | 2 | 32 | 5 |
| Rushmoor | 3 | 29 | 6 |
| Walsall | 4 | 28 | 7 |
| Aqualina | 5 | 25 | 3 |
| Halifax | 6 | 22 | 6 |
| City of Birmingham | 7 | 21 | 4 |
| Bramcote | 8 | 20 | 5 |
| City of Salford | 9 | 19 | 4 |
| City of Leeds | 10 | 18 | 7 |