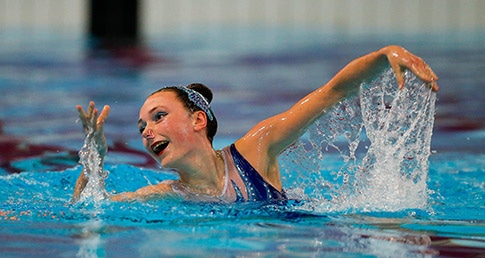 AquaStars judge attends LEN Synchro Clinic
December 14, 2015
Lenka Tanner, Head coach at BSC AquaStars Synchronised Swimming, attended the LEN Synchro Clinic for Judges and Coaches in Slovakia from 21-23 October 2015.
Tanner, who has been involved in Synchronised Swimming for over 20 years, founded AquaStars in 2014 after retiring from competition. She is now an ASA Level 2 Synchronised Swimming Coach.
LEN Synchro Clinic: Day One
The first session looked at the success of European synchronised swimmers at major competitions in 2015 and the exciting things to come in 2016 and beyond.
Other sessions on day one included a presentation on the different categories of dives within Synchro and how best to teach throws and lifts and a discussion led by Olga Brusnikina on the universal definition of the difference synchro strokes. Olga also pinpointed the key points for effective and well executed transitions.
Tanner said: "I found this session very interesting as Olga defined strokes that I would not have considered isolating or training like a vertical torpedo.
LEN Synchro Clinic: Day Two
On day two Bet Fernandez spoke to delegates about the importance of variety and originality in routines. She highlighted that artistic impression is 40% of the score incorporating choreography, manner of presentation and musical interpretation.
Bet also emphasised the need for creative training sessions particularly with younger swimmers who do not have as much experience.
The next session of the day saw Jenny Gray speak about the definition of 'Highlights' and emphasised that judges look for execution, artistic impression and difficulty when scoring these part of the routine.  Finally, Gabor Szaauder discussed how to add difficulty into routines.
LEN Synchro Clinic: Day Three
The final day of the LEN Synchro Clinic focussed on how technology can be used to help with training as well as focusing on three key points:
Perfection can be achieved at basic and top level
Think about the biomechanics of technical elements in order to help improve technique
Make training faster, shorter and more efficient for younger swimmers
Following the LEN Synchro Clinic, Tanner said: "Many thanks to the Synchro Management Group for giving me the opportunity to attend the LEN Clinic in Slovakia.
"The clinic was interesting and informative and a major personal highlight for me was meeting and listening to Olga Brusnikina speak as she was my childhood synchro idol!
"I will now take the knowledge that I have gained back to my club and I am excited to continue to grow the club and promote this wonderful sport."