Synchro summer camps set to return across the country
May 28, 2019
News and Blogs
Synchronised swimming camps are set to return this summer, with a range of Swim England-affiliated programmes operating across the country.
The camps offer athletes at every level the opportunity to further develop their figures, routine and land skills in a fun and friendly environment.
With four camps spread throughout England, they remain accessible to swimmers across the country.
Swim England National Development Officer, Sarah Darragh, said: "The standard of synchronised swimming continues to rise, with Great Britain duet Kate Shortman and Isabelle Thorpe currently targeting a place at the 2020 Olympic Games in Tokyo.
"These camps provide a great chance for swimmers to improve their skills and take their talent to the next level.
"It's also an opportunity to develop the next generation of GB stars."
Bath
The University of Bath will host the third synchronised swimming summer camp in the city, from Wednesday 28 August-Sunday 1 September.
The five days of swimming and artistic development will be instructed by internationally-recognised coaches, featuring water and land time each day.
There will also be crossover training, including rhythmic gymnastics, yoga and contemporary talks, plus sessions on music interpretation and synchro styles.
Nutritional talks will aim to provide essential advice to swimmers looking to fuel their passion for the sport.
Residential swimmers will stay on the university campus, with meals provided on site at a cost of £400, while the non-residential price is £300.
To register your interest, click here.
Coaches who wish to join their athletes can contact teambathsynchro@gmail.com.
Cobham
The Cobham summer school will run for the 44th consecutive year, taking place at Cobham Hall, Kent from Thursday22- Monday 26 August.
It is open to all swimmers from grades 1-5 and is fully residential at a cost of £275, which includes a souvenir hat.
The Cobham programme includes up to four hours of pool time, flexibility work, dance and, for the first time, cheerleading.
Early application is advised as spaces are already filling fast. Please contact Jenny Gray at jennysynchro@gmail.com to confirm your place.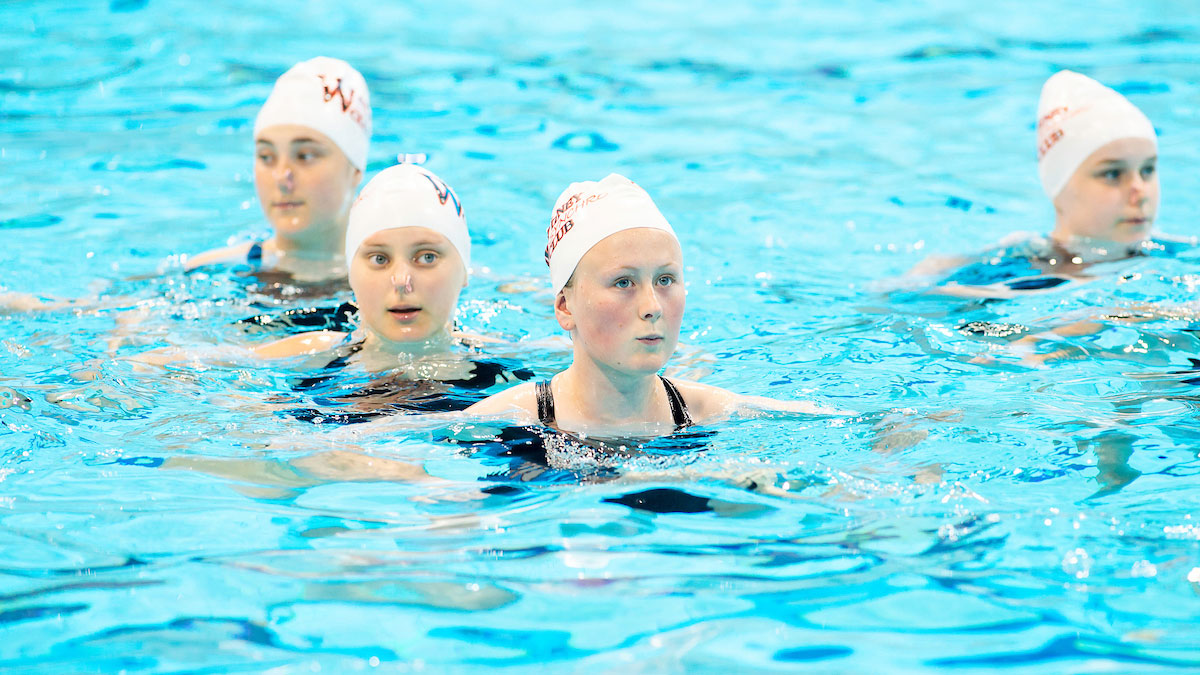 Midlands
Gabrielle Boisvert, a former member of Canada's senior national synchronised swimming team, will be head coach for the summer camp at David Ross Sports Village, in the University of Nottingham.
The camp will run from Monday 29 July-Thursday 1 August, with the residential cost of £300 including meals, snacks, accommodation in the university halls of residence, all activities and a camp t-shirt.
The day camp will run from 9.15am-5.30pm on the Monday, 7.45am-5.45pm on Tuesday/Wednesday and 7.45am-4.30pm on the Thursday at a cost of £180, which includes lunch, snacks, all day-time activities and a camp t-shirt.
The programme includes pool-based and dry land activities, with all swimmers from grade one and above, aged 8-18, welcome.
For queries, please contact eastmidland@swimming.org.
Places are limited, so click here to book. 
York
The summer camp at Queen Ethelburga's School in York is open to all swimmers aged 10-18.
Running from Saturday 17 August-Tuesday 20 August, swimmers will be provided grade coaching by a team of qualified and experienced coaches.
There will be land training sessions covering flexibility and stretching, gym sessions focusing on core strength, gymnastics and dance classes, as well as pool-based sessions.
Nutrition and health advice will also provided, while there is a particular emphasis on having fun, with team building activities, competitions and evening entertainment.
Accommodation and all meals are covered in the £180 admission price, which includes a free camp synchro swimming hat on arrival.
Participants can also purchase a commemorative hoodie or t-shirt.
For further information and to book your place in York, contact nesynchro@outlook.com