British artistic swimming 'right in the mix' after historic World Championships
July 24, 2023
It was another historic week for Great Britain's artistic swimmers headlined by Kate Shortman winning the nation's first-ever World Championships medal at the 2023 World Aquatics Championships in Fukuoka, Japan.
There were a series of impressive results across Solo, Duet and Team events which puts British artistic swimming 'right in the mix' as the road to the 2024 Olympic Games in Paris continue.
But it was Shortman's bronze in the Women's Free Solo that stole the show thanks to a stunning routine at the Marine Messe Fukuoka pool on Wednesday.
She improved on her preliminary round score by six points as she received a total of 219.9542 for her performance. The score was broken down into 32.9000 for difficulty (up from 32.0000 in the prelims), 86.8000 for artistic impression and 133.1542 for execution.
The 21-year-old held her nerve throughout the display as she was one of the only swimmers not to receive a base mark as she reached the World podium for the first time in her fourth Championships.
And after achieving the feat the City of Bristol swimmer couldn't hide her emotion as she made even more history in the sport.
"I can't even put it into words, I am so excited." She said.
"This is just a crazy step in the right direction for Great Britain, hopefully putting us on the map a bit more.
"I just swam my heart out and was really thinking about staying precise, staying controlled and not getting too excited with the prelims score – because I did well in that, I didn't want to run away with it, I just wanted to control it and I did the best I could.
"I didn't want to go too high risk, I know a few of the other soloists did and unfortunately it didn't pay off. They've been really strict at this competition with base marks – I wanted to do the best I could and that meant a no-base-mark swim.
"It's always something I've dreamed of. This is my fourth World Championships, I did my first Worlds when I was 15 and I always looked up to the medallists and was in awe of them. So to think today that I'm stood on the podium, it's just crazy."
"WE'VE FINALLY DONE IT ON THE BIGGEST STAGE," says Kate Shortman after her historic World 🥉

"Artistic swimming in 🇬🇧 is coming up, we're coming through. We need some funding because we're going for the Olympics & WE WANT A MEDAL IN THAT TOO!"

Our @WorldAquatics interview👇 pic.twitter.com/5Wz3n6bVCo

— Nick Hope – the athlete's journalist (@NickHopeTV) July 19, 2023
A string of top five finishes
There was a number of impressive British performances across the last week in Japan where Shortman also teamed with her long time Duet partner Izzy Thorpe to finish fifth in the Duet Free final.
The duo scored 226.4834 for their performance which gave them the best result from a British female duet in recent history.
They also placed eighth in the Duet Technical final where they matched their placing from last year's competition.
Ranjuo Tomblin and Beatrice Crass continued to impress in the first ever World Championships.
The Mixed Duet, who took two memorable bronzes at the European Games, added two top-five finishes of their own before Tomblin was also fifth in both male solo events.
The pair are heading off to the European Junior Championships in Madeira at the start of August as they look to end their season on a high with more medals in Portugal.
The British team of Crass, Eleanor Blinkhorn, Isobel Blinkhorn, Millicent Costello, Isobel Davies, Aimee Lawrence, Daniella Lloyd and Robyn Swatman teamed up for tenth place in the Team Free final.
Their chess-themed routine scored 217.1897 in the final following a preliminary routine which received no basemarks from the judges.
Great Britain's team also narrowly missed out on the final in the Acrobatic (Eleanor Blinkhorn, Isobel Blinkhorn, Millicent Costello, Isobel Davies, Cerys Hughes, Aimee Lawrence, Daniella Lloyd and Robyn Swatman) and Team Technical (Eleanor Blinkhorn, Isobel Blinkhorn, Millicent Costello, Isobel Davies, Aimee Lawrence, Daniella Lloyd, Robyn Swatman and Isabelle Thorpe) events with a 13th and 15th placed finish respectively.
Karen Thorpe, Swim England artistic swimming manager, was thrilled with the performances from the entire British team in Japan.
She said: "We've had a great experience at the World Championships and the performances have all been excellent.
"Obviously the medal is absolutely outstanding for us. It's the first time we've had a medal at the World Championships in the history of the sport and we couldn't be more thrilled with that.
'Strongest results in our history'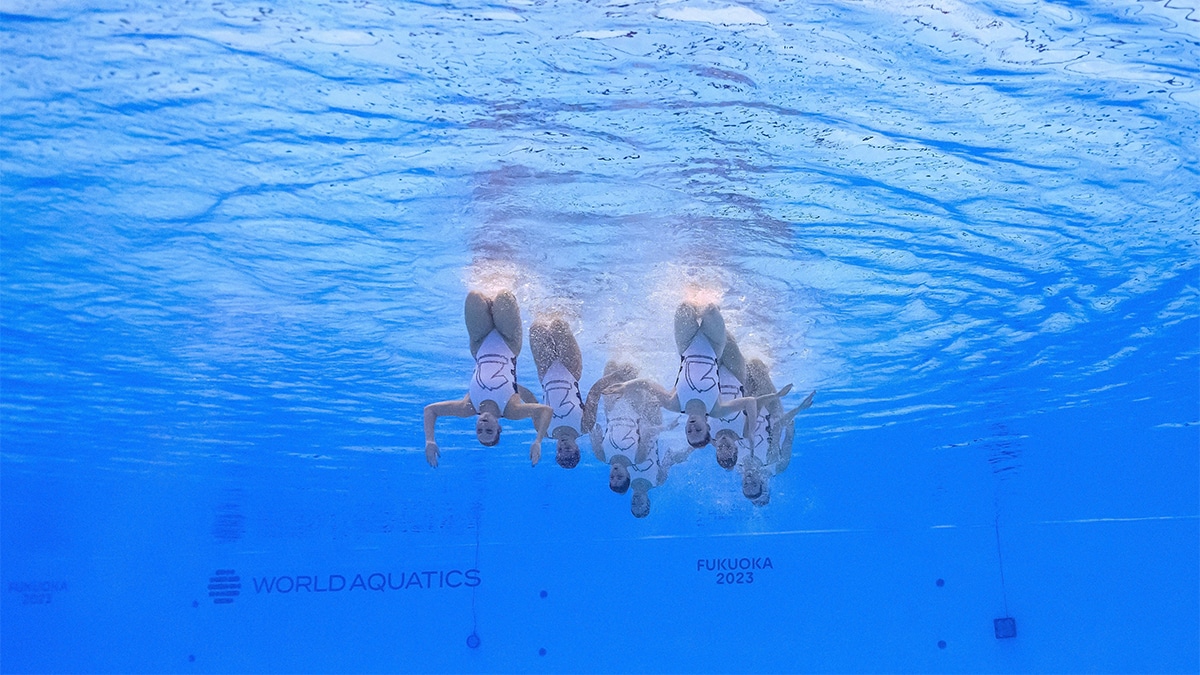 "We're facing the new scoring system which has caused us a few challenges to get our head around but on the whole we've performed so well throughout the week.
"With this new system there's a lot of high risk high reward which makes the sport much more unpredictable.
"If you do everything correctly, you can really improve your ranking – like we did with Kate in the solo – but if you aren't quite perfect you can easily drop down the leaderboard.
"We've had five fifth placed finishes where again we've never had such strong results in our history.
"Of course we've got the new Mixed Duet events and the Male Solo which has contributed to that and the Free Duet with Kate (Shortman) and Izzy (Thorpe).
"That's a fantastic achievement to come fifth. We're behind a few of those top countries but we are right in the mix now and we're beating some of the nations that have been ahead of us for the last 20-30 years.
"With the Team events, we were really happy with the Free Team. We were the only team not to receive any basemarks in the preliminary swim.
"Unfortunately in the final we picked up a basemark for our final figure which dropped us down to tenth place but these are still fantastic results for British artistic swimming.
"So I'm really pleased with how the competition has gone and it stands us in good stead ahead of Olympic Qualification at the Doha World Championships next year and also puts us in a strong position to continue developing the team as we move into the 2028 Los Angeles Olympics cycle."
You can find all the results from the World Aquatics Championships here and you can re-watch a number of routines through the All Aquatics platform.
Kate Shortman🤝 Izzy Thorpe are moving 🆙 in the world standings ⬆️🌏

This was their fourth @WorldAquatics Championships together and highest Duet Free ranking in the competition to date [📹: https://t.co/23o82ZzWxE] pic.twitter.com/cW2adzTVEw

— British Swimming (@britishswimming) July 20, 2023