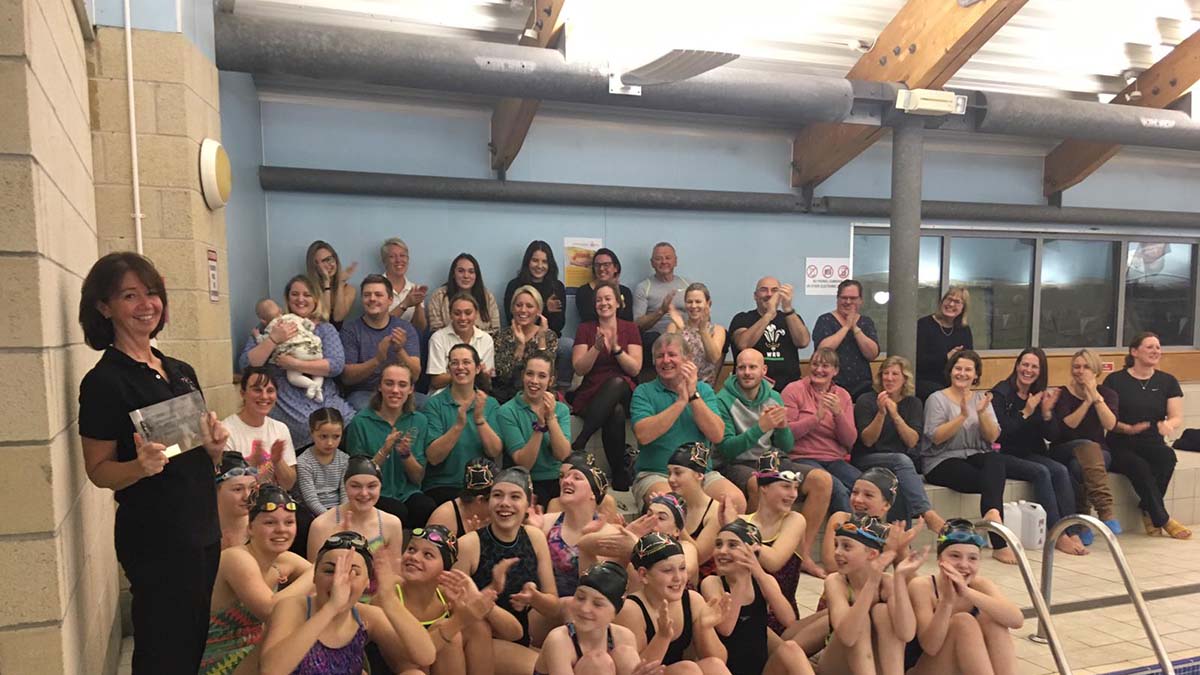 Synchro coach Clair Murphy crowned BBC West's Unsung Hero 2018
December 6, 2018
Dedicated synchronised swimming coach Clair Murphy has been crowned BBC West's Unsung Hero for 2018.
Community midwife Clair, who has coached hundreds of youngsters at Calne Alpha Synchronised Swimming Club, in Wiltshire, over the last 25 years, will now attend the BBC's Sports Personality of the Year Awards in Birmingham on Sunday 16 December.
There she will find out if she has won the national BBC Get Inspired Unsung Hero prize for 2018.
Mum of four Clair said she was shocked to find out she had been nominated for the regional award – and even more surprised when told she had won.
"I was stunned when I got the phone call asking me to make a short film about my nomination," said Clair. 
"So you can imagine at the end of a day of filming, I was simply ready to end the film with a 'goodbye' from the club. But it was then they sprung it on me that I had actually won the award.
"When they gave me the award I was stunned – very happily stunned.  
"The club went mad as they all thought as I did that I was just on shortlist! There was a lot of laughter and congratulations and I still get a little emotional when I think of it.  
"I was very touched that I was nominated and very honoured to have won the award."
Clair is awe-inspiring
Clair, who first started helping out at Calne Alpha as one of the coaches was ill, often spends every night on poolside, raises money for the club, attends competitions up and down the country and is also a national judge
She said: "I love working with young people. They give so much and it's wonderful to see their smiles when they achieve something, even if it's a tiny achievement. I think I'm just hooked on that feeling.
"Over the years, we have had children who are deaf, we have had people with mobility problems and they find working with water really helps them. They seem to get a different awareness of their bodies and that can be really positive for them."
Members of Calne Alpha Synchronised Swimming Club described Clair as 'awe-inspiring'.
Graccia Gardner said: "She has helped the club tremendously and put all her heart into it. 
"The club would not be running if it wasn't for Clair – she is great."
And parent helper Jo Giddings, who nominated Clair for the award, added: "She is awe-inspiring. 
"The time she has given up to do this unpaid and unrecognised, and she just keeps going.
"It's what she believes in and it's straight from the heart."
You can find out if Clair has won the BBC Get Inspired Unsung Hero Prize 2018 during Sports Personality of the Year, which is on BBC1 on Sunday 16 December from 7pm.