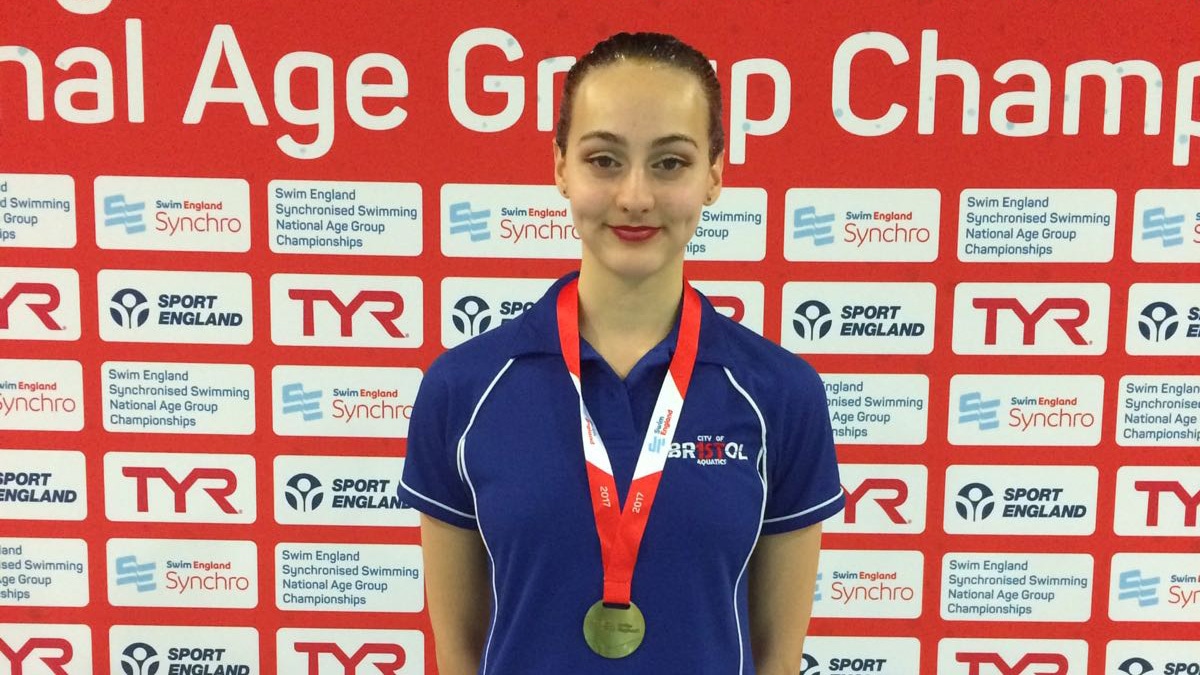 Hampson makes it two with 15-18yrs Solo gold
November 26, 2017
Greta Hampson of City of Bristol secured her second gold medal of the competition, snatching the title by the narrowest of margins on day two of the Synchro National Age Group Champs.
Hampson had been in second place following the Figures competition. However, she nailed her Solo to jump up to the top spot, finishing less than 0.02 points ahead of Rushmoor's Danielle Cooper.
Her routine had some lovely changes in pace, which was complemented by the Latin-style song choice. She scored an impressive 71.2667 for her routine to Sway (Mucho Mambo) by John Tesh.
This took her total to 140.9697 to add the solo to her duet gold from day one.
"It feels really good to get a second gold," said Hampson, who had finished fourth in the Solo 12 months ago.
"I went out there and tried my hardest. I knew if I wanted to win I was going to have to give it my all.
"So I wasn't really thinking about winning, I was thinking about just going out there and doing the best I can do."
Cooper claims second silver
Cooper also caught the eye of the judges as she scored 70.8000 for her routine, inspired by music from Schinder's List.
The Rushmoor swimmer, who also won Duet silver in Gloucester, finished on 140.9515.
Meanwhile, Hampson's duet partner Daniella Lloyd took the final place on the podium. She was the only other swimmer to breach 70 points for her Free Routine, scoring 70.3333 to take bronze with 138.0000 overall.
15 – 18 Yrs Solo Results
Rank
Club
Routine
Figures
Overall
1
Greta Hampson
(City of Bristol)
71.2667
69.7030
140.9697
2
Danielle Cooper
(Rushmoor)
70.8000
70.1515
140.9515
3
Daniella Lloyd
(City of Bristol)
70.3333
67.6667
138.0000
4
Laura Ribeiro da Cunha
(Rugby)
68.5000
67.1757
135.6757
5
Millicent Costello
(City of Leeds)
66.7333
66.5272
133.2605
6
Victoria Usher
(Rushmoor)
66.1667
65.0122
131.1789
7
Teri-Faye Coupar
(Reading Royals)
64.5333
63.1151
127.6484
8
Isobel Davies
(City of Leeds)
63.7667
62.3273
126.0940
9
Melissa Knapton
(City of Salford)
63.2333
62.0606
125.2939
10
Rhea Howard
(City of Preston)
62.3333
62.8000
125.1333
11
Pyper Watkins
(City of Birmingham)
62.7667
60.9335
123.7002
12
Sydney-Ann Jackson
(City of Birmingham)
61.3333
60.3939
121.7272