How help from Swim England saw Kingston Synchro rise from the depths
February 24, 2019
Kingston Synchronised Swimming Club has a different name and a new energy and enthusiasm within the club. Keely Downend discovers how intervention from Swim England helped them rise from the depths. 
Louise Chambers knew the future looked bleak for synchronised swimming in Kingston.
With only one or two volunteers burdened with carrying out a variety of roles at then-known Kingston Ladies, the club's future prospects were far from glittery.
"The club wasn't sustainable and wasn't playing to everyone's strengths," said chairperson Louise. "We knew we'd most likely go under soon if we didn't take action."
So efforts were made to reassign committee roles and the club contacted Swim England for help.
Sarah Darragh, Swim England's national development officer for synchro, worked with the club to review its structure and governance and produced a two-year development plan.
She said: "It is a pleasure to be working with the club on the review of their programme and making recommendations to current pool time and squad structure.
"The plan has been fully embraced and it's great to see the club thriving in such a short space of time.
"The committee and coaches are very passionate about the sport and have been open to the support and guidance around gaining additional pool time, making recommendations for recruitment and ensuring that the club is supported in creating an athlete-focused environment.
"They have done a great job in making the necessary changes to ensure everyone is benefitting from a positive club environment."
As the club sought to embrace change, they made the decision to rebrand from Kingston Ladies to Kingston Synchro, to be gender neutral.
Further training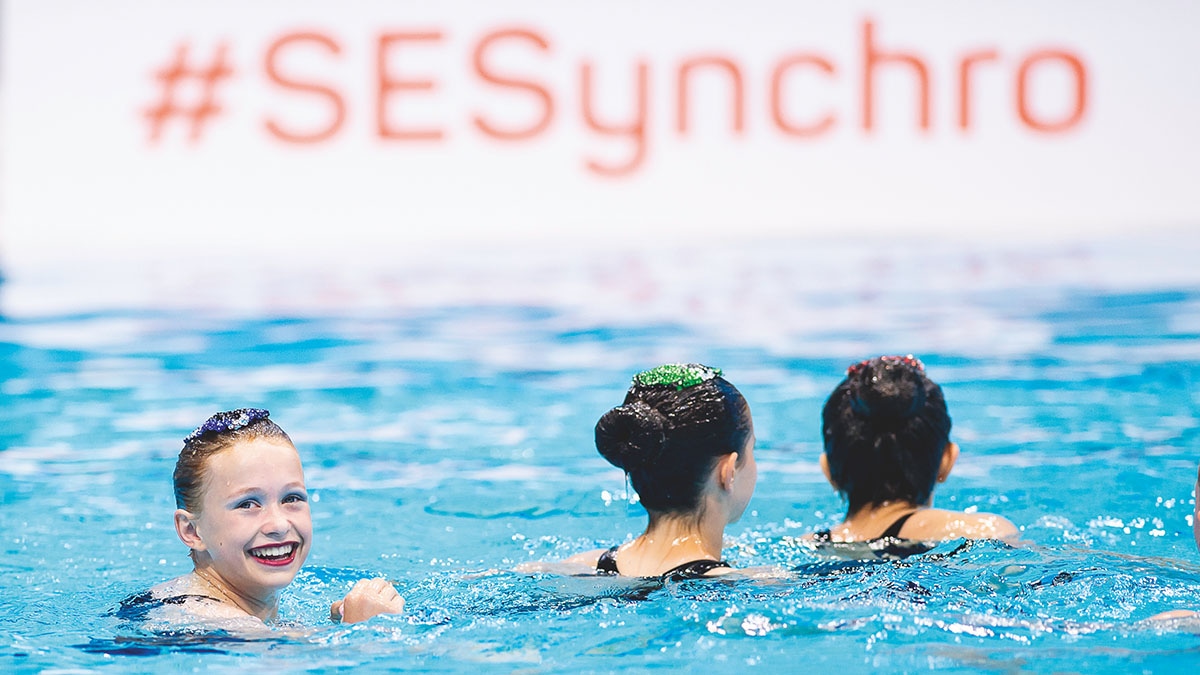 The club is reaping the benefits of a 50 per cent increase in membership, which includes some boys.
Now, a total of 70 swimmers, aged between seven and mid 30s, enjoy the water between one and three times a week, with an additional land training session on offer.
As a club, they compete locally and nationally, including at the Swim England Synchro Combo Cup, with the most senior team also travelling abroad for competitions.
A number of their coaches have also undergone further training. The club now have five Level 2 coaches and one Level 1, but they hope to increase this to eight Level 2s and three Level 1s.
There are currently eight different squads but, again, the hope is to increase this to 10. The club has also created partnerships with local schools and use their pools for training.
"Everyone seems really motivated," said Louise. "We're constantly looking forward and succession planning.
"Our vision is to have the club operating at around 100 swimmers, with a full suite of highly-skilled Level 2 paid coaches. We're aiming to get our first junior team to nationals over the next couple of years."
The club was eager to share their experiences in the hope that other clubs may benefit.
Louise explained: "The most important thing I've learnt is that it's a team effort.
"Everyone has different skills and it's important to work with those, no single person can make the difference we have done.
"Of course, we've had our ups and downs but it's important that everyone feels like they have a seat at the table. We all completely love our sport and knowing that we were all working towards a common goal made it so much easier.
Future is exciting
"Celebrating our successes was also really crucial.
"For example, we changed our name and, off the back of that, we launched a brand-new range of club kit. We did a big reveal at our AGM. It was a big moment for the club, the start of something exciting – everyone needed to be on board."
Kingston Synchro's head coach, Collette Crow, was eager to reiterate how crucial it is to have a dedicated committee as well as willing parents and volunteers who want to, and can, help.
"As a coaching team we had the vision, passion, commitment and talent to move the club forward," she said. "But without the manpower behind the scenes there is only so much you can achieve. Administration takes time and commitment too. We now have this in place. The future is exciting."
Offering advice to other clubs, Louise said: "Don't give up – the hard work and effort are so worth it in the end.
"When we had our summer show last year and we looked round the pool at all of our swimmers how happy they were and what we'd achieved, there was such a sense of pride."
"I'd also say ask for help. Swim England's Sarah Darragh has been amazing.
"She's helped us apply for grants and we've been able to use that money to go into local schools to educate students about the sport and our club and we have a very long waiting list now."
Kingston Synchro pride themselves on being a family and a close-knit club.
Now, with a clear vision, they're back on the right track for a bright and successful future.