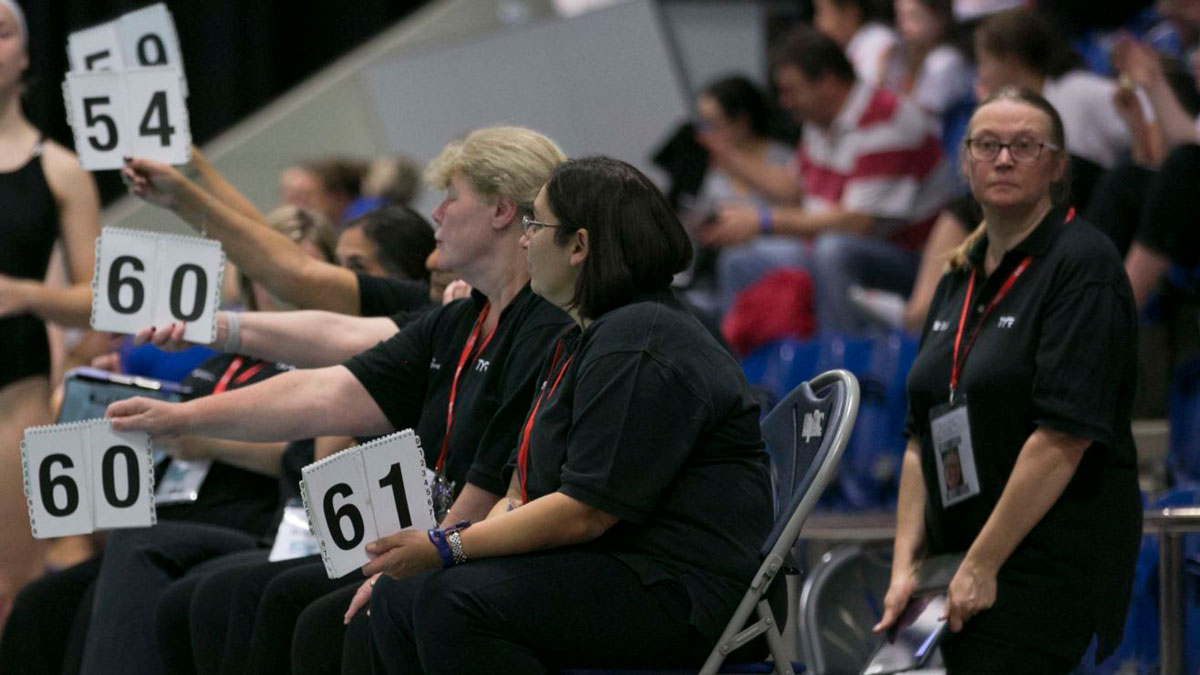 'Exciting' opportunity as Artistic Swimming Chief Recorders Course relaunched
October 6, 2021
A 'great' opportunity for officials within artistic swimming is once again being offered by Swim England.
The newly developed Artistic Swimming Chief Recorders Course will be delivered on a national basis and offers a chance for current trained national scorers to upskill and widen their knowledge of volunteering within the sport.
This is a unique opportunity aimed at increasing the number of Chief Recorders available to support competition delivery.
Individuals who successfully complete the one-day course and have been observed at a regional and national level will receive national chief recorder status, which can be used at both regional and national competitions.
New chief recorders will be supported and mentored by one of the current active chief recorders.
Volunteers who completed the National Scorers Course within the last decade are also eligible for this course.
The course will take place on 21 November. If you are interested in booking on to it, you can register your interest via this link.
Applicants will then be asked to submit a short Artistic Swimming CV demonstrating their experience. A selection panel from within the sport will review these before sending out invites.
'Importance of upskilling'
Richard Crisp, lead chief recorder and course presenter, commented on the importance of courses such as these.
"We want to encourage as many people as possible to achieve National Scorer and Chief Recorder status within our sport," he said.
"This course in particular means that the experience and knowledge base within artistic swimming grows, which speaks to Swim England's efforts of increasing the popularity of the sport.
"Chief recorders play a key operational role in the running of our events and without these volunteers, artistic swimming competitions in England wouldn't be the events they are."
"This is a great opportunity to better and grow our sport and we look forward to delivering this course."
What will the course enable people to do?
Receiving entry lists from the organiser
Carrying out the draw and swim order for each event, in line with the competition / FINA conditions in conjunction with the event referee
Preparing start lists to be published ahead of the event
Selecting and managing the scoring team who will enter and collect the results at the event
Preparing the scoring templates that will be used on the day to capture judges scores
From the scores received, organise the scores into rank order and present results to be approved by the referee.
Prepare results in a form for wider publication
Prepare a post-competition report for the referee and organising committee