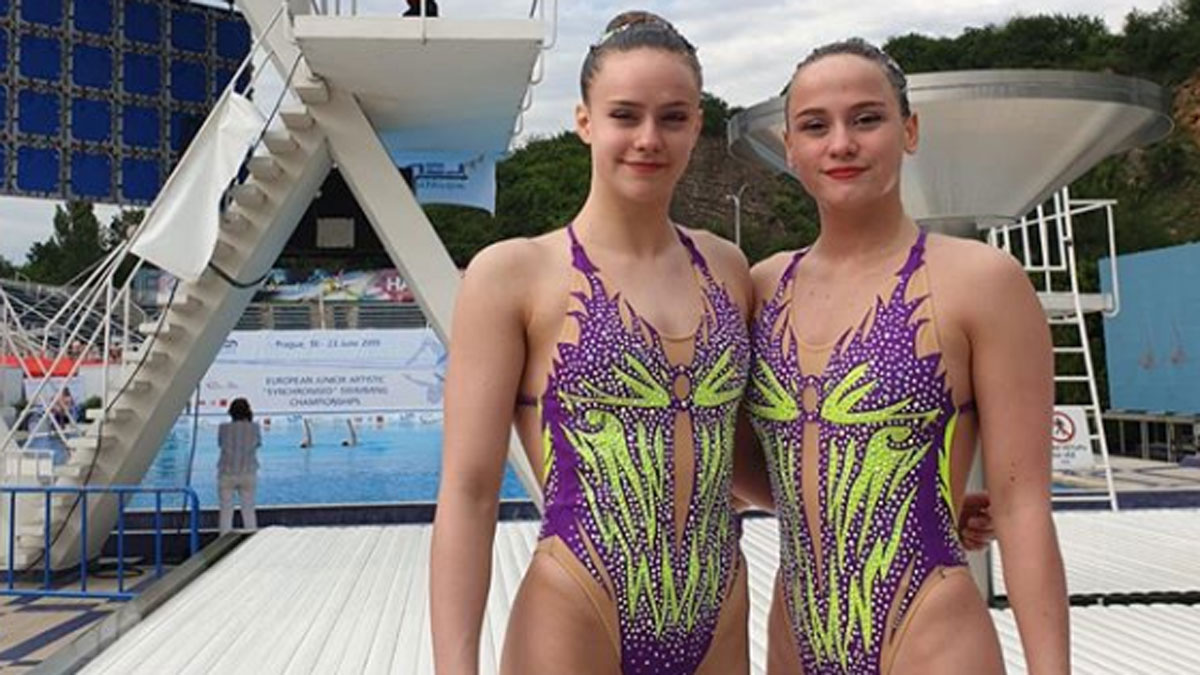 Kate Shortman and Isabelle Thorpe ready to take on the world in Gwangju
July 11, 2019
Great Britain's synchronised swimming duet Kate Shortman and Isabelle Thorpe will be hoping to make a statement when their FINA World Championships campaign begins on Friday.
The young pair will make their second appearance at the championships, having been only 15 and 16 respectively when they competed in Budapest two years ago.
Both Shortman and Thorpe headed to Gwangju, South Korea, full of confidence thanks to a stellar season on the international stage.
After helping Britain's free combination team to a silver medal at the FINA World Series event in Paris, they went on to raise the bar with a succession of personal best performances.
At the European Junior Championships last month, Shortman and Thorpe narrowly missed out on medals in the duet free and duet technical, finishing fourth in both events.
Shortman has also enjoyed plenty of success personally, winning a bronze medal in the solo technical at the eighth leg of the World Series in Barcelona.
Having proven they can compete with the best in the world, Shortman and Thorpe have an opportunity to boost their hopes of qualifying for the 2020 Olympic Games in Tokyo.
Olympic spots are up for grabs in Gwangju, and although the competition will be intense, this is an opportunity for the duet to set a new benchmark.
"It's definitely an important step on the road to Olympic qualifying, because some of the same judges will be there," Shortman said. "Competing against the whole world, it's a chance to show where we are in terms of qualification."
Thorpe added: "Since September when we started our season, this has been the main competition for us. Even though it's at the end, we've been keeping our eyes on it.
"It's just us two and our two coaches. It's weird because all year, except for when we went to Japan, we had the whole team with us, so it's been a very different atmosphere. But we're used to it and last senior worlds was the same."
Young veterans
As some of the youngest competitors in the World Championships field in 2017, Shortman was 12th in the solo free final and together they finished 16th in the duet free, only two marks off a place in the final.
Now, steeled by more experience and success, they're ready to put Great Britain on the map.
"[Budapest] was so new for us, because that was our first senior worlds," Thorpe said.
"I feel like even though we were really prepared, this time around we're going to be even more prepared, because we know what to expect."
Shortman added: "We're not expecting anything, but we're trying to get PBs and push for higher scores. Our goal is to make finals – that would be good."
The competition gets underway in Gwangju on Friday 12 July, with Shortman swimming third out of 28 competitors in the solo technical preliminaries, before teaming up with Thorpe for the duet technical preliminaries.
They will go 11th out of the 45 entries.
FINA World Championships 2019 – sychronised swimming
Friday 12 July – solo technical prelims, duet technical prelims
Saturday 13 July – solo technical final
Sunday 14 July – duet technical final
Monday 15 July – solo free prelims
Tuesday 16 July – duet free prelims
Wednesday 17 July – solo free final
Thursday 18 July – duet free final