Fern Sneddon, 16, is an award-winning member of Tunbridge Wells' RTW Monson Swimming Club. She has been selected by the Swim England Development Programme, a talent pathway to support and enhance the development of athletes for the Olympics and Paralympics. Fern is also currently on the Youth Performance Programme. Fern's ambition is to compete at both the 2024 and the 2028 Paralympics.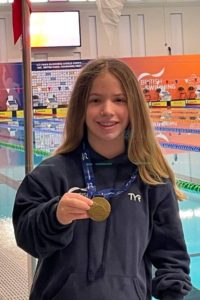 Fern has hypochondroplasia, also known as dwarfism, and despite studying for her International Baccalaureate® (IB) diploma, training up to six times a week, and travelling around the county at weekends to attend swimming galas and specific para-training programmes, has still found time to qualify as a Swimming Teaching Assistant.
Fern says: "I started swimming as a four year old. I wanted to be like my brother and, as he swam competitively, I wanted to join the club too. So, I joined the club when I was just four and had my disability classified when I was nine. I joined the RTW Monson Swimming Club and I haven't looked back.
"I love swimming and I really enjoy the thrill of competing. Swimming is so much part of my life. There is never a quiet moment; I'm constantly on the move. I do get tired and suffer with pain, but I'm committed to my swimming club. It's really sociable and I've made lots of friends there, which is not a bad thing, as I train virtually every day, sometimes having to get up at five in the morning. Being able to compete at the Paralympics would make the long hours and the training all worthwhile. The next step is to get my International Classification to be able to qualify."
Becoming and Swimming Assistant
In the Summer of 2022, Fern completed her SEQ Level 1 Swimming Assistant (Teaching) qualification. Fern says:
"I have enjoyed helping out with coaching and volunteering, and felt that I should make it official by beginning my swimming teaching qualifications. I plan to get my Level 2 this year.

"Even though I swim practically every day, I still found the Level 1 course to be helpful, as being a good swimmer doesn't necessarily make you a good swimming teacher. There was lots of helpful tips for teaching strokes, gaining children's trust in lessons, as well as how to keep everyone safe in the water."
Fern now works as a swimming teaching assistant for eight lessons a week at Tonbridge Swimming Pool. Fern says:
"It's great to get paid for doing something I love, and in comparison to some of my friends who have part time work in hospitality, the pay is better, the hours are more flexible, and fit around my training, swimming meets and school work. It's much more rewarding. I'd like to get my Level 2 before going to university, so I can lead swimming lessons and help fund my studies.

"I'm really enjoying working with the Swim England Stage One classes, as the kids are so excited and it's great to see them gain confidence around the water. I also think it's important that people with disabilities are seen participating and enjoying water, as there are still so many misconceptions about what people with disabilities can achieve.

"I really hope to get the Paralympics and show everyone how good I am. Swimming has brought me purpose and recognition and I love being able to share my passion through volunteering and teaching, to hopefully inspire the next generation of swimmers."
Inspired by Fern's journey? Want to start your journey to become a swimming teacher …
ℹ️ Get more information on becoming a swimming teacher
🔍 Search our courses
📧 Sign up for our newsletter