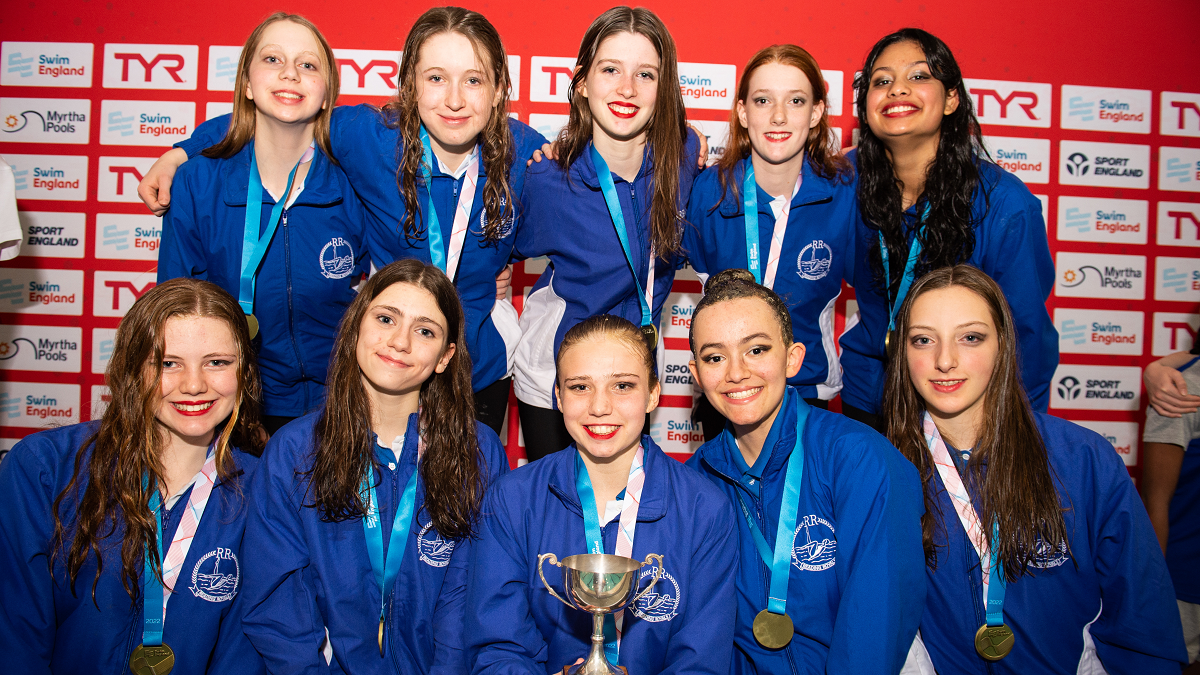 Reading Royals crowned national age group champions and retain prestigious trophy
April 3, 2022
Reading Royals were crowned champions and retained the prestigious Mrs Y M Price trophy at the Swim England Artistic Swimming National Age Group Championships.
It is the sixth time Reading have won the trophy, which is awarded to the team with the highest combined figure and free routine score in the 13/14 years age group.
A 10-strong team clinched gold in the 13-15 free team competition, which consolidated their win.
Their routine score of 67.3000, added to their figure score of 62.0697, resulted in an overall total of 129.3697 – which was an improvement on their 2020 score.
The successful team was Eva Narewska, Florence Blinkhorn, Lily Halasi, Francesca Pringle, Beatrice Askar, Amy Wilson, Eloise Hackett, Elizabeth Cox and in reserve, Diya Kaushik and Anneliese Guillory.
Halasi, who claimed a total of four golds throughout the championships, also retained the Shacklock trophy.
Although the Mrs Y M Price trophy was not awarded during the virtual event that took place in 2021, the Shacklock trophy was awarded to the swimmer with the highest total of routine scores in the solo, duet and team events.
The silver medallists in the 13-15 free team competition were Aquavision who achieved a total of 120.6010.
In third and taking bronze was London Synchro with an overall score of 117.9456.
Bristol win Richard Whitehead trophy
The Richard Whitehead trophy was awarded to City of Bristol after they finished on top in the 12 and under free team competition.
They are only the second club to ever receive the trophy, after it was first presented to Rugby at the championships in 2020.
The seven gold medal-winning swimmers were Titilayo Adetola, Anastasia Appleby, Elspeth Brand, Thea Conway, Elsa Earnshaw, Hannah Gibbons and Sophia Pullen.
An overall score of 102.6777, broken down into 51.1333 for routine and 51.5443 for figure, was enough to beat London Regional Synchronised Swimming Club.
The London club finished with a score of 101.1697 to win silver, followed by the bronze medallists in Rugby, with 98.7907.
Pictures: Will Johnston Photography.