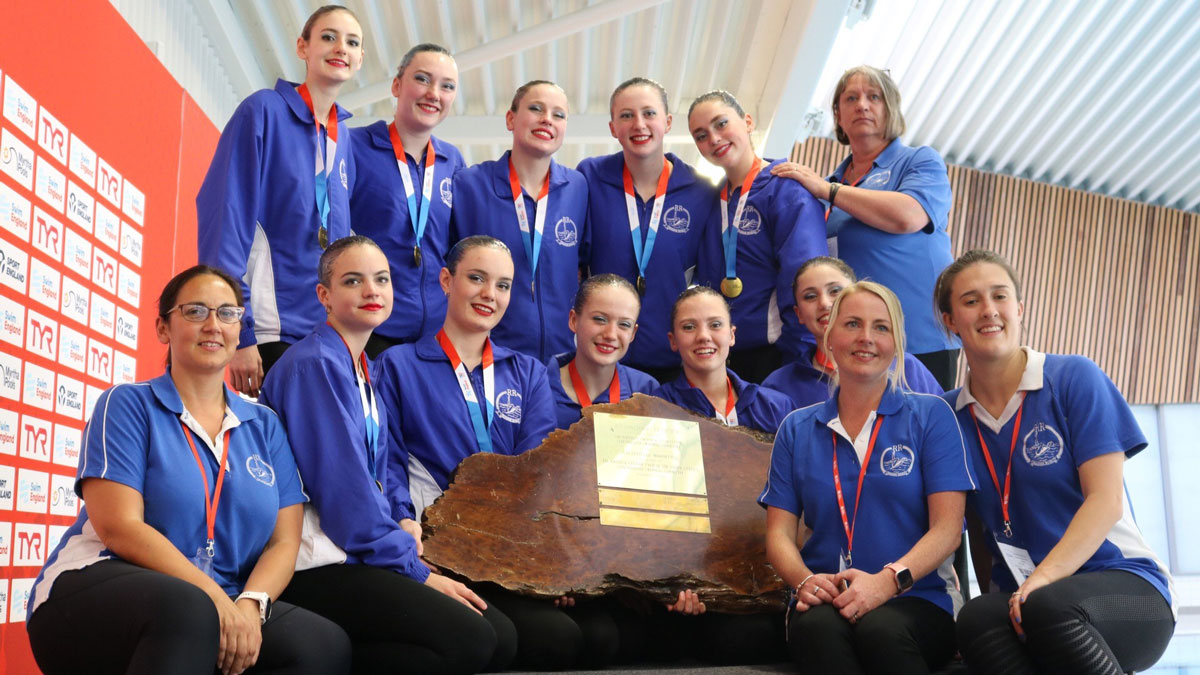 Reading Royals win Redwood Trophy at Synchro Nationals
April 28, 2019
Reading Royals have won the Redwood Trophy for the first time in almost 20 years, after a dominant day at the 2019 Swim England National Synchronised Swimming Junior and Senior Championships.
Reading set the tone early in the day, winning the Technical Team by almost three points.
With the coveted Redwood Trophy being awarded to the team with the highest combined score from the Tech Team and the Free Team, they headed into the final routine of the weekend with fate in their hands.
Reading's A team of eight showed no sign of nerves in front of a national audience, with the Free Team broadcast live on the BBC.
As the announcer revealed a score of 73.3000, Reading knew they had done enough to end their long wait for the Redwood.
A combined score of 144.4924 put them at the top of rankings and it was there they remained.
The Redwood success capped off an immensely successful weekend for Reading, who also won gold in the Free Duet, Tech Duet, Free Combo and Tech Team competitions.
Bristol finish strong for silver
City of Bristol were without Kate Shortman and Isabelle Thorpe this weekend, with the GB duet competing in Tokyo.
But with four other members of the GB squad present, they claimed back-to-back silver medals on Sunday.
Bristol were second in the Tech Team and gave Reading a serious contest for the Redwood Trophy, grabbing silver in the Free Team with 70.3000 points.
City of Leeds A picked up bronze in the Free Team, finishing third in the race for the Redwood.
Gold – Reading Royals A
Abigail Taylor, Alyssa Basinger, Cerys Larsen, Daisy Gunn, Eleanor Blinkhorn, Harriette Smith, Isabel Turrell, Isobel Blinkhorn, Tara Dakovic, Victoria Usher
Silver – City of Bristol
Abby Foster, Anna Sledge, Cerys Hughes, Daniella Lloyd, Evie Garrett, Grace Cruickshank, Innez Merrett, Kiran Ubhi, Lilly Todd, Maddie Berry
Bronze – City of Leeds A
Chloe Mclelland, Daisy Rushton, Eleanor Crabtree, Greta Hampson, Isobel Davies, Millicent Costello, Niamh Cooper, Olivia Burton, Prudence Hubbard, Tilly Budd
Free Team Results
| Rank | Name | Pens | Routine | Overall |
| --- | --- | --- | --- | --- |
| 1 | Reading Royals A | 0 | 73.3000 | 73.3000 |
| 2 | City of Bristol | 0 | 70.3000 | 70.3000 |
| 3 | City of Leeds A | 0 | 69.0000 | 69.0000 |
| 4 | Rugby | 0 | 64.5667 | 64.5667 |
| 5 | City of Salford | 0 | 64.3667 | 64.3667 |
| 6 | Reading Royals B | 0 | 62.4667 | 62.4667 |
| 7 | London Region | 1 | 63.1333 | 62.1333 |
| 8 | City of Leeds B | 0.5 | 59.4000 | 58.9000 |
| 9 | Witney and District | 1 | 56.0667 | 55.0667 |
| 10 | Clydebank | 1.5 | 53.6333 | 53.6333 |
Technical Team Results
| Rank | Name | Pens | Routine | Overall |
| --- | --- | --- | --- | --- |
| 1 | Reading Royals A | 0 | 71.1924 | 71.1924 |
| 2 | City of Bristol | 0 | 68.2477 | 68.2477 |
| 3 | City of Leeds A | 0 | 66.2084 | 66.2084 |
| 4 | Rugby | 0 | 62.5301 | 62.5301 |
| 5 | Rushmoor | 0 | 61.8385 | 61.8385 |
| 6 | City of Salford | 0 | 61.5864 | 61.5864 |
| 7 | City of Birmingham | 0 | 60.7989 | 60.7989 |
| 8 | Walsall | 1 | 57.6837 | 56.6837 |
| 9 | Portsmouth Victoria | 1 | 56.7108 | 55.7108 |
| 10 | Witney and District | 0.5 | 55.3249 | 54.8249 |
| 11 | Clydebank | 1.5 | 51.6274 | 50.1274 |
Images available from willjohnstonphotography.co.uk