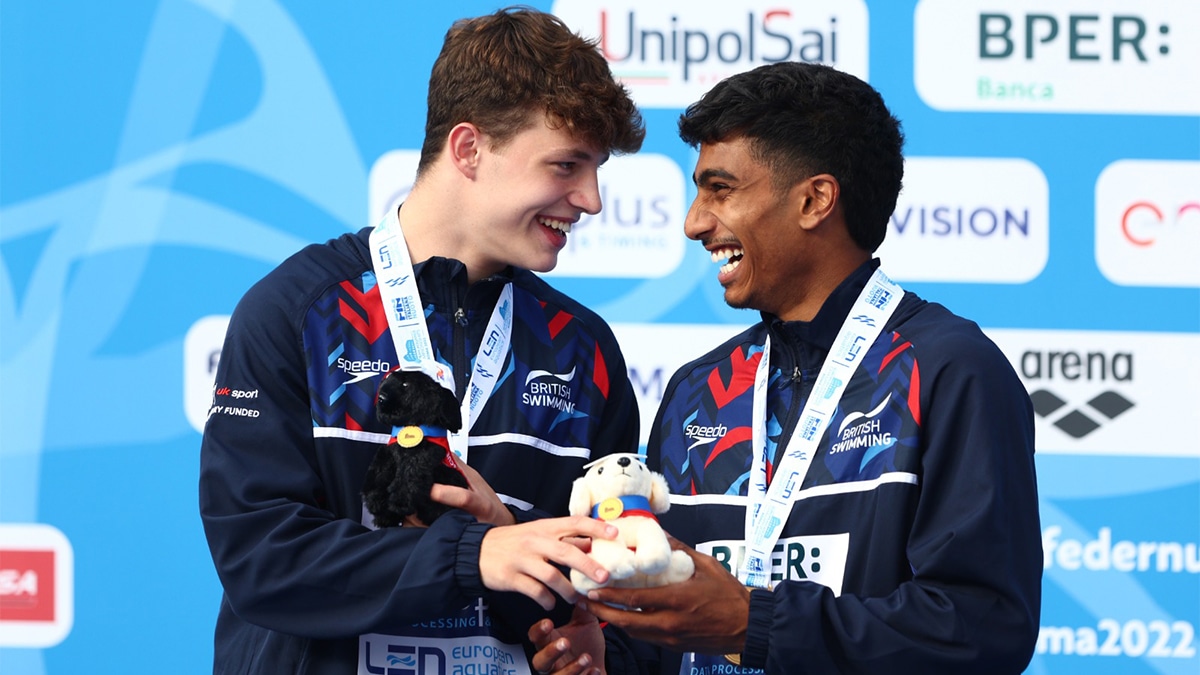 Cutmore and Kothari become European Champions in first season together
August 19, 2022
Ben Cutmore and Kyle Kothari stunned the crowd to take gold in the Men's 10m Synchronised Platform final at the European Aquatics Championships in Rome.
Bouncing back from narrowly missing out on a medal for Team England when finishing fourth at the Commonwealth Games, the British duo put in their best performance as a pairing so far to become European Champions.
From their six dives they scored a total of 390.48 to take the title with their final dive as they finished just 2.46 points ahead of the impressive Ukrainian pairing of Kirill Boliukh and Oleksii Serada.
In just their fourth competition together, Cutmore and Kothari got off to a strong start, sitting joint third with Germany after the two rounds of required dives with a combined total of 95.40.
At that stage the field was tightly packed, with Ukraine in the lead but only three points clear of the British team.
The Ukrainian's then asserted themselves in round three, taking on a higher difficulty dive than many of the teams around them to score 79.68 and give themselves a 10.68-point lead.
Kothari and Cutmore dived well themselves in the third round to score 72.00 off their forward 3 ½ somersaults pike to put them in silver medal position for the first time in the contest.
The two Brits kept the pressure on the leaders as they put together a string of consistent dives scoring 75.24 and then 71.04 in rounds four and five to pull ahead of the chasing pack and close the gap to the Ukrainian's to just six points.
That meant it came down to the final round of dives with Kothari and Cutmore stepping up first of the leading two teams and they saved their best effort for last.
A score of 76.80 for their back 2 ½ somersaults, 1 ½ twists in pike showed great composure from the young pairing, leaving the Ukrainian's needing a score of 71.28 to hold on to the gold medal place.
Their final dive had the highest degree of difficulty in the competition with a mark of 3.7 for their forward 4 ½ somersaults. They couldn't do enough though as they could only manage a score 68.82 which meant the British pair snatched the title.
The win gives Kothari his second gold of the championships after his Mixed 10m Synchronised title with Lois Toulson whilst Cutmore wins his first European title in his first year as a senior diver.
Ukraine had to settle for silver with a total score of 388.02 whilst Germany won bronze after scoring 369.30 for their six dives.
Harper wins her first European medal
Yasmine Harper won her first European medal by winning bronze in the Women's 3m Springboard final.
The City of Sheffield diver scored a total 296.20 as she came back from her sixth place at the Commonwealth Games to take home a medal from Rome.
British champion Harper was fourth in this morning's preliminary round but found something extra as she managed to take the final step on the podium.
Elsewhere, Britain's Grace Reid finished in eight place with a final score of 259.80 as she ends an impressive season in Rome with bronze in the Mixed Team Event and a silver in the Mixed 3m Springboard alongside James Heatly.
Harper got off to a strong start by moving into second place after the opening round of dives with a score of 63.00 for her forward 2 ½ somersaults, 1 twist in pike.
She dropped to fourth after round two before bouncing back with her best dive of the competition in round three.
For her third dive Harper performed a forward 3 ½ somersaults pike for 68.20 points to put her back into the medal places.
Another strong dive in round four kept her in contention for second place after her reverse 2 ½ somersaults pike scored a further 61.50 that left her just 2.40 off Switzerland's Michelle Heimberg in second.
In the end it was third for Harper in another strong display to round off her season in style at the Foro Italico.
She finished up 5.60 points off Heimberg and 22.55 points off Italy's Chiara Pellacani who won gold with a total of 318.75.
Diving at the European Aquatics Championships continues tomorrow with the Men's 3m Springboard and the Women's 10m Synchronised Platform events.