Humphreys strikes gold as divers claim five European Junior Championships medals
June 28, 2018
Tyler Humphreys won Great Britain's first diving gold medal of the 2018 LEN European Junior Championships.
The 15-year-old triumphed in the Boys' B 1m Springboard Final in Helsinki, Finland.
Humphreys was dominant in the preliminary round and comfortably booked his place in the final as he topped the leaderboard.
And he led from start to finish in the final as he scored 391.60 points to take the gold medal.
Humphreys was 9.40 points ahead of Ukraine's Danylo Konovalov (382.30), while Holland's Bram Meulendijks took the bronze with a score of 368.60.
Silver for Vincent and Papworth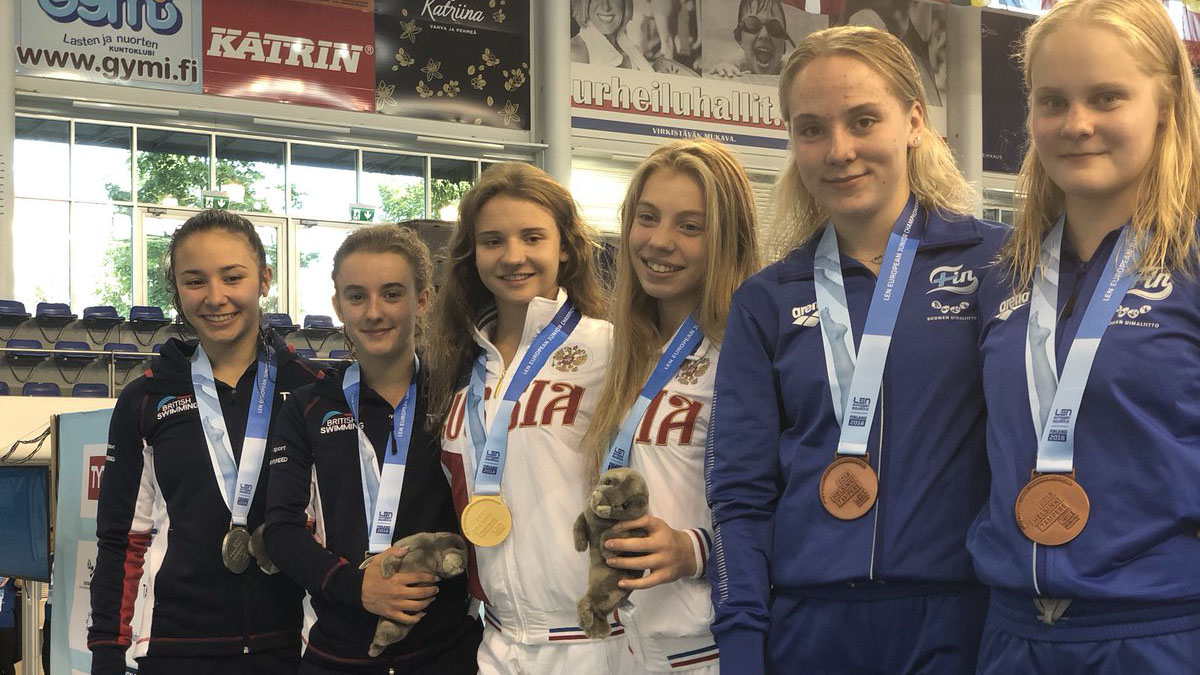 Humphreys's success was one of five medals won by British divers at the competition so far.
In the Girls' 3m Synchronised Springboard Final, Victoria Vincent and Maria Papworth claimed a silver medal.
They were tied with Russia's Uliana Kliueva and Vitaliia Koroleva after the required number of dives but ended up in second place after the optional rounds.
Vincent and Papworth finished on 255.90, 38.70 points behind the gold medallists.
Two bronze medals for Harding
Anthony Harding claimed a bronze medal in a close Boys' A 1m Springboard final.
Only 3.75 points separated the top three with Spain's Matthew Wade Gardiner taking the gold with a score of 476.65. His fellow countryman Adrian Abadia Garcia was second on 475.95, with Harding third on 472.90.
Oliver Crompton finished seventh for Great Britain with a score of 422.15.
It was Harding's second medal of the European Junior Championships after he also claimed a bronze as part of the team event.
The team of Harding, Vincent, Lucas Thomson and Ben Cutmore held second place going into the final dive but were pipped to the silver medal by the Russian quartet.
Held over five rounds across 1m, 3m and platform, with individual, mix synchro and mix age group dives, the GB team finished on 269.40 points. Germany took the gold medal after scoring 294.45 points.
Third place for Banks and Martin
In the Girls' A Platform final, Phoebe Banks and Emily Martin were also bronze medallists. They scored 232.89 to finish 9.87 points behind Russia's Valeriia Belova and Annia Chuinyshena (242.76), who took gold.
Italy's Maia Biginelli and Elettra Neroni won the silver medal with a score of 235.50.
Martin and Banks were also in action in the Girls' A Platform Final but failed to reach the podium.
The event was won by Germany's Elena Wassen on 411.50. Martin was fifth after finishing with 352.00 while Banks came sixth after scoring 344.55.
In the Girls' B 3m Springboard Final, Callie Eaglestone finished 10th with a score of 301.55, while Josie Zillig was 12th (291.20).
Images: Julian Bellan Twitter