Saxton shines and City of Sheffield secure golden hat-trick on day one
June 22, 2023
The Swim England Diving National Age Group Championships returned to Ponds Forge with a bang, as an action-packed day of diving opened the annual competition.
Joshua Saxton was a standout performer on day one. He took gold in the Boys Group C Platform, posting an impressive six-round score of 220.35.
Saxton, representing Dive London Aquatics Club, pipped Charles Tibbatts of Cambridge Dive Team and Leo Robinett of Star Diving Club Guildford to the post to win the championships' first event.
Tibbatts laid claim to the silver medal after scoring 186.90 and Robinett finished third with 186.00.
Semyon Bykov, from Aberdeen Diving Club, and Edinburgh's Tom Mantle, were awarded commemorative medals for their efforts of 214.00 and 212.30 respectively.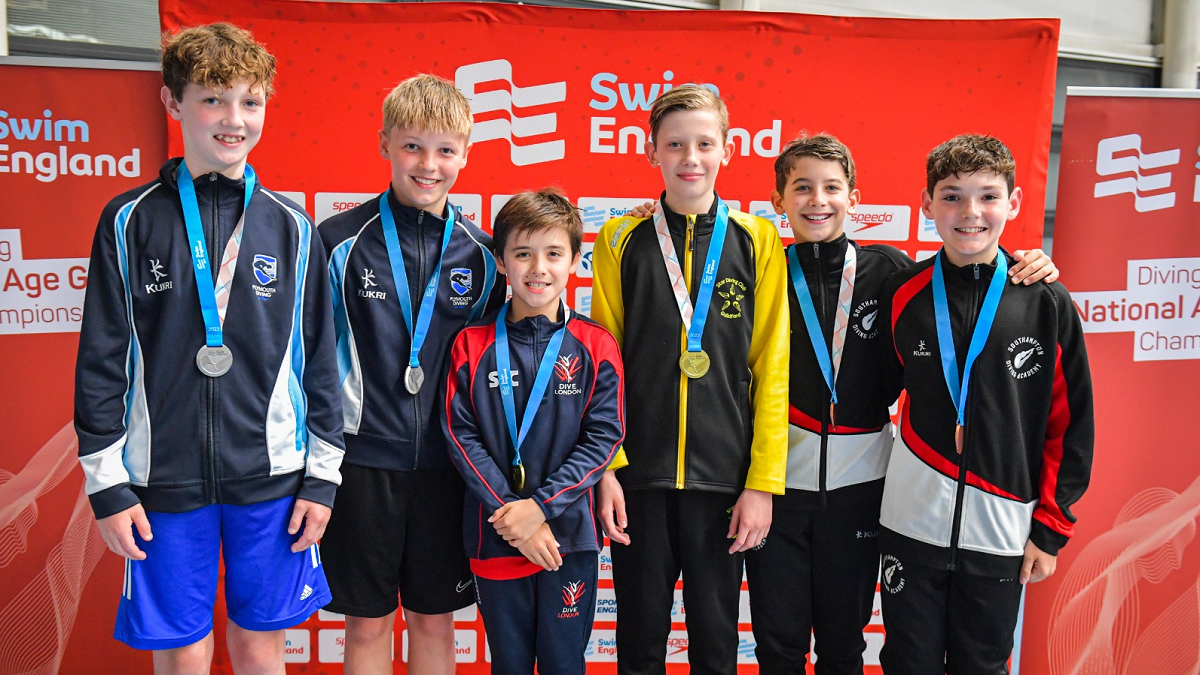 Saxton later teamed up with bronze medallist, Robinett, to take a convincing victory in the Boys Group C/D 1m Synchro.
The pair finished more than 30 points clear of their competitors after scoring strongly in the opening two rounds.
Plymouth Diving Club's Will Heath and Oscar Westbury (166.02) were next to step on the podium in that event, followed by Rami Cooper and Harry King (131.22) of Southampton.
Sheffield's success
The Girls Group C/D 1m Synchro gold went to Eimear Satherley and Willow Kesteven-Mcgrath of City of Sheffield – who rounded off a hat-trick of gold medals wins for the club.
They scored 154.95 – with their closest competition coming from Southend's Emma Mansfield and Cambridge diver Kalila McCrickard, who were the eventual silver medal-winners with 143.40.
Bronze went to Southampton duo Ella Swete and Samantha Barr (135.99).
Hometown hero Izzy Diacon was the first to climb the podium for City of Sheffield. She came out of the Girls Group C 1m victorious, registering 208.80 points over half a dozen dives.
Diacon managed to beat Mansfield (194.30) and Cambridge Dive Team's Tobi Fayomi (188.95) to secure top spot.
Guests Jade Hendrie and Isla-Grace Henderson – from Aberdeen Diving Club and Edinburgh Diving Club respectively – claimed commemorative medals with their scores of 201.55 and 196.65.
Before her synchro success, Kesteven-Mcgrath had already achieved individual success, scoring 163.65 to fend off Southampton Diving Academy's Ella Swete (156.20) and Isla Applin (154.85) of Plymouth Diving Club to win the Girls Group D 3m.
In the Boys Group D 3m, Cooper of Southampton Diving Club amassed 143.20 points to clinch the win.
His score put him 7.50 clear of second-placed Lucas Bishop from City of Leeds and 13.10 ahead of bronze medallist, Harry Westbury, who represents Plymouth Diving Club.
Story written by Lewis Heyn.
Pictures: Will Johnston Photography