One-two finish for Southend and dominant dives from Kesteven-Mcgrath
June 24, 2023
Southend Diving Club's Emma Mansfield made it four medals in three days – but secured her first gold – as she led a one-two finish for her club at the Swim England Diving National Age Group Championships.
Her highest score of the Girls Group C 3m event came in the final round as she was awarded 42.00 points from the judges for her Back 1 ½ Somersaults, 1 ½ twist.
That broke the 200-mark for Mansfield, who finished on 200.90 and around five points ahead of her teammate and silver medallist, Erin O'Neill.
The gold medal completed the collection for the Southend diver, who clinched two silvers on day one in the Girls Group C/D 1m Synchro and Group C 1m, as well as a bronze in the Group C Platform on day two.
The bronze medal in this event went to Tobi Fayomi (190.50) of Cambridge Dive Team, who had joined Mansfield during the medal presentation for the Girls Group C 1m after finishing third in that event also.
A commemorative gold medal went to Edinburgh's Meg Sharman after the guest diver racked up 225.95 points.
Davies doubles her medal count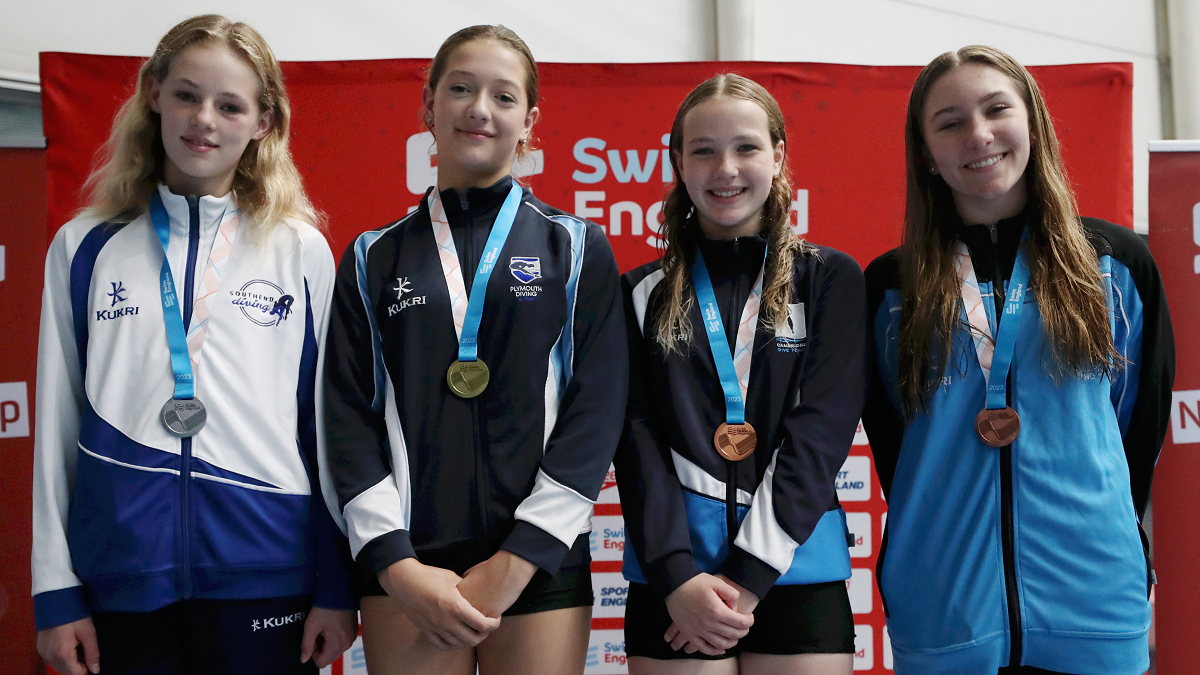 Southend were represented on the podium of the Girls Group B 1m event as well, this time through Sadie Statford.
But she was pipped to the top spot by Plymouth's Lexi Davies in what was a close contest. Just 3.15 points separated the first and third positions.
Davies finished on a total of 233.40 to add to her bronze medal from the Girls Group B Platform event and Stratford (231.40) took silver.
In third place, representing Cambridge Dive Team, was Amelia Aldridge (230.25) and a commemorative bronze also went to Edinburgh's Oksana Yevets.
Familiar faces on the podium
It was almost déjà vu in the Girls Group A 3m, as Plymouth's Ellie Pearce continued her strong form to take her second gold of the competition.
Pearce opened up another comfortable gap on the leaderboard with some confident dives in the later rounds and reached a total of 326.75.
Sophie Mae Hancox (291.65) and Eva O'Reilly (279.25) finished in second and third respectively to make it a familiar podium trio to that of the Girls Group A 1m on the second day of action.
Joining them on the podium was guest diver Gemma Dickson of Edinburgh. Her score of 310.85 had earned her a commemorative silver.
Bishop betters score and Kesteven-Mcgrath dominates
It was a similar story in the Boys Group D Platform event – with Lucas Bishop, Alex Christian and Rami Cooper all claiming the medals – and in the same order as their Group D 1m.
City of Leeds' Bishop bettered his score from the 1m event after a consistent showing. His best result came in round two, achieving 40.70 for his Inward 1 ½ Somersaults with tuck.
That proved to be the highest scoring dive of the event, securing his first place finish and 145.05 points.
Christian, representing City of Sheffield, managed 133.45 and Southampton's Cooper finished with 123.30.
Zachary Koshovyy of Edinburgh Diving Club improved significantly from the 1m event to earn a commemorative gold medal.
In the Girls Group D Platform, Willow Kesteven-Mcgrath completed her dominance of the Group D events, having already won the 1m, 3m and 3m Synchro.
A score of 155.55 saw her collect her fourth gold, beating Southampton's Ella Swete (143.00) and Eimear Satherley (136.90) of City of Sheffield, who finished second and third respectively.
Pictures: Morgan Harlow