Tie at the top as final dive seals share of gold medal
June 27, 2019
A fantastic final dive from Star Diving Club's Johannes Coetzee and Wilfred Johnson led to a tie for first place in the Boys 14-18 Years 3m Synchro.
They were trailing Southampton Diving Academy's Jak Holley and Kai Lanham by 12 points as they headed into the fifth and final jump.
But their back one-and-a-half Somersaults with half twist secured their biggest score of the competition, 43.20 points, and ensured they shared the Swim England Diving National Age Group Championships crown.
Johnson said: "It's pretty good to win gold.
"We just came here to settle in to the competition. We're looking forward to the rest of the week."
Coetzee added: "We were thinking about the synchro more as just enjoyment and getting ready for the next three days.
"It was really surprising to win gold – I really wasn't expecting it to be honest.
"This was our first ever synchro event together. We've only ever trained twice before so it was quite surprising."
Duo far from disappointed
Holley and Lanham's last dive proved to be their lowest scoring of the contest but they were far from disappointed with the outcome in only their second synchro competition together.
Lanham said: "I'm really happy to be honest. It's my first NAGs so it's really good to win gold for my first time.
Holley added: "I'm really happy as it's our second synchro competition.
"We're very proud of Oliver (Cazaly) and Max (Targett) as well. It was impressive diving from both pairs."
Guest gold for duo back from injury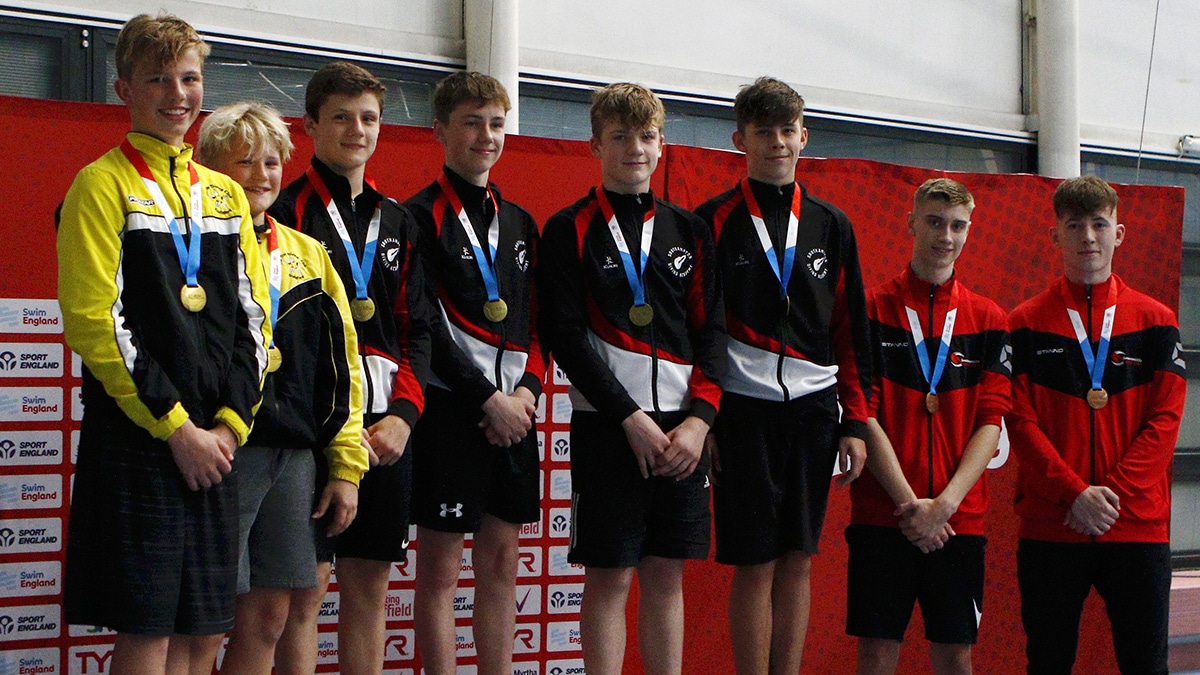 Cazaly and Targett were competing in the event as guests after suffering injuries which denied them the chance to compete in the British Swimming Junior Elite Diving Championships.
The Southampton duo won a commemorative gold for their total of 121.58.
Cazaly said: "I broke my wrist before the Junior Elites and this is Age Groups so I'm competing as a guest.
"It was very annoying [breaking my wrist]. It was quite painful to go through all that training and then have to miss it because I broke my wrist.
"But you can't do anything about it and it gave me more motivation to come here and then get the gold as we've just done.
"Last year we did synchro as a pair and on our first dive, Max broke his collarbone.
"So it feels good to come back and get the gold.
Targett added: "I'm very happy about winning gold.
"It took me about three months to recover from my collarbone injury, so I was out for the entire summer, got back about Christmas time and started training with Oliver.
"It's our first synchro event together, without any injuries. "
The bronze medal was won by the Sunderland City Dive Team duo of Cameron Watt and David Buckley, who finished on 180.90 points.