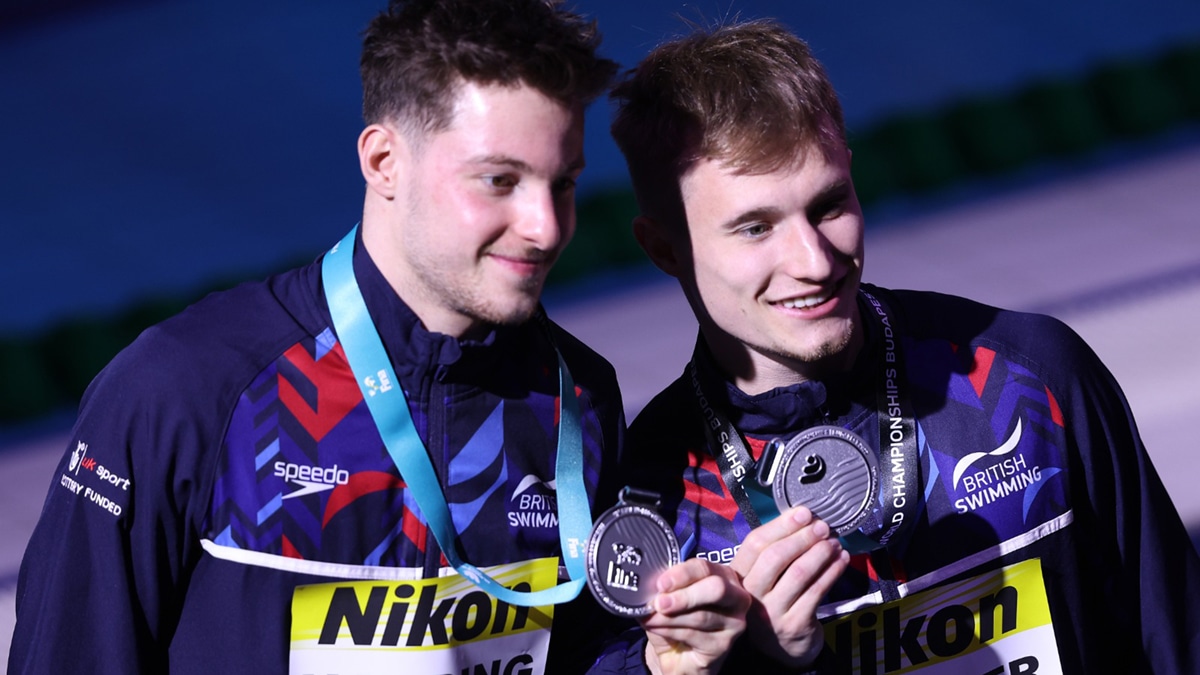 More to come from Laugher and Harding after winning World Championships silver
June 26, 2022
Proud Jack Laugher believes there is more to come from his fledgling partnership with Anthony Harding after they won a silver medal at their first major competition.
The duo got Great Britain's World Diving Championships off to the perfect start as they claimed second place on the podium in the Men's 3m Synchro.
Harding admitted he was 'super, super chuffed' following the performance, while Olympic gold medallist Laugher believes the duo have plenty of potential after being together for less than a year.
It was Laugher's third Men's 3m Synchro medal in the last four World Championships and they pushed the gold medal-winning Chinese duo all the way in an exciting competition.
After finishing second in the morning's prelims, Laugher and Harding made a solid start in the final with their required dives before scoring 82.62 for the third-round forward two-and-a-half somersaults, two twists in pike.
Their best dive of the competition came in round five as they picked up 98.04 points for their forward four-and-a-half somersaults in tuck – the highest score of the final.
That was followed with another outstanding dive –  a forward two-and-a-half somersaults, three twists in pike which earned them 90.09 and ensured they finished on 451.71.
That was only 7.47 points off the gold medal-winning Chinese duo of Zongyuan Wang and Yuan Can, while Lars Rudiger and Timo Barthel of German won the bronze with a total of 406.44
Harding said: "I'm super, super chuffed. 
"I've always believed in myself to make it this far. I came from a small club in Oldham, and just to be here was enough for me – but now to step on to that podium with Jack, it's amazing for me, my family and my friends.
"This is my first time at a World Championships, so the experience of it all is a massive one for me."
Laugher added: "I think we'd be kidding ourselves if we didn't know we could come out here and achieve a world medal – but it's obviously one thing doing it and another thing actually producing it as well
"The performances we did at the National Cup in February and then the recent British Championships in Sheffield very much indicated that we are here to try to hit those top spots.
"But I'm really proud of us coming out here, at our first international meet, and actually doing that. 
"It's very easy to be a bit rabbit in the headlights and struggle with those pressures around it, that you put on yourself and from other people as well.
"I'm really proud of what we've done today. 
"There's definitely more in the tank for both of us. China messed up their last dive and it does show that they are catchable – and I think that with a bit of work, a bit of improvement and maybe a bit more experience, hopefully we can reach that realm."
Meanwhile, Andrea Spendolini-Sirieix and Eden Cheng and finished agonisingly outside the semi-final qualifying places in the Women's 10m Platform.
Spendolini-Sirieix finished 19th with a score of 268.20 in the preliminary round, which was only 2.20 off the last qualification place for the semi-final.
Cheng was 26th with a total of 231.00.