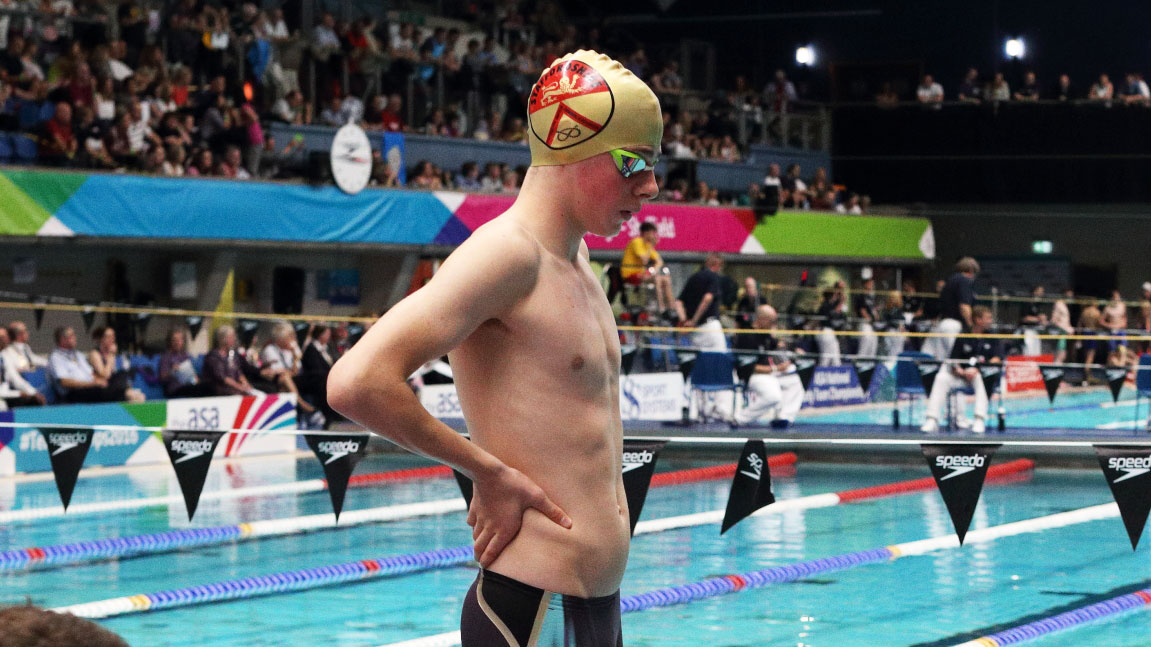 Staffordshire
Staffordshire are a West Midlands county who were third in the 1975 County Team Championships and runners-up in Division Two in 2007 and 2011.
Division: Two
Last Year: 7th in Division Two (385 points)
Twitter:
Honours: Third in 1975; Division Two Runners-up 2007, 2011; Third in Division Two 2005
Staffordshire at the County Team Champs
Staffordshire's total of 377 to finish ninth last year was their biggest points tally since being relegated to the second tier of the County Team Championships in 2012.
They picked up two races wins in 2015 with Niamh Hofland and Courteney Price claiming maximum points in the 12/13 Yrs and 16/17 Yrs 100m Backstroke respectively.
Hofland moves in to the 14/15 Yrs age group for 2016, having put in some encouraging performances at this year's British Summer Championships. She landed 800m Free and 400m IM silvers in Sheffield, as well as bronzes over 400m Free and 200m Back.
Chase swimmer Jacob Davies was second in the 12/13 Yrs 100m Back last year, and returns for this first year in the 14/15 Yrs age group.
He reached the podium across all three distances of backstroke at this year's British Summer Champs, including gold over 50m Back.
In the oldest age group, Lewis Hodgetts was also a national medallist this summer, claiming 200m Butterfly bronze at the ASA Summer Nationals.
Meanwhile, teammate Laura Hawkins reached both the 100m and 200m Breast finals at the British Summer Nationals then claimed 50m Breast silver at the ASA Summer Nationals the following week.
| Roster 2016 | | | |
| --- | --- | --- | --- |
| 100m Free | | | |
| Name | Club | Age | PB |
| Hannah Buick | Chase SC | 13 | |
| Mitchell Cartlidge | City of Stoke SC (Cosacss) | 14 | |
| Alicia Dingle | The Royal Wolverhampton School SC | 15 | |
| Bradley Gordon | Wolverhampton SC | 15 | |
| Lewis Hodgetts | The Royal Wolverhampton School SC | 17 | |
| Polly Holden | Newcastle (Staffs) ASC | 18 | |
| 100m Back | | | |
| Name | Club | Age | PB |
| Hannah Hussain | Biddulph SC | 14 | |
| Harrison Barber | Biddulph SC | 14 | |
| Niamh Hofland | The Royal Wolverhampton School SC | 15 | |
| Jacob Davies | Chase SC | 15 | |
| Jessica Banks | Wolverhampton SC | 16 | |
| Joshua Veale | Chase SC | 17 | |
| 100m Breast | | | |
| Name | Club | Age | PB |
| Bima Zulkarnaen | The Royal Wolverhampton School SC | 13 | |
| Helena Mole | The Royal Wolverhampton School SC | 14 | |
| Molly Findler | Leek ASC | 16 | |
| Ryan Leathem | City of Stoke SC (Cosacss) | 16 | |
| Laura Hawkins | The Royal Wolverhampton School SC | 17 | |
| Stephen Stanley | Stafford Apex SC | 18 | |
| 100m Fly | | | |
| Name | Club | Age | PB |
| Helena Mole | The Royal Wolverhampton School SC | 14 | |
| Harrison Barber | Biddulph SC | 14 | |
| Jacob Davies | Chase SC | 15 | |
| Kiera Langley | Bilston SC | 16 | |
| Lewis Hodgetts | The Royal Wolverhampton School SC | 17 | |
| Polly Holden | Newcastle (Staffs) ASC | 18 | |
| Relay | | | |
| Name | Club | Age | |
| Jade Cartlidge | Biddulph SC | 14 | |
| Toma Tokiwa-Smith | City of Derby Swimming Club | 14 | |
| Jack Westwood | Bilston SC | 14 | |
| Samuel Eyre | Cheadle (Staffs) & District | 16 | |
| William Robinson | Wolverhampton SC | 17 | |
| Rebecca Twardochleb | Newcastle (Staffs) ASC | 18 | |