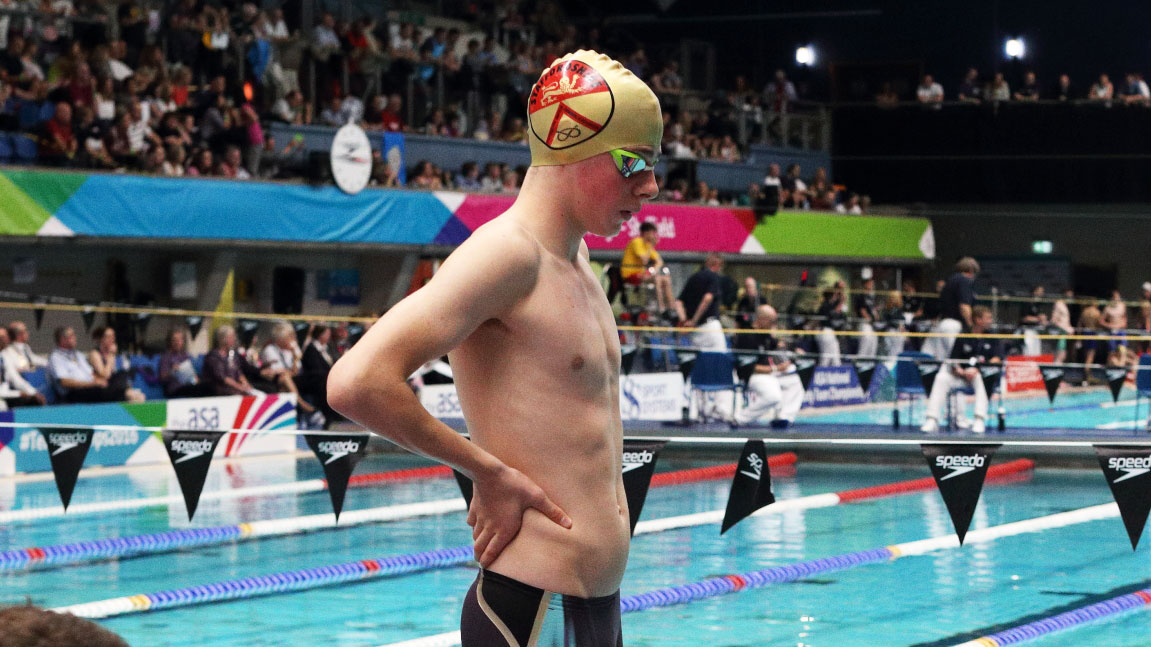 Staffordshire
Staffordshire are a West Midlands county who were third in the 1975 County Team Championships and runners-up in Division Two in 2007 and 2011.
Division: Two
Last Year: 7th in Division Two (385 points)
Twitter:
Honours: Third in 1975; Division Two Runners-up 2007, 2011; Third in Division Two 2005
Staffordshire at the County Team Champs
Staffordshire's total of 385 to finish seventh last year was their biggest points tally since being relegated to the second tier of the County Team Championships in 2012.
Jacob Davies took the county's only race win in 2016, landing maximum points in the final individual event of the day, the 14/15 Yrs 100m Backstroke.
Staffordshire could pick up more big points in the backstroke events this year, with Royal Wolverhampton School's Niamh Hofland ranked fifth fastest on entry times in the 14/15 Yrs age group.
Wolverhampton's Jessica Banks also goes in the fastest heat of the top age group, while youngsters Ben Finney and Abby Shepherd have competitive entry times in the 12/13 Yrs.
Royal Wolverhampton School swimmer Alicia Dingle's PB of 58.19 puts her in the mix for top points in the girls' 14/15 Yrs 100m Freestyle while teammate Laura Hawkins won't have to improve much on her PB of 1:11.50 to be in the mix for maximum points in the 16/17 Yrs 100m Breast.
| Roster 2017 | | | |
| --- | --- | --- | --- |
| 100m Free | | | |
| Name | Club | Age | PB |
| Ella Shaw | The Royal Wolverhampton School SC | 13 | 1:02.52 |
| Jack Haynes | Wolverhampton SC | 14 | 59.70 |
| Alicia Dingle | The Royal Wolverhampton School SC | 16 | 58.19 |
| Ben Cope | The Royal Wolverhampton School SC | 16 | 55.11 |
| Finn Nicholl | Stafford Apex SC | 16 | 55.28 |
| Laura Hawkins | The Royal Wolverhampton School SC | 18 | 1:00.15 |
| 100m Back | | | |
| Name | Club | Age | PB |
| Ben Finney | Biddulph SC | 13 | 1:08.23 |
| Abby Shepherd | The Royal Wolverhampton School SC | 14 | 1:10.56 |
| Niamh Hofland | The Royal Wolverhampton School SC | 16 | 1:04.86 |
| Bradley Gordon | Wolverhampton SC | 16 | 1:02.29 |
| Callum Rushan | Leek ASC | 16 | 1:04.11 |
| Jessica Banks | Wolverhampton SC | 17 | 1:05.35 |
| 100m Breast | | | |
| Name | Club | Age | PB |
| Erin Hull | Chase SC | 13 | 1:18.17 |
| Poppy Spanner | Lichfield SC | 14 | 1:17.97 |
| Bima Zulkarnaen | The Royal Wolverhampton School SC | 14 | 1:17.84 |
| Matthew Harris | The Royal Wolverhampton School SC | 15 | 1:09.62 |
| Bill Jones | Newcastle (Staffs) ASC | 17 | 1:10.13 |
| Laura Hawkins | The Royal Wolverhampton School SC | 18 | 1:11.50 |
| 100m Fly | | | |
| Name | Club | Age | PB |
| Chloe Harris | The Royal Wolverhampton School SC | 13 | 1:09.63 |
| Bima Zulkarnaen | The Royal Wolverhampton School SC | 14 | 1:08.95 |
| Megan Dean | Wolverhampton SC | 15 | 1:06.40 |
| Callum Rushan | Leek ASC | 16 | 1:01.89 |
| Jessica Banks | Wolverhampton SC | 17 | 1:06.46 |
| Kane Murcott | The Royal Wolverhampton School SC | 18 | 58.53 |
| Relay | | | |
| Name | Club | Age | |
| Christian Roe | The Royal Wolverhampton School SC | 14 | |
| Jacob Davies | Chase SC | 16 | |
| Lewis Jones | Chase SC | 16 | |
| Lauranne Finney | City of Stoke SC (Cosacss) | 17 | |
| Shannon Robinson | Wolverhampton SC | 17 | |