Stunning gold and superb silvers as Britain take three medals on day two
July 19, 2022
It was a successful day for Great Britain at the LEN European Junior Diving Championships as they secured their first gold and two more silver medals on day two of the competition.
The gold medal came after an incredible final dive from Robbie Lee and Euan McCabe as they snatched gold from Italy in the Boys A/B Platform Synchro Final.
Lee and McCabe started the competition well, sitting joint at the top of the table with Germany after the opening round when their forward 1 ½ somersault pike scored them 45.00 points.
They followed that up with a back dive pike that scored 47.40 before an impressive inward 3 ½ somersaults tuck gave them 56.64 points to give them a total of 149.04 after the opening three rounds.
That gave them a lead of 2.64 at that stage in a gold medal battle that was going down to the wire.
In the fourth of five rounds the British duo's back 3 ½ somersault tuck scored them 49.50 points but an impressive round from Italy saw them jump to the top spot with a 4.14-point lead heading into the final round.
Italy took to the board before Britain for their final attempt where they scored a massive 60.48 leaving Lee and McCabe needing to score 64.62 to win the competition.
Lee and McCabe's back 2½ somersault 1½ twist pike wowed the judges to score 67.20 with their final attempt to oust the Italian and take home Britain's first gold medal of the championships.
The pair finished with a total score of 265.74 compared to Italy's 263.16 to give them the title by just 2.58 points.
Johnson and Newbrook claim synchro silver
There was more joy for Britain in the Girls A/B Platform Synchro Final as Chloe Johnson and Hannah Newbrook took silver in another closely fought final.
Johnson and Newbrook started off brightly, storming into a six-point lead after the opening two rounds.
The German team of Freida Dummer and Carolina Coordes clawed them back to take the lead after round three when they performed the highest scoring dive of the competition that earnt them 57.66 points alone.
That gave the German pair a near seven-point lead for Johnson and Newbrook to chase in the final two rounds.
A fourth round reverse 2 ½ somersault tuck scored 46.20 for the British pair to bring the gap down to over five points before their final attempt.
Johnson and Newbrook's final dive was their highest scoring, an Inward 2 ½ somersault pike scoring 52.92 to give them a final total 235.77 points.
Unfortunately, it just wasn't enough to catch the Germans as they held their nerve to hold onto gold by just 1.65 points.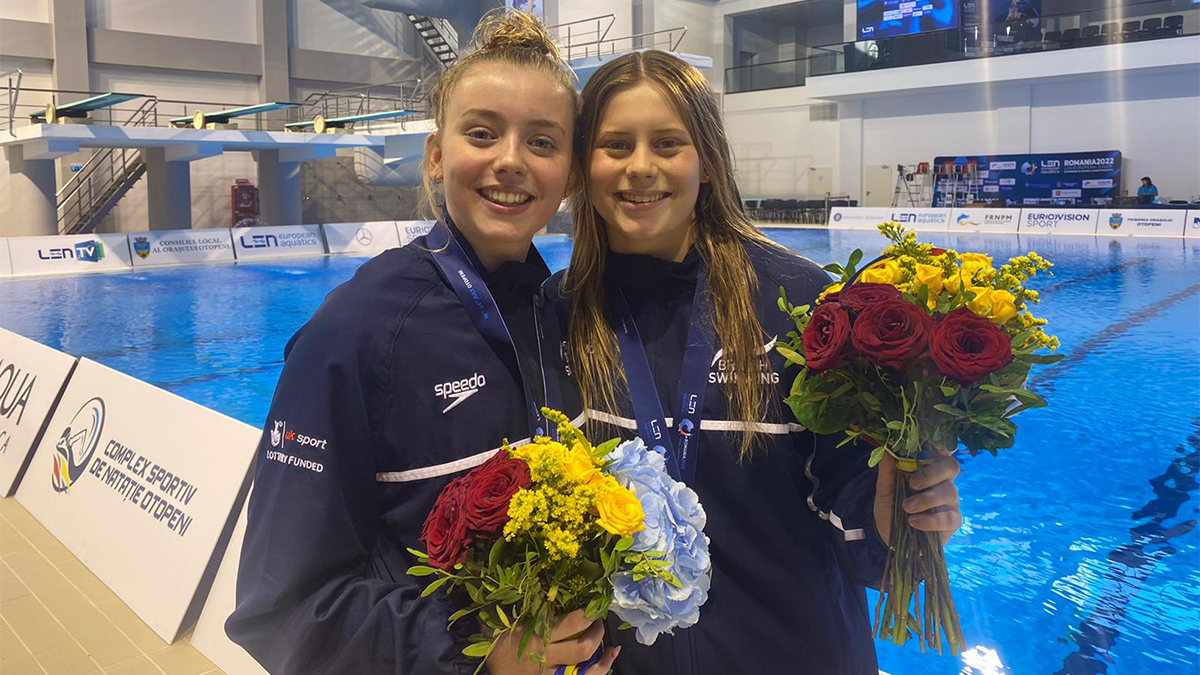 Two medals in two days for Kane
It was Oscar Kane that got Britain's day two medal haul underway with silver in the Boys 1m Final in the earlier session.
Coming into the final four dives with a score of 176.75, Kane had put himself in a strong position to compete for a medal.
He opened up the final with an inward 1 ½ somersault pike that scored 48.00 points from the judges.
Kane then broke the 50-point barrier in round two with his reverse 1 ½ somersault pike scoring 50.40 to move him into third place.
That dive left him just 13.65 points off the lead as he then went even better with his best dive of the competition.
His third round reverse 1 ½ somersault, 1 ½ twists free scored a massive 57.20, wowing the judges to push him into second position.
The dive was strong enough to leave him in a comfortable silver medal place meaning he just had to hold it together in his final dive to bring home the medal.
Kane did just that, scoring 46.80 with his final dive to finish with a total score of 379.15.
The former Team Z diver was 28.35 points off the title but a clear 14.50 points ahead of the bronze medal place.
Ukraine's Kyryllo Azarov was too strong on the day, taking the gold medal with a mouth-watering total of 407.50.
Todd Geegus also put on a strong display in the event, finishing ninth in the final with a total score of 343.35.
His best dive in the final was a reverse 1 ½ somersault pike that scored 46.80 from the judges.
Geegus' score was just 21.30 points off the final medal spot in a strong display.
It's the pairs first ever British International event with Kane adding to his medal tally after being part of the Jump Final team that took silver on day one.