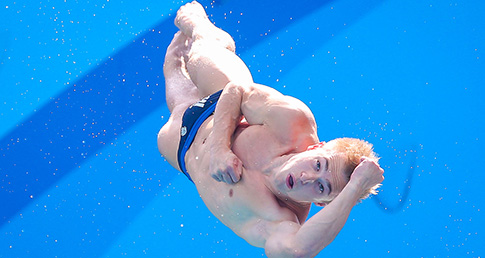 Jack Laugher wins 1m Springboard gold in Plymouth
February 3, 2017
Jack Laugher scooped his first national title of the season with 1m Springboard gold at the 2017 British National Cup in Plymouth.
It was no cakewalk for the double Olympic medallist, who was lying second with two dives to go.
But the 22-year old recovered to claim the title on 395.40 ahead of City of Sheffield pair Ross Haslam (382.60) and Freddie Woodward (369.30).
Laugher started strongly, leading throughout the first three rounds and closing in on the title he also won in 2011, 2012 and 2014.
And while a dropped dive in the fourth round left 19-year old Haslam in a surprise lead, Laugher bounced immediately back to top spot with his fifth effort before closing out in the final round.
Haslam's performance also caught the eye in Plymouth, as the teenager put nearly 70 points on his tally to finish fourth in the same event 12 months ago.
His only previous senior national medal for an individual event had been Platform bronze at the 2012 National Cup.
Men's 1m Springboard Results
Rank
Name
Score
1
Jack Laugher
(City of Leeds)
395.40
2
Ross Haslam
(City of Sheffield)
382.60
3
Freddie Woodward
(City of Sheffield)
369.30
(4)
Oliver Dingley
(Ireland)
360.80
4
Anthony Harding
(City of Leeds)
341.35
5
James Heatly
(Edinburgh Diving)
330.80
(7)
Yona Knight-Wisdom
(Jamaica / City of Leeds)
321.60
6
James Denny
(City of Leeds)
319.50
7
Jack Haslam
(City of Sheffield)
316.10
8
Ben Sambrook
(City of Leeds)
292.55
Click here to head to Dive Recorder for full results.