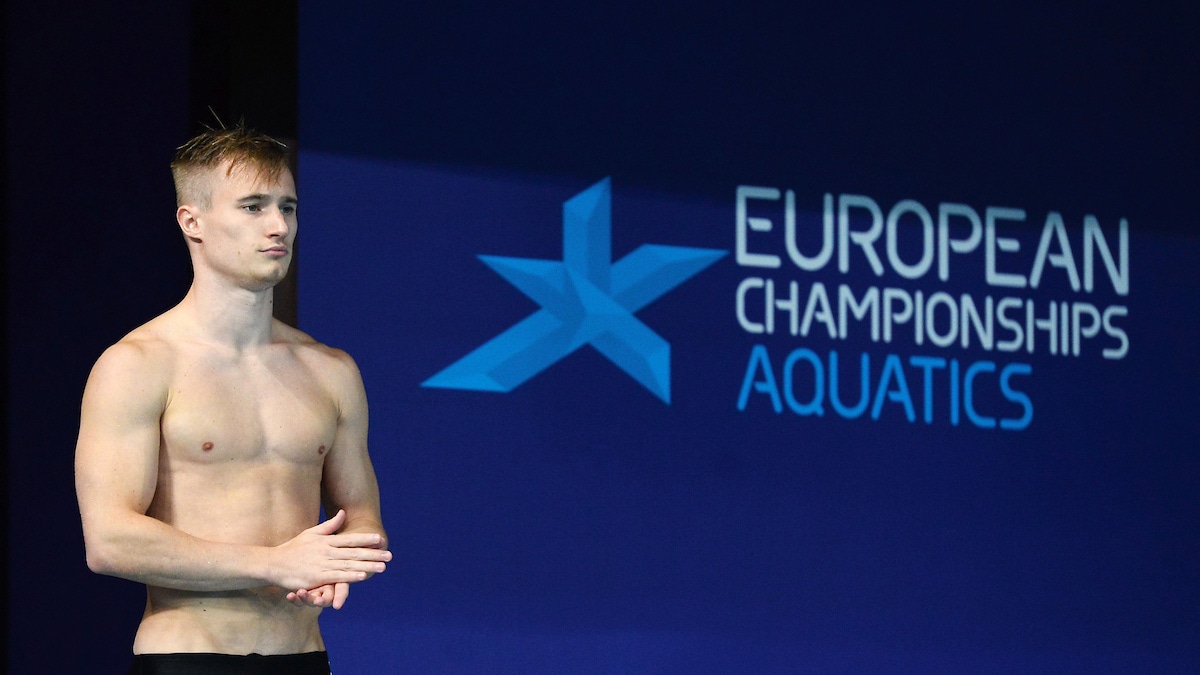 Laugher wins second silver for Team GB while Haslam, Harper just miss the podium
May 12, 2021
An exciting night of action at the diving pool saw Jack Laugher win silver in the 1m Springboard final while Ross Haslam and Yasmin Harper came fifth in the Mixed 3m Synchronised final at the European Aquatics Championships.
Laugher had an impressive run throughout the final, scoring 67.50 in his opening back 2½ somersaults with tuck dive (which has a difficulty degree of 3.0) to give him the third-highest dive of the round.
His second dive (reverse 2½ somersaults with tuck) dropped him down to the middle of the pack after gathering just 58.50 points, though a solid score of 67.50 on his third drive brought him right back into medal contention.
Stiff competition and some standout dives from the likes of Patrick Hausding of Germany and Alexis Jandard of France made it difficult for Jack, who holds a gold medal from the 2018 European Championships, to maintain a lead.
A stellar final dive from Jack – a forward 2½ somersaults, 1 twist with pike – earned him a massive 76.80 points, catapulting him onto the podium to take the silver medal with 402.90 points, just 0.4 ahead of third-place Giovanni Tocci of Italy who finished with 402.50 points.
Winner of the event was Germany's Hausding (427.70) who was in a league of his own throughout the event. He now has 34 European medals to his name.
Laugher's medal is the second of the competition for Team GB, adding to the silver won by Andrea Spendolini-Siriex and Noah Williams in the Mixed 10m Synchro.
Fifth for mixed duo Haslam and Harper
Yasmin Harper and Ross Haslam kicked off the first round with a score of 49.80 in their inward pike dive, which had a difficulty degree of 2.0 and acted as one of their two required dives.
They created an early lead after their first dive, though the Italian duo of Chiarra Pellacani and Matteo Santoro were tied with them on 49.80 points. Their second required dive – a backward pike – earned them 46.80 points.
The British pair's first optional dive scored slightly lower than some of their competitors, the forward 2½ somersaults, 1 twist with pike collecting 63.90 points for the duo.
Ultimately, that gave their peers a chance to create a lead over them which resulted in a fifth-place finish for Haslam and Harper after each of the five dives had concluded.
They finished with a total of 279.45 points while the gold medal went to Italy's Pellacani and Santoro with 300.69. Silver was won by Germany's Lou Noel Guy Massenberg and Tina Punzel (294.27) and bronze went to Ilia Molchanov and Vitaliia Koroleva of Russia (289.50).
Harper and Haslam were part of the mixed team event on the opening day of competition in Budapest, which earned them a fourth-place finish.
Image credit: DeepBlueMedia/LEN Aquatics