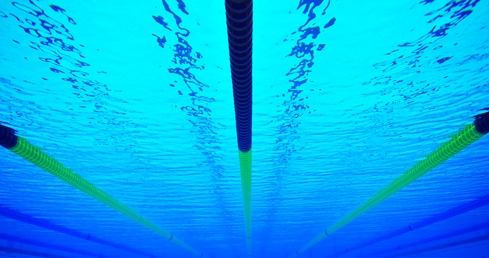 Kathy Bidnall breaks 16-year old record at British Champs
June 12, 2015
Kathy Bidnall beat a 16-year old British marker as 11 records were smashed over the second and third sessions of the 2015 British Masters and Senior Age Group Championships in Manchester.
The Mid Sussex Marlins swimmer clocked 3:08.30 to take gold in the 60-64 Yrs Age Group 200m Backstroke. The previous record was 1956 Olympic bronze medallist Margaret Wilding's time of 3:08.57 from 1999.
There were two more British records in the women's 200m Backstroke as Gloucester's Helen Kula-Przezwanski touched in 2:56.34 for victory in the 55-59 Yrs Age Group and East Leeds' Julia Hoyle finished in 2:43.18 for gold in the 50-54 Yrs Age Group.
Bath University's Matthew Johnson was the youngest swimmer to set a British record on the day, claiming the 18-24 Yrs senior age group record with a 4:25.94 effort in the 400m Individual Medley while Trafford Metro's Lucy Lloyd-Roach took 30-34 Yrs 100m Butterfly gold with a British record 1:04.77.
There were also individual British records for Silver City's Audrey Cooper (6:27.74) in the 60-64 Yrs 400m Individual Medley, Limerick's John Cunningham (1:00.30) in the 45-49 Yrs 100m Butterfly and City of Liverpool swimmer Steven Wall (1:08.37) in the 60-64 Yrs 100m Butterfly.
Two European records broken in 4x100m Free Relays
The 4x100m Freestyle Relays saw two European records go as the men's and women's quartets from Otter and Spencer respectively impressed.
Jean Howard-Jones and Amanda Heath had been in the Spencer quartet who had held the previous European 240+ Yrs record of 5:18.54.
Teaming up with Jessie Campbell and Alison Gwynn, they set a new marker of 5:11.51.
Similarly, Otter had two swimmers from the previous 200+ Yrs British record in the men's 4x100m Free Relay in the shape of David Warren and Peter Kirk.
Mike Reys and Paul Goudie joined forces with them to establish a new European record of 4:00.97.
The third relay record came in the men's 100+ Yrs event as Totnes' Simon Churchman, Daniel John, Matthew Breckon and Gregory Bird set a new British marker of 3:40.06.