Records tumble as almost 700 swimmers compete at British Masters Championships
June 20, 2019
Almost 90 records were shattered during an exciting three days of action at the British Masters Championships 2019.
More than 680 swimmers from across the country took part in the competition at the Wales National Pool in Swansea – and a total of 66 British, 16 European and five new world bests were set.
A full list of all the record holders can be downloaded here.
Farnham Nomads regained the world record in the 160 Years Mixed 4x100m Medley Relay – 12 months after first breaking it.
The team of Martin Bennell, Johannes Berbers, Noemie Plumridge and Jo Corben were thrilled to take the gold medal – and be world record breakers again.
Jo said: "We are ecstatic – it means everything to us as we have battled adversity this year.
"We broke this world record at Plymouth last year and then a Japanese team beat our record a couple of months later.
"So we were really gunning for it here. But we have had pool closures to contend with. Our main training pool has been closed since November last year and we have had mix and match training sessions.
"We've also had injuries, an operation that's been delayed, people that are not very well so we are absolutely over the moon that all our hard work has paid off."
Corben also set an individual world record in the 45 Years Women's 100m Backstroke as she clocked a time of 1:07.04.
Record breakers 10 years apart
Spencer set a new world best in the 320 Years Women's 4x100m Freestyle – 10 years after they set a world record in the 280 Years age group.
The team of  Grace Issac, Muriel Htchcock, Diane Ford, Jean Howard-Jones recorded a time of 8:00.29.
World bests for Birmingham and Marlins
Birmingham Masters' team of Katie Walker-Stabeler, Alice Lane, Anna McCall, Justine Clark finished in 4:04.10 to set a new world record in the 120 Years Women's 4x100m Freestyle Relay.
And Mid Sussex Marlins were also world record breakers as they took the gold medal in the 280 Years Women's 4x100m Freestyle Relay .
The team of Alison Gwynne, Jennifer Dean, Mary Johnson, Sally Mills touched home in 5:42.24.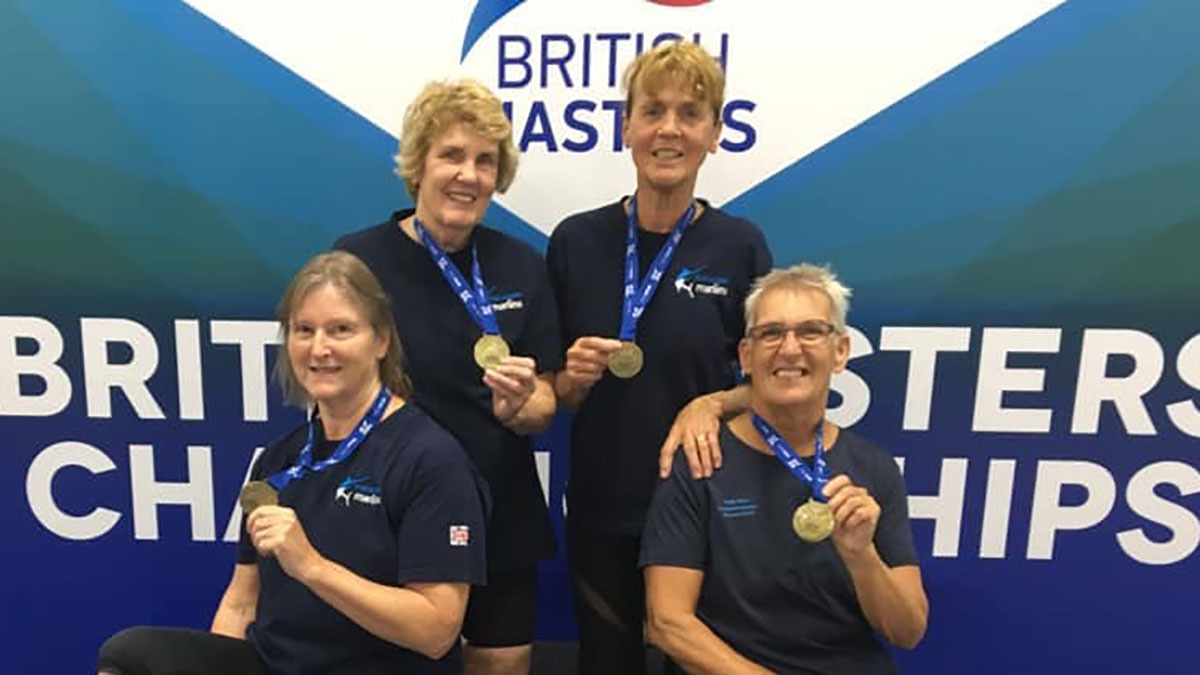 More of the same in 2020
Meanwhile, the 2020 British Masters Championships (Long Course) will be hosted by Swim England at Sheffield's Ponds Forge International Pool from 24-26 April.
The event is being held early than usual as the LEN European Championships, taking place in Budapest, are scheduled for 1-6 June.
Sharon Lock, Swim England National Masters Development Officer, said the 2019 event had been a success.
She added: "It was great to see so many of the Masters community taking part in the British Masters Championships.
"The event was a huge success and it was pleasing to see so many records broken. We'll look forward to more of the same in Sheffield next year."
Further details about the 2020 British Masters Championships will be revealed at a later date.