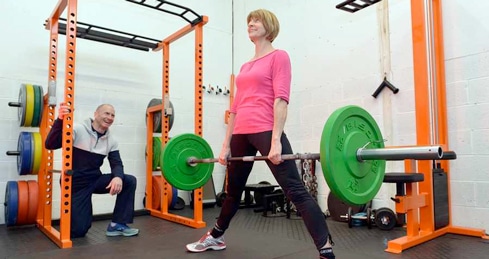 Masters swimmer Lindsey Gowland wins weightlifting competition
March 31, 2015
Lindsey Gowland is no stranger to winning national and even international medals as a Masters swimmer.
She has been a British record holder, European champion and World Championship medallist since taking up Masters swimming.
But the 57-year old grandmother of three can now add national weightlifting champion to her list of competitive achievements. She won three titles at the British Power Lifting Championships on 28 February.
Lindsey took up weightlifting as a means of improving her performances as a Masters swimmer.
But, in the year since starting power lifting, she has broken the British 55-59 years record for bench press with a lift of 42.5 kg, broken the European record for the squat with a lift of 60kg and broken the world record  for dead lift with 121kg – roughly twice her own bodyweight.
Gym exercises for swimmers
If you want to try some good gym exercises which will compliment your swimming training, check out these Gym Workouts For Swimmers.