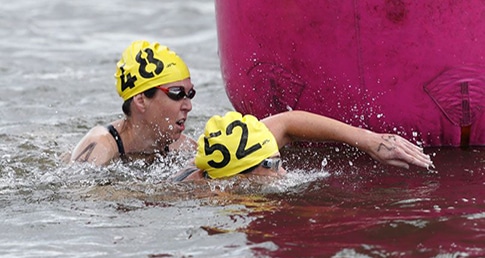 Masters swimmers take on top British talent in Sheffield
August 4, 2014
The country's finest Masters swimmers were on top form as they took on Great Britain's top open water swimmers at the 3km Championships at Rother Valley.
Swansea Aquatics' Oliver Tennant (33:52.70) won gold in the 19/24 Yrs Age Group, finishing only behind GB's World Championship swimmer Jack Burnell (33:38.80).
Top finisher in the men's 25/29 Years Age Group was RAF Swim's Ross Wisby (40:40.80) while 35/39 Years gold medallist, Southwold's Peter Gleed (40:09.70) and 40/44 Years champion, City of Chester's Les Church (40:45.20) also finished on the 40 minute mark.
There was an impressive time from City of Oxford's John Cardy to win the 50/54 Years age group in 41:36.30 while Sudbury's Stuart McLellan (49:00.30) was the oldest winner under 50 minutes as he took gold in the 65/69 Years.
Keith Bodbehere of Rotherham Metro is still going strong at 80-years old and finished the three lap course in 70:54.70.
GB's Huskisson and Walton first home in women's event
While Team GB's Danielle Huskisson (35:20.80) and Lauren Walton (35:59.10) were the first two home in the women's event, Swansea Aquatics' Fern Davies won gold in the 19/24 Years Age Group in 37:06.30.
Camden Swiss Cottage's Nuala Muir-Cochrane was the next best winner in the 50/54 Years Age Group, clocking 42:15.90 to beat everyone else over the age of 22.
Stevenage's Jo Mitchinson won the 35/39 Years Age Group in 42:15.10 while the top women's age group (55/59 Years) went to Sharon McLellan of Sudbury in 53:39.30.