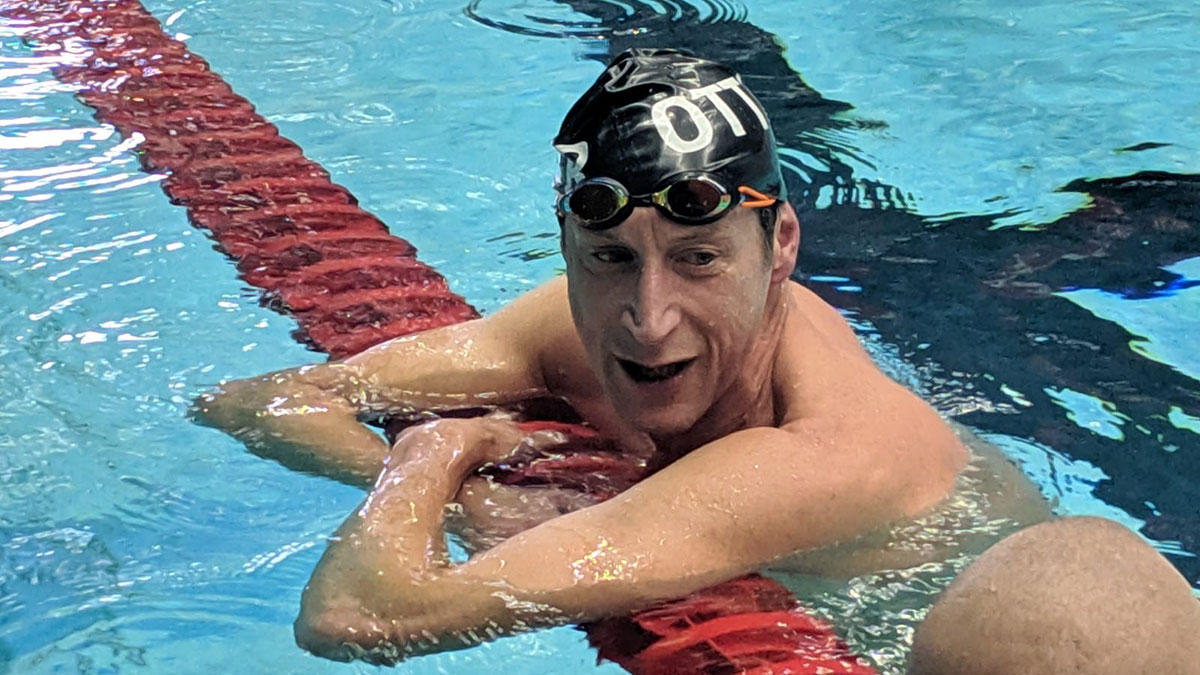 Otter's Peter Dixon feeling 'amazing' after shattering British record
October 25, 2019
Masters News
Otter's Peter Dixon said it felt 'amazing' to set a new British record in the 1500m Freestyle on the opening day of the Swim England Masters National Championships.
Dixon finished in a time of 17:18.70 as he touched home 2:10.88 ahead of second-placed Christopher Freeman in the Men's 50-54 Years race at Sheffield's Ponds Forge International Pool.
He also set a new record for the 800m split after clocking 9:10.04.
Dixon said: "It's amazing – I'm so pleased.
"I was aiming for the 1500m record but I wasn't expecting to break the 800m on the way through – but that's the way it goes isn't it?
"I thought it [1500m record] was possible and earlier in the year I was quite close so it's worked out well.
"I've been doing quite a lot of training in the build up to this. I've been doing about four sessions a week which is a lot for me so I'm very pleased."
Teddington's Freeman clocked 19:29.58 to take the silver, with City of Coventry's Martyn Brunt third in 21:31.51.
Eddie Riach also set a new British best in the 65-69 age group.
The Milngavie and Bearsden swimmer touched home in 19:57.41 to beat Bracknell's David Davenport (21:03.65) and Manchester's David Randall (23:13.88).
Meanwhile, Bill Moore was the oldest competitor in the 1500m Freestyle at the age of 82.
He said he'd not been able to do much training due to his wife being in a care home but he still clocked 30:30.60 to win gold in the Men's 80-84 years age group.
"I'm pleased with that swim," said the East Leeds swimmer.
"My training has been a bit up and down because my wife is in a care home now and it's been a bit awkward.
"But I've managed to go in a morning twice a week, so I'm very pleased with that."
Men's other results:
18-24 Years
1 Rubens King, Guildford, 16:45.81
2 Thomas Allen, Flitwick, 18:59.88
3 Ciaran Kelly, Basingstoke, 21:45.51
25-29 Years
1 Paolo Dognini, City of Liverpool, 17:38.40
2 Luke Maunder, Birmingham University, 17:53.60
3 Etienne Cambier, Otter, 18:13.63
30-34 Years
1 Dan John, Totnes, 16:56.29
2 Ian Lang, Exeter City, 20:16.93
3 Matthew Lees, Oldham Aquatics, 20:24.50
35-39 Years
1 Andrew Swanston, Barnet Copthall, 17:15.59
2 Nicholas Barber, Otter, 18:04.33
3 Pip Bennett, Otter, 18:18.93
40-44 Years
1 Steven Hurley, Exeter City, 17:50.65
2 Steven Allcock, Leyland, 17:57.31
3 Tim Cartwright, Newbury, 18:06.94
45-49 Years
1 Lee North, Rochford, 18:16.28
2 Ian Wallace, Brentwood, 19:08.86
3 Simon Berrey, Spencer, 19:49.03
55-59 Years
1 Mark Jones, Warrington, 19:01.16
2 Mark Strakosch, Hemel Hempstead, 20:07.14
3 Dale Barker, Team Anglia, 20:08.67
60-64 Years
1 Guy Fawkes, Billingham, 21:50.57
70-74 Years
1 David Hembrow, South Bournemouth, 22:57.97
2 Stuart McLellan, Sudbury, 24:06.84
3 Peter Stephens, Spencer, 25:42.23
75-79 Years
1 Michael Read, Brighton, 27:07.49
2 Roger Lloyd-Mostyn, Otter, 27:08.47
3 Sandy Galletly, Warrender, 30:14.79