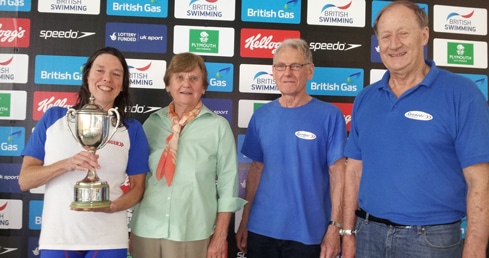 Spencer out to defend Cupar Trophy
April 21, 2015
Spencer Swim Team will be out in force to win the Cupar Trophy for an unprecedented third consecutive year at the British Masters Championships in Manchester in June.
The Trophy is used to encourage entries to the Champs with points award for entering as well as success.
The scoring is four, three and two points for first, second and third in respective events while all entries gain one point and relay teams get double points.
Spencer Team Manager Amanda Heath said: "It will be a tough job to retain the cup again this year.
It will be a tough job to retain the cup again this year.
"We have won it six times before and would dearly love to make it three in a row in Manchester but it's not going to be easy. Every single swim scores at least one point but it's going to be an exhausting weekend and everyone has to balance swimming good times against swimming too many events."
The history of the trophy
The trophy has an interesting history. It was donated by the Scottish Cupar Amateur Swimming club to mark their centenary and was first competed for in 1988 at the second GB Masters Championships, held in Dundee when Motherwell Masters took home the cup.
In 1989, when the British Champs were hosted in Coventry, it seems that nobody asked for it to be returned!
But some 18 years later, Donald Muirhead – retired convenor of Scottish Masters – discovered the trophy while clearing out old files from his garden shed and it was subsequently handed back to the British Swimming Masters Committee.
The Committee reinstated the Trophy competition for the 2006 Championships and it has been competed for every year since.