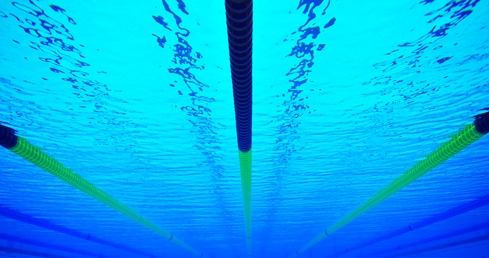 Sub 160 close 2015 British Champs with relay world record
June 15, 2015
Sub 160 ensured the 2015 British Masters and Senior Age Group Championships finished with a bang as they set a 4x200m Freestyle world record in Manchester.
The 160+ Yrs quartet of Sarah Collings, Karen Driver, Jessica Wooddisse and Nicola Latty touched in 9:27.55 – slicing nearly four seconds off the previous world marker, more than 13 seconds off the old European record and more than 21 seconds off their old British record.
There was also a European and British record for Totnes' 100+ Yrs men's 4x200m Freestyle quartet as Simon Churchman, Daniel John, Matthew Breckon and Gregory Bird touched in 7:59.08.
East Leeds' Julie Hoyle set a European and British record in the 50-54 Yrs 100m Backstroke as she took gold in 1:14.53 while her teammate Kirsten Cameron set a European 40-44 Yrs record of 4:28.24 to win gold in the 400m Freestyle.
Five more records in senior age group
The Senior Age Group (18-24 Yrs) swimmers impressed again on the final day as five British records were lowered.
World Championship finalist Lauren Quigley's 100m Backstroke time was particularly impressive as the Stockport Metro swimmer decimated the old marker of 1:05.35 with her 1:00.48 effort.
The other four Senior Age Group record breakers were Bath University's Matthew Johnson (4:04.80) in the 400m Freestyle, Bath University's Anna Hopkin (26.47) and Otter's Oliver Wilson (23.46) in the 50m Freestyle and Sevenoaks swimmer Megan Lee (2:34.36) in the 200m Breaststroke.
Having already set a new British 200m Backstroke record in Manchester, Gloucester's Helen Kula-Przezwanski sliced 2.5 seconds off the 100m Back record as she took gold in the 55-59 Yrs age group in 1:18.56.
Ware and Mason clocked 50m Free records
There were also individual British 50m Freestyle records for Guildford's Michelle Ware (28.23) in the 40-44 Yrs age group and Potters Bar's Daryl Mason (24.84) in the 45-49 Yrs age group.
Finally, there were British records for Newcastle and Otter in the 160+ Yrs and 200+ Yrs men's 4x200m Freestyle Relay and Spencer's 280+ Yrs mixed 4x100m Medley Relay.
Julian Plumley, Nick Valentine, Stephen Green and Neil Bowers clocked 8:49.15 for Newcastle's record-breaking quartet while Otter's 200+ Yrs relay of David Warren, Peter Kirk, Paul Goudie and Mike Reys touched in 9:08.24.
Spencer's record-breaking quartet consisted of Janet Brown, Henry Dick, Amanda Heath and Geoff Stokes, the 280+ Yrs team coming home in 6:18.80.