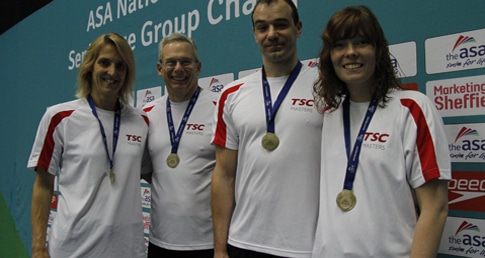 Teddington Masters claim first British record of the Masters Champs
October 25, 2015
The ASA National Masters and Senior Age Group Championships 2015 drew to a close with three more British records in session eight at Ponds Forge in Sheffield.
Otter's Derek Parr and Exmouth's William Letch both clocked individual Masters records in the 50m Butterfly while Teddington Masters also claimed a new British marker, finishing on top in the 160+ yrs 4x100m Mixed Medley Relay event.
The Teddington Masters team of Hannah Loughlin, Leon Smith, Steve Folsom and Susan Oltner swam 4:27.72 for gold to set the first record for their club at this event.
The next British record came in the Men's 50m Butterfly event, with Parr racing 33.30 in the 70/74 years age group, touching in over six seconds faster than his teammate Roger Lloyd-Mostyn who came in second place.
For Parr, this was his second record of the competition, having already lowered the 200m Fly record in session three on the first day.
The final record of the event came from Letch in the 50m Fly. He put in a great swim and finished in a time of 36.64 to claim the British record for the 75/79yrs age group, lowering his own previous time of 37.47. Letch now holds six British records across two different age groups.
Masters swimming is a great follow on for those swimmers who are no longer able to commit to training, or are no longer competing at an elite level. It is a great way to continue in the sport and socialise with like-minded people, to keep fit and also to compete at a national and international level.
Many of the record breakers competing at over this event swam at the FINA Masters World Championships in Kazan this year, and will be looking to take part and get on the podium at the LEN European Masters Championships in London next year.
Full Results
Click here to view full results from the ASA National Masters and Senior Age Group Championships 2015