Two world records fall at penultimate session of Masters National Champs
October 28, 2018
Masters News
Two more world records were shattered during the penultimate session of the Swim England Masters National Championships.
They were among several new European and British bests set on day three of the event at Sheffield's Ponds Forge.
Hayley Bettinson ensured a new world record was set in the Women's 50m Freestyle 55-59 years category.
The Birmingham swimmer posted a time of 27.80 and was almost two seconds clear of Wycombe District's Philippa Williams, who clocked 29.65.
That put her 0.08 seconds ahead of East Anglian's Debbie Matless, who claimed the bronze in a time of 29.73.
Alyson Fordham added another British record collection in the 60-64 age group.
She clocked 30.39 to finish just ahead of Lindsey Gowland, from B C and P Mast, (31.13). The bronze medal went to Margaret Smith (City of Oxford) in a time of 31.65.
The Men's equivalent saw Donald Leatherbarrow grab yet another British record.
The Gloucester M swimmer clocked 34.54 in the 80-84 age group.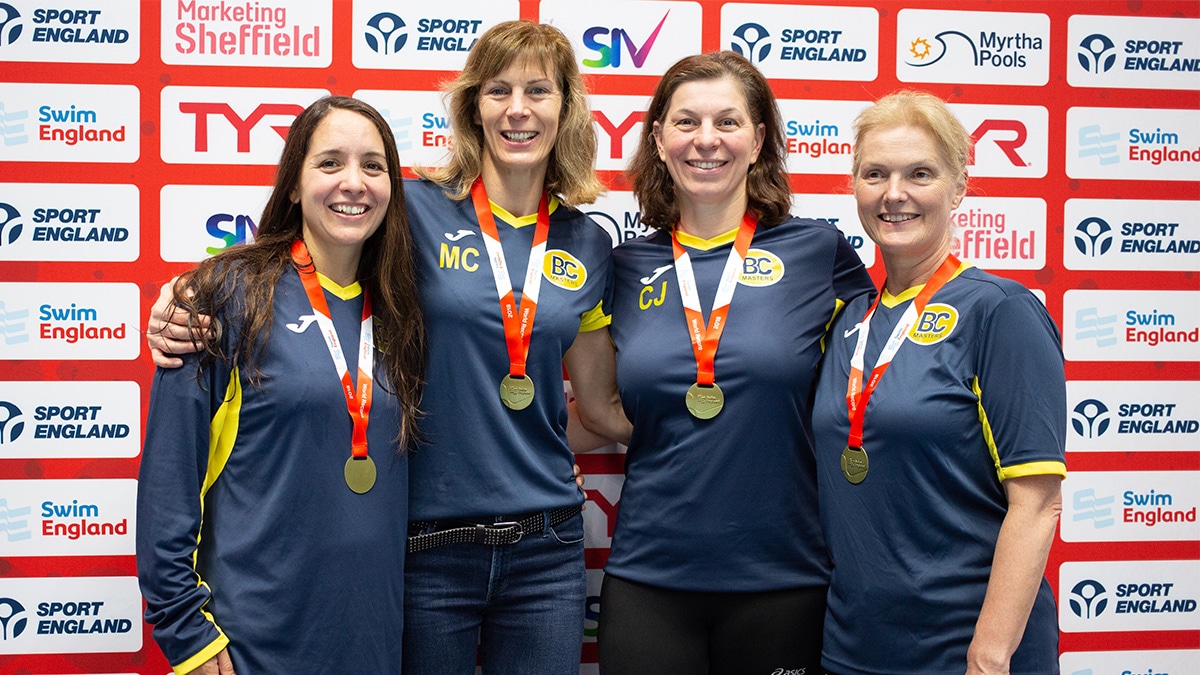 World record for Barnet Copthall
Barnet Copthall's relay team claimed the second world record of the session in the Women's 400m Freestyle team 200+ years age group.
Christine Porter, Cate Jackson, Melissa Cannon and Lisa Dawson all put in strong swims as the team clocked 4:19.87 for the world record.
That put them more than 36 seconds clear of second-placed B C and P Masters, who touched in 4:55.92. The bronze medal went to Spencer (5:10.71).
There was a close finish in the 160+ category with only 0.11 between GB Police, who set a new European record on their way to gold, and silver medallists Otter.
Aimee Ramm, Claire Thorn, Sarah Hempenstall and Sally Buck touched in 4:09.88 for GB Police, while Otter clocked 4:09.99.
Third place went to Leicester Penguins in a time of 4:31.90.
A third European record was set in the Women's event, by Mid Sussex.
Jill Rocky, Alison Gwynn, Sally Mills and Coral Wallis posted a time of 5:00.65.
Second place went to Spencer with a time of 5:12.56.
In the Men's 120+ years event, East Leeds set a new British record.
The time of 3:27.90 was set by Alistair Crawford, Richard Ayre, Chris Knee and Richard Jagger.
Trafford Metro Bor SC took the silver medal after recording a time of 3:40.07 and Bicester clocked 3:40.49 to take third.
Big lead for Ford
Diane Ford put in a strong performance in the Women's 100 Breaststroke 75-79 years age group.
The Spencer swimmer clocked 1:41.19 to break the British record and finish ahead of her only opponent.
Elaine Bromwich, of Birmingham M, posted a time of 2:30.52 to take the silver medal.
In the Men's 40-44 age group, Warrington M's Ben Harkin also added to his record haul. He clocked 1:02.86 to set a new British record.
Martin Bennell, of Fareham Nomads, touched in 1:06.77 to finish second, while Danny Brinkley (Hoddesdon) finished third in 1:09.24.
The 50-54 age group saw Michael Hodgson, of Guildford City, clock 1:07.08 for another British record in the event.
His closest opponent was Garry Vickers (Etwall), who posted a time of 1:13.95, while third place went to Rushmoor Royals' Nigel Vickers (1:14.95).
The final record to fall in this event was in the 55-59 category.
Russell Manson, of Warrington M, clocked 1:11.66 for the gold, while silver went to Guildford City's David Bryant (1.13.10).
Third place went to James Hobsley of Barnet Copthall who clocked 1:15.76.
Image credit: Rob Smedley