'Outstanding' Aimee Willmott announces her retirement from competitive swimming
November 25, 2021
'Outstanding' Commonwealth Games champion and three-time Olympian Aimee Willmott has announced her retirement from competitive swimming.
The 28-year-old progressed through the Swim England pathway and spent more than a decade taking part in major worldwide competitions.
She followed her father, Stuart, in representing Team GB at the Olympic Games, reaching the final of the 400m Individual Medley at both Rio 2016 and Tokyo 2020.
The highlight of her career came at the 2018 Commonwealth Games on Australia's Gold Coast when she topped the podium in the 400m Individual Medley.
Commonwealth Games swimming team leader Grant Robins and British Swimming's national performance director Chris Spice were quick to pay tribute to Willmott, who praised her family and team-mates for making her journey 'so special'.
Willmott won a total of eight major international medals during her glittering career – the most recent being a silver in the 400m Individual Medley at the 2021 European Championships in Budapest.
She started swimming at Middlesbrough SC and made the move to the University of Stirling in 2017.
One of the lucky ones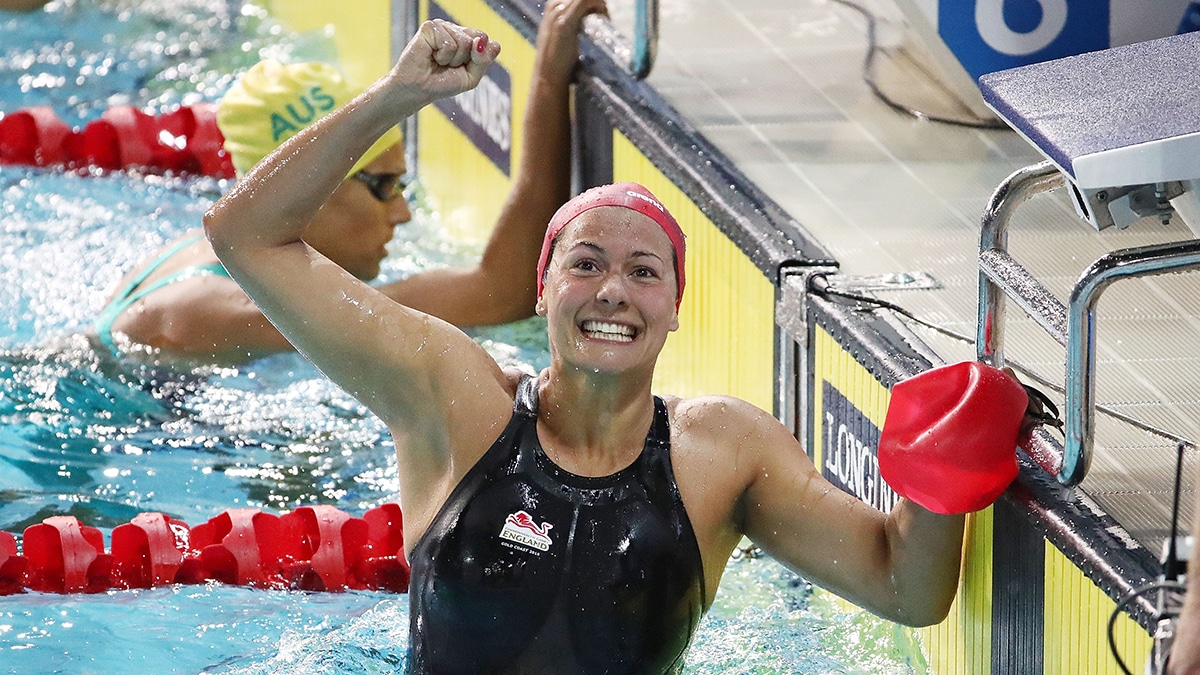 Willmott, who has also been an athlete representative with both British Swimming and on the Commonwealth Games England board, said: "I am so thankful to my team-mates from over the years – they have made my journey and medal success so special.
"Not many people have a parent that went to an Olympic Games, let alone in the same sport and the same event, so I'm one of the lucky ones. 
"My dad was with me during my very first length of the pool and has been with me every length since. He has of course had some pretty loud company in the stands, with incredible support from my mum and sister too!
"In 2017, I moved to Stirling, thinking my swimmer career would soon end – but here I am, hanging up my goggles more than four years later. 
"Being around such an inspirational group of swimmers gave me the drive to keep going and better myself. 
"I can't thank my team-mates enough for reminding me why I started swimming in the first place!"
Mentored and guided many
Robins hailed Willmott's performance on the Gold Coast for setting the standards to the rest of the Commonwealth Games team.
He said: "Aimee has a multitude of skills – swimming being just one of them.
"She progressed through the Swim England pathway and has supported many swimmers over the years who followed in her footsteps.
"Aimee has mentored and guided many by taking the time to discuss and talk with swimmers of all ages and backgrounds – while inspiring them with her own performances in the pool.
"As team leader on the Gold Coast, her performance on day one of the Games in winning the 400m Individual Medley set the tone for the rest of the competition for the team.
"She was a massive attribute to the team and me as their leader and the character she demonstrated that week will hold her in great stead for her future endeavours.
"Aimee will be sorely missed on poolside in Birmingham next year but as a Commonwealth Games board member, I hope she will be down to support the team."
Talented, devoted and resilient
Spice added: "Aimee has been an outstanding team member for us for a very long time. 
"Her long-standing position shows in the fact that she was our only third-time Olympian in Tokyo, making another valuable contribution to what was a special team.
"It takes a talented, devoted and resilient swimmer to qualify for three Olympic Games and that is an achievement Aimee should be proud of, alongside her European and Commonwealth medals.
"She was also a valued member of our athlete representative group and as a senior leader in our team. Those roles, as much as her position as an elite and experienced swimmer, were ones she thrived in.
"I know she will be missed by fellow athletes, coaches and support staff at her University of Stirling training base. 
"We wish Aimee all the best for the future and very much look forward to seeing what else she goes on to achieve from here."