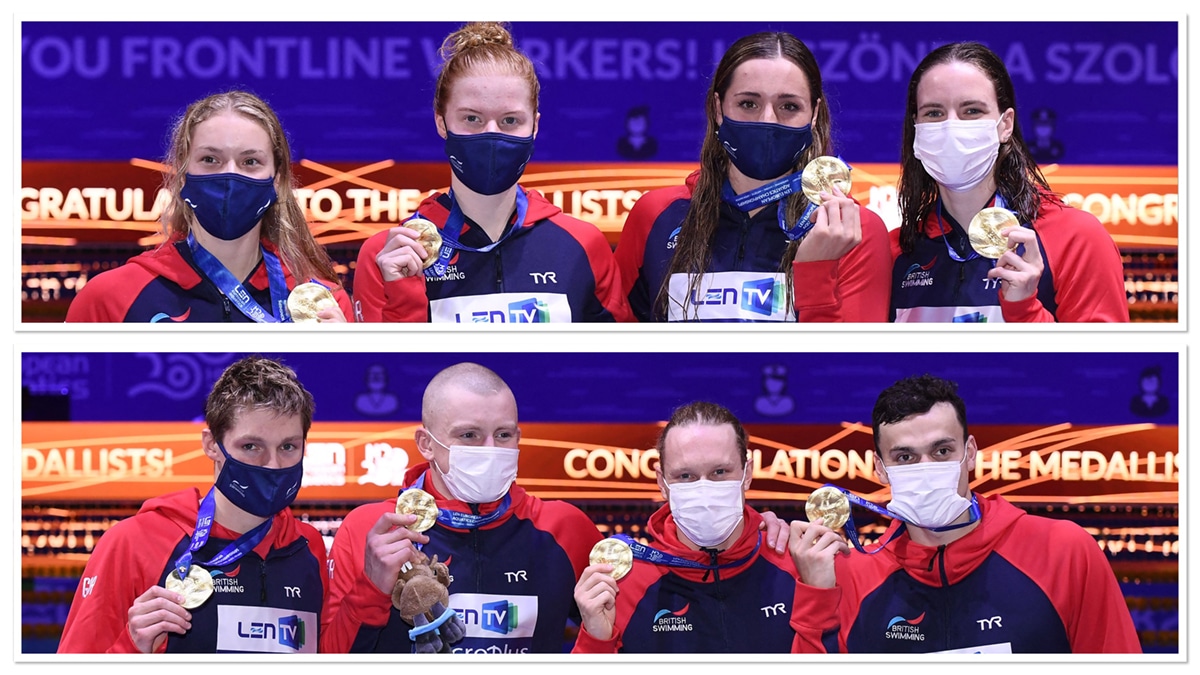 Britain lead the way as record-breaking relay swims help seal top spot
May 23, 2021
Great Britain finished top of the European Championships medal table after a final podium-filled night – which included two record-breaking golds in the men's and women's 4x100m Medley Relays.
It was a fitting finale to a fantastic week for the British team at the Duna Arena, Budapest, Hungary, as they finished with 26 medals in total – 11 of them gold to finish ahead of Russia (nine) and Italy (five).
They picked up seven of those golds in the nine relay races and finished on the podium in all of the team competitions.
Kathleen Dawson set a new European record of 58.08 seconds for the 100m Backstroke as she got the women's team off to an amazing start and they never looked like relinquishing top spot.
Molly Renshaw clocked 1:05.72 in the 100m Breaststroke which gave Laura Stephens a 1.5 second advantage going into the butterfly.
Stephens kept her cool, clocking 57.55, as four swimmers closed the gap and Hopkin had a seven-tenths-of-a-second advantage as shetook over for the final 100m freestyle.
Hopkin's time of 52.66 was the second quickest in the field as Britain clocked 3:54.01 to knock 0.22 seconds off the championship record set by Russia in 2018.
Renshaw said: "In general, the whole week, GB have just been smashing it.
"The relays especially have done so well and won so many golds. Coming into this and watching the boys in the call room win gold, we were just so pumped behind the scenes.
"We knew that if we were all swimming best times, we could be up there on top of the podium. It's nice that we all delivered and Kat got a European record, so it's amazing, we're really happy."
Meanwhile, Luke Greenbank, Adam Peaty, James Guy and Duncan Scott were almost a second clear of the rest of the field as they sealed top spot in the men's race in a time of 3:28.59 – 1.85 seconds faster than the time Britain set at the 2018 event in Glasgow.
Britain were fourth after Greenbank's opening 100m but Peaty's 57.38 breaststroke swim saw them lead as Guy dived into the water.
He also clocked the fastest butterfly time of 50.65 to give Duncan Scott the perfect opportunity to lead the team home in a record-breaking time.
And the Scottish swimmer didn't disappoint as he also clocked the fastest freestyle leg, finishing in 46.92.
It means Peaty has now won gold in four events at the last four European Championships.
He said: "It's some great swimming,
"I've never really been this fast in relays, never mind doing it without a proper taper or rest – it's looking very strong.
"We couldn't have done that without the guys swimming the heats this morning, so it's a great team effort all round."
Four individual medals boost tally
In the individual races, Ben Proud claimed a silver medal in the 'splash and dash' Men's 50m Freestyle – after being pipped to the title by Greece's Ari-Pekka Liukkonen.
The defending European champion had the fastest reaction time off the blocks as he bettered his qualifying time to touch home in 21.69 – only 0.08 behind the 6ft 10ins gold medallist Liukkonen who clocked 21.61.
Guy broke the 51-second barrier in the Men's 100m Butterfly final to claim a bronze medal.
The 25-year-old was fourth at the turn but claimed third spot in 50.99 – 0.06 seconds behind Bulgaria's Josif Miladinov who finished second in 50.93.
Hungary's Kristof Milak grabbed the gold medal in a championship-record time of 50.18.
Max Litchfield sealed bronze after a stunning final 50m in the 400m Individual Medley.
The 26-year-old was fourth at the final turn but clocked the second quickest final 50m time to edge past Hungary's David Verraszto to ensure a podium spot.
Litchfield was sixth after the 100m butterfly but had climbed to third spot following the backstroke leg – only to drop to fourth after the breaststroke.
However, his impressive finish to the freestyle leg saw him touch home in 4:11.56 and ensured another bronze to Britain's medal tally.
Cassie Wild claimed a lifetime best and set a new Scottish record to win a stunning silver in the Women's 200m Backstroke final – and also achieve an Olympic Games considerations time.
Wild clocked 2:07.74 to finish 1.66 seconds behind Italy's Margherita Panziera, who claimed the gold in 2:06.08 – and 0.13 in front of Hungary's Katalin Burian who was third after touching home in 2:07.87.
Katie Shanahan finished in sixth in 2:09.90.
Russia's Ilya Borodin set a new world junior record to take gold in 4:10.02, with Italy's Alberto Razzetti second in a time of 4:11.17.
Sarah Vasey agonisingly finished just outside the medals in the Women's 50m Breaststroke – after clocking a lifetime best.
Vasey finished fourth in 30.23 which was 0.01 behind Russia's Yuliya Efimova, who took the bronze medal in 30.22.
Italy's Benedetta Pilato was the clear winner as she finished in 29.35, 0.84 seconds ahead of the silver medallist, Finland's Ida Hulkko (30.19).
Meanwhile, Holly Hibbott was eighth in the Women's 400m Freestyle, finishing in 4:11.54.