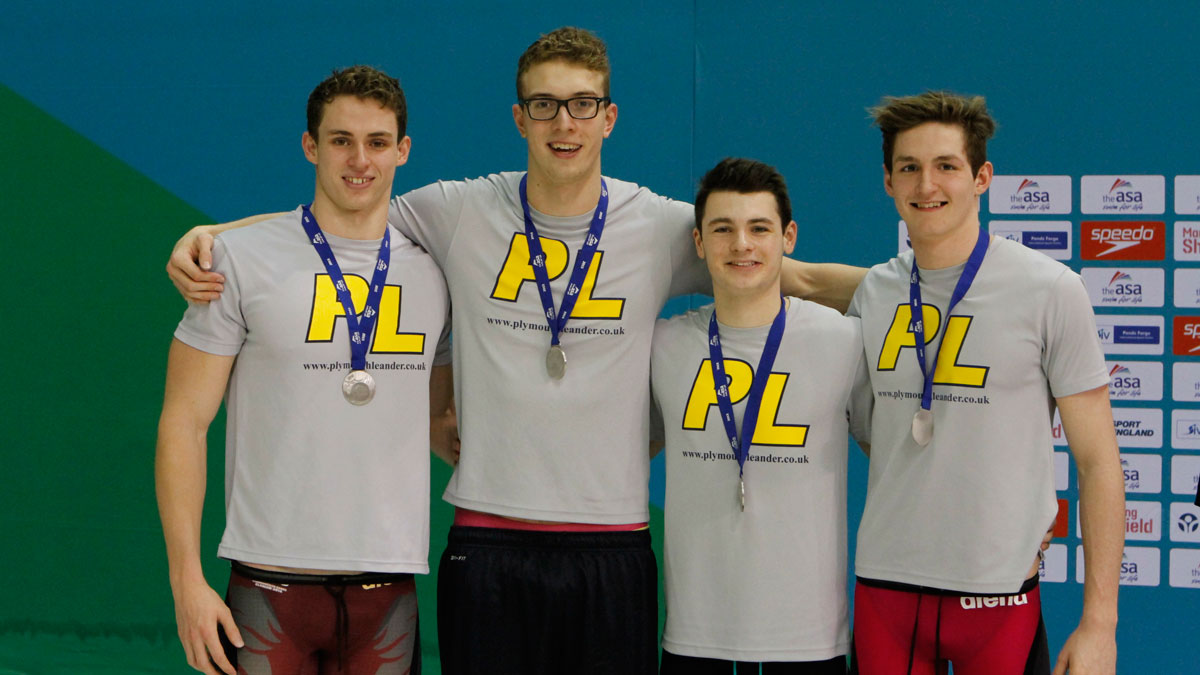 British record number four for Ben Proud
December 20, 2015
Ben Proud ended his ASA National Winter Meet in the same way he started, posting a new British record, while Lizzie Simmonds was at the top of her game in the Women's 200m Backstroke.
Day Four Finals: Men's 4x100m Free Relay
In the Men's 4x100m Free Team relay, Ben Proud, who broke the 50m Butterfly British record this morning, got his Plymouth Leander team off to an incredible start. The 21 year-old posted a time of 45.97, dipping under 46 seconds for the first time and lowering the British record marker he set earlier in the week.
"I am totally surprised with that," said Ben. "I know that the top world rankings are at 46.0 right now so I am really pleased to be in the 45s. After that race, I had absolutely nothing left but that's the nature of the 100m Freestyle.
"I'm also pretty pleased with my 50m Fly British record from this morning. I was actually shocked, I thought I'd maybe dip under 23 so to get a 22.3 was a big surprise. I love the 50m Fly, it's why I got into the sport, but it's not as relevant right now with the trials in three months.
"I'm going to take a few days off for Christmas and then I'll get back into it. I've got three months until trials and I am really looking forward to this next chunk of work."
The Loughborough swimming quartet of Andrew Weatheritt, James Disney-May, Leo Jaggs and Adam Barrett were able to overtake the early leaders over the following legs of the race, taking gold in 3:11.50.
Plymouth Leander (Proud, Thomas Fannon, Adam Milne and John Slater) held on for silver in 3:15.76, while Bath University (Miles Munro, William Harrison, Jay Lelliott and Calum Jarvis) took bronze in 3:16.62.
Day Four Finals: Women' 200m Backstroke
Lizzie Simmonds continued to show her strength in the Backstroke. The Bath University swimmer, who set a 100m Backstroke British record on the opening night of the Meet, took gold in the 200m event in a season's best 2:00.91, just outside her own British record.
"I am really pleased with my swims this week," said Lizzie. "It would have been nice to sneak under that British record but to be honest I'm delighted to be back down near two minutes. That's only the second time I've ever been under 2:01 so I'm really, really pleased with that swim and it bodes well for this cycle next year."
Jessica Fullalove (City of Manchester Aquatics) and Chloe Golding (Ellesmere College) both set personal best times as they took silver and bronze in 2:05.05 and 2:07.03 respectively.
Tazmin Pugh finished just 0.04 behind her Ellesmere College teammate in 2:07.34 and won the junior gold, while Anna Maine took the junior silver in 2:11.32.
In the B finals, Lily Boseley (Nova Centurion) touched third in 2:10.13 to set a new lifetime best and win the junior bronze medal.
Day Four Finals: Men's 50m Butterfly
Stockport Metro's Liam Selby took gold in the Men's 50m Butterfly by the tiniest of margins, touching the wall in 23.56 and pushing local City of Sheffield swimmer Braxston Timm into silver medal position in a time of 23.57.
City of Sunderland's Adam Taylor rounded out the medal winners, posting a lifetime best of 23.70 for bronze.
In the B final, Jacob Peters (Poole) touched the wall in 25.25 to add junior gold in the Men's 50m Butterfly to his already impressive medal haul.
Plymouth Leander's Sam Dailey won junior silver in 25.47, while James Eddy (Wycombe District) took home junior bronze in 25.96.
Day Four Finals: Women's 50m Freestyle
Anna Hopkin (Bath University) lowered the personal best time she posted in this morning's heats to win 50m Freestyle gold in 24.44.
There were also lifetime best swims from City of Manchester's Rebecca Guy (24.77) and multiple World Masters champion from Stockport Metro, Emma Gage (24.85) who won silver and bronze respectively.
In the same final, Emma England (Plymouth Leander) posted a new British junior record of 25.51 to win junior gold.
In the B final Ealing's Brodie Judge finished third in a personal best 25.88 to take junior silver, while Julia Jaworska won junior bronze in 25.97.
Day Four Finals: Women's 4x200m Free Relay
An incredible anchor leg from Rebecca Turner saw the City of Sheffield swimmer close down on Stockport Metro's early lead and help her teammates, Maya Westlake, Darcy, Deakin and Ellie Faulkner take gold in the Women's 4×100 Free Relay in 7:53.70.
The Stockport quartet of Lauren Quigley, Emma Gage, Lucy McKenzie and Katie Matts won silver after a close race for the wall in 7:53.83, while City of Birmingham took the final place on the podium posting a time of 8:08.48 for bronze.