Powerful Peaty sends warning to rest of the world with dominant display
April 5, 2022
Adam Peaty clocked the second fastest 100m Breaststroke time in the world this year in his 'comeback' to win another British Swimming Championships.
The world record holder and Olympic champion clocked 58.58 to take the gold medal on the opening day of the competition at Sheffield's Ponds Forge International Pool.
Despite taking a five month break from the sport following Tokyo 2020, and being forced to miss the recent Edinburgh International Swim Meet due to illness, Peaty sent a warning to his global rivals that he is in no mood to relinquish his crown as the world's best.
He went a second faster than his morning heat time as he finished more than half a second ahead of his Loughborough National Centre team-mate James Wilby (59.17) to top the podium.
Gregory Butler, Loughborough National Centre, took the bronze medal after clocking 1:00.04.
Peaty wasn't pleased with his display in the heats and admitted: "This morning was ropey. 
"Three races into my season, it's always going to be like that, no matter whether it's a British Champs or an open meet in the middle of February.
"For me, it's good progression. It shows the speed is there, it's a little bit harder to get there – I'm usually out in a 26.7, tapered. But that's a real confidence boost for me because, this year, it's more of a comeback than a continuation of what I'm doing.
"It's not continuing over – when you have five months off, you see the likes of Michael Phelps having five months off after the Olympics, it's hard to get back to that stage quickly.
"We've had the delay in the Worlds, so we can now do it in June. I know I can get down to something there if I apply myself right, but I've got nothing to prove now. 
"I said over there, this is bonus territory now – I've won everything there is to be won, as humbly as I can say that.
"I'm so grateful to the team around me that keep me in top shape when we can. Obviously you're going to get a bit of illness, a bit of injury.
"But I'm happy with where I'm at. 
"I'm happy with my lifestyle, I'm happy with my training. This year, I've got nothing to prove, it's all about Paris.
"It's a good place to be. I just want to take as many people on this journey into Paris now as I can. I don't think I could've done that tonight without having my family in the crowd, having all these people in the crowd.
"This is what sport is all about, right? It's not about the time on the clock, it's about the winning, showing you can do it when you're not meant to do it and breaking world records when you can do it! It's very simple for me. 
"This is what it's about, this is what it's always been about."
Abbie surprises herself
Abbie Wood has already been selected for Team England for the Commonwealth Games team but produced a scintillating swim to take the Women's 200m Freestyle title by the narrowest of margins.
The Loughborough University swimmer topped the podium in a time of 1:57.61 – only 0.02 clear of Bath's Freya Anderson who had to settle for the silver in 1:57.63.
She revealed after how her display had surprised herself as she had been battling glandular fever over Christmas and is in the process of getting back to race speed.
Wood had taken the lead at the halfway stage of the race and was in front as they turned for home.
But Anderson looked to be heading for the gold medal with 25m to go only for Wood to power ahead and touch first.
Anderson and Nova Centurion's Freya Colbert, who finished third, both went under the Commonwealth Games consideration time of 1:58.44.
Wood said: "I think I've surprised myself there, definitely. 
"I was quite ill over Christmas with glandular fever so, after that, this season was all about getting back down to where I was in Tokyo, and if I do that here, it's a head start from where I was.
"So I am really, really happy with that.
"This was a nice warm-up event and it's always something I want to be in the mix with for the relays because I love doing any kind of relay I can get involved in.
"My real aim here was to get top two to be in with a chance of swimming mixed relay or women's 4x200m. They all build in to my 200m IM as well.
"Dave (coach David Hemmings) wants me to have a busy programme to replicate what it will be like, because I think the Olympics were a bit of a shock because it was so busy."
In the B Final, University of Stirling's Lucy Hope cruised to victory in 1:59.70 – 1.40 seconds clear of Loughborough University's Jess Podger, who took second in 2:01.10
Bath University's Jemima Hall was third home in 2:01.55.
Northampton's Betsy Wizard was the winner of the Priority Paris race in a time of 2:03.06, while Mount Kelly's Hollie Widdows touched home first in the junior event in 2:02.89.
Colbert triumphs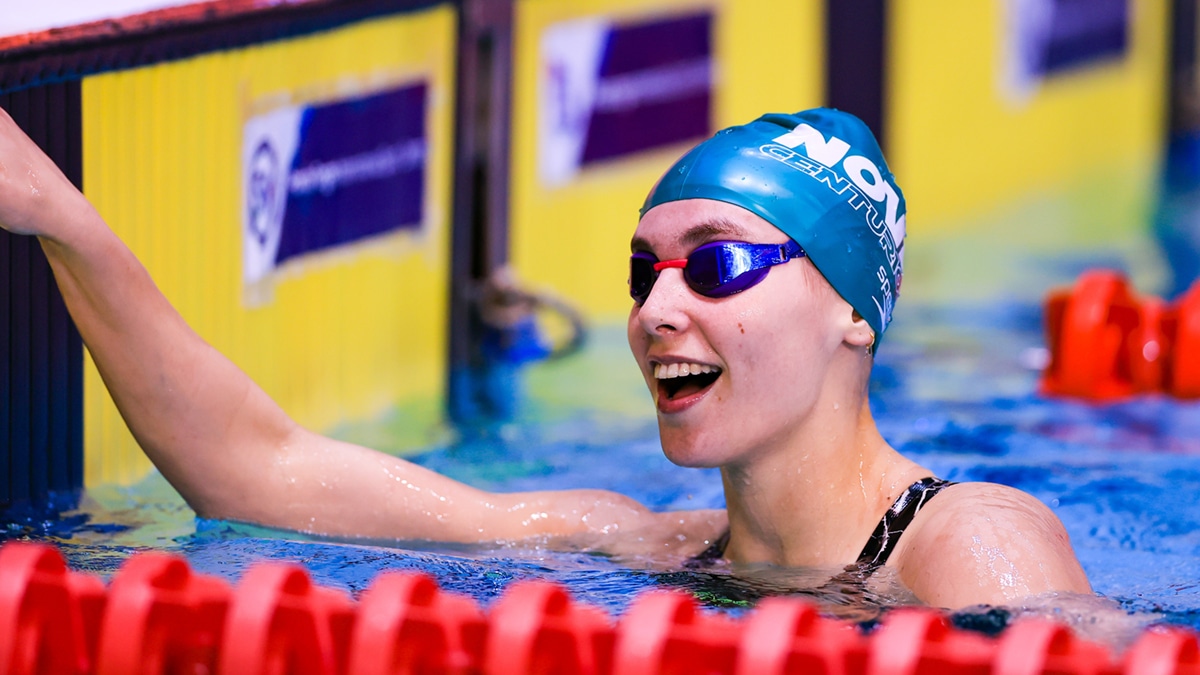 Colbert claimed a second national medal of the night as she set a new personal best to be crowned British champion in the Women's 400m Individual Medley.
Less than an hour after winning bronze in the 200m Freestyle, the Nova Centurion swimmer shaved 2.02 seconds off her previous best of 4:43.29 to comfortably take the title.
It promised to be a close contest between Colbert, Loughborough National Centre's Lily Booker and City of Glasgow's Katie Shanahan – but Colbert dominated following the backstroke leg.
The chasing pack had no response and Colbert touched home in 4:41.27 – more than two-and-a-half seconds ahead of Booker and Shanahan.
Booker was the winner of the silver medal, finishing in 4:43.96, 0.05 seconds clear of Shanahan.
Colbert said: "I'm so happy with that. 
"It's about a two-second PB, and I've been stuck on 4:43 for a while, so I'm really happy to drop. It couldn't have come at a better time either – so I'm very happy and excited about what's to come.
"I raced a few weeks ago in Edinburgh and that was very good there. I had a good taper, training has all gone very well, everything was pointing in a good direction so I just wanted to come here and prove I can do what I've been hitting in training. 
"I'm just very happy overall."
In the B Final, Birmingham University's Frances News was first in 4:52.67, with City of Sheffield's Amelia Monaghan second in 4:53.53 and Borough of Stockton's Evie Dilley third in 4:55.08.
City of Sheffield's Annabelle Wilkinson won the junior race in 4:56.86, while her team mate Phoebe Cooper was first home in the Priority Paris final in 4:54.23.
Clark impresses
Imogen Clark had already gone under the Commonwealth Games consideration time of 30.93 in the Women's 50m Breaststroke with her heat swim of 30.77.
And the Derventio swimmer impressed in the final as she powered her way clear of the rest of the field to win the British title in a time of 30.10 – only 0.06 outside her personal best and British record time.
Loughborough's Sarah Vasey was second in 31.02, with Edinburgh University's Kara Hanlon the bronze medallist in 31.13.
Clark said: "I'm absolutely chuffed to bits with that swim! I've not been down at that time since 2018 at Europeans.
"It just feels great to do that here. Sheffield is like my home pool, in front of my family, friends, coaches – it's incredible."
It makes such a difference having spectators back here, it really brings up the atmosphere.
"Sometimes, when it's quiet, you have to find all the internal motivation, whereas having all that noise makes it so much easier to get up for it."
Only nine hundredths of a second separated the top three in the B Final, with Loughborough University's Megan Morrison topping the podium in a time of 32.30.
Royal Wolverhampton's Louise Jones took second spot in a time of 32.38, 0.01 ahead of Winchester's Kayla Van Der Merwe who clocked 32.39 to finish third.
City of Manchester Aquatic's Caitlin Lansom was triumphant in the junior event in 33.15, while City of Sheffield's Beth Dennis delighted the Ponds Forge crowd as she won the Priority Paris race after touching home in 32.76
First for Sebastian
Loughborough University's Sebastian Somerset claimed his first senior British title with victory in the Men's 50m Breaststroke.
In an extremely close race, Somerset was victorious from lane two in a time of 25.30.
The morning's fastest qualifier, Edinburgh University's Scott Gibson, had to settle for second spot but was pushed all the way for the silver medal.
His time of 25.45 was only 0.01 ahead of Swansea University's Liam White, who took the bronze medal on 25.46.
In the B Final, University of Stirling's Martyn Walton edged out his team-mate Craig McNally for top spot.
Walton clocked 25.59, with Walton only 0.10 behind in a time of 25.69. Bath's Cameron Brooker finished in 25.70 to take third place.
Surry University's Alexander Armstrong won the Priority Paris event in 25.90, while Corby's Archie Evans won the Junior race in a time of 26.55
Relaxed Jervis enjoys victory
In the Men's 400m Freestyle, Swansea University's Daniel Jervis cruised to the British title – and just missed out on a consideration time for this summer's World Championships by 0.10 seconds.
Jervis clocked 3:46.44 to finish 2.08 seconds ahead of Bath National Centre's Luke Turley, who took the silver in 3:48.52.
Turley's Bath team-mate Kieran Bird was third after finishing in 3:48.58.
Jervis said: "Sheffield is my favourite pool in the world. 
"I've been fortunate to swim all over the world. I've seen some fantastic venues – but there's just something about Sheffield. I don't know if it's because I remember it from when I was younger and it's homely to me, but I love it here.
"I'm very fortunate that I have been pre-selected for the competitions this summer, so this competition here, I am just here to relax and enjoy myself – and I am!"
In the B Final, Bath University's William Ryley took top spot in 3:53.95.
Guilford City's Gordon Mason was second in a time of 3:55.49, with City of Liverpool's Tyler Melbourne-Smith claiming third after recording 3:56.46.
The Priority Paris race was won by Plymouth Leander's Thomas Trebilcock in 3:58.45, while Andrew Bertoli, City of Leciester, was first home in the junior race in 4:01.82.