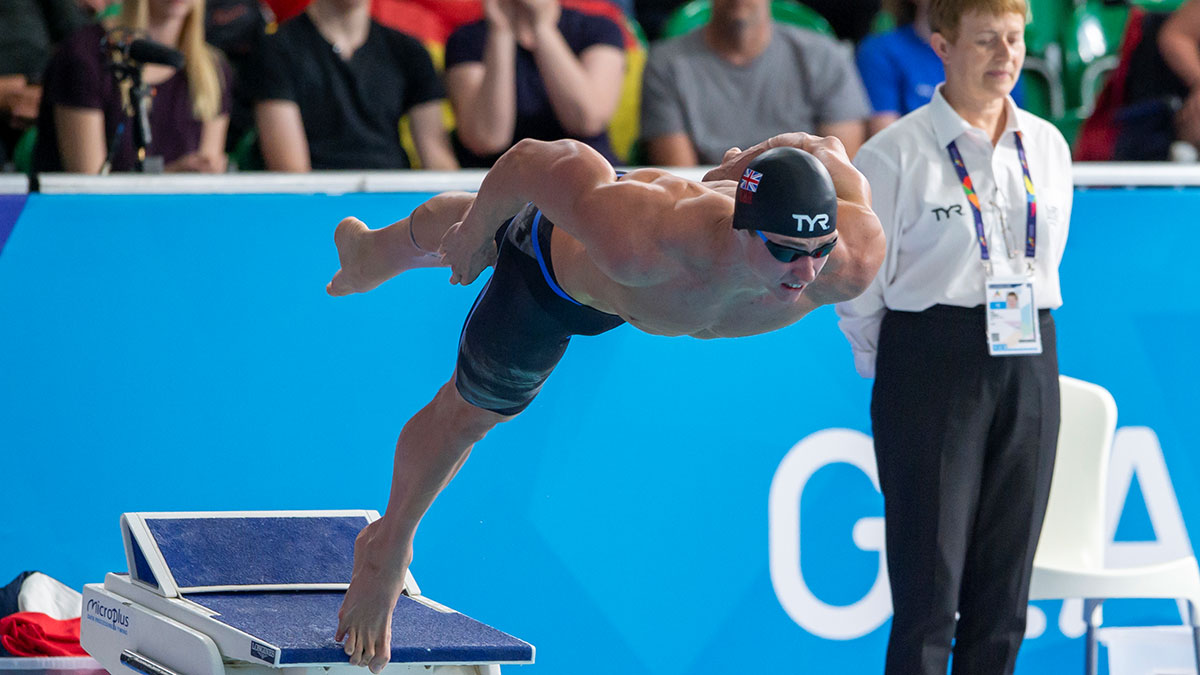 Five star Brits enjoy successful second day in Canet
June 13, 2019
British swimmers had a successful second day in the Canet leg of the Mare Nostrum Swim Series, winning five gold medals, two silver and two bronze.
After winning silver on the opening day, Ben Proud, James Wilby and Duncan Scott all upgraded to gold medals this time around while Adam Peaty took his second title in a similar fashion as he did the first, breaking his second meet record in as many days.
Proud swam a season's best time to finish on top of the podium in the Men's 50m Butterfly, as he clocked in at 23.09 ahead of America's Michael Andrew and Russia's Andrey Zhilkin – a full second faster than his morning heat.
The London-born swimmer said: "I changed my mind-set this afternoon and tried to execute my race plan as best as I could.
"I spoke to my coach, James, and he said to execute my start as I'm supposed to and that was the only thing to focus on. I did that and then found my rhythm."
Britain were again dominant in the breaststroke events, winning gold in both men's races.
Peaty's meet record of 26.71 seconds in the Men's 50m event earned him another top spot, while Wilby fought off competition from Japan's Yasuhiro Koseki and Shoma Sato to win the Men's 200m Breaststroke.
Wilby said: "It's been a tough couple of days of racing, but I'm really happy with the results, especially considering the training workload that has been going on in the lead up to the meet.
"I feel like I'm in a good place and am looking forward to Barcelona now at the weekend and the rest of the cycle."
The Men's 100m Freestyle a close contest as all eight swimmers were separated by only half a second.
Duncan Scott touched first to claim gold in 49.43 seconds, while James Guy's time of 49.53 saw him take third place on the podium.
Scott said: "It was a really close race in the end, which was good as it's going to be like that at all major internationals, so it was good to have that sort of race.
"I wasn't really aware of my position as I was breathing away from everyone – I could see the boy inside me and just lanes seven and eight, which was quite good as Jimmy [Guy] came back strong.
"Getting an opportunity to race world class athletes quite a few weeks from Worlds is always really good and if anything it just puts you in your place – it's good I'm learning some lessons here rather than in five or six weeks' time."
Alys Thomas put in a dominant performance to win the Women's 200m Butterfly by more than a second.
She clocked a time of 02:07.92 and said: "That felt a lot better – much more like my swim.
"I wanted to have a bit more attack and a bit more bite, especially down the last 50. It was always going to hurt and you've just got to fight it!"
There were two Brits on the podium in the Men's 200m Medley as Tom Dean (01:59.55) and Max Litchfield (02:01.34) earned silver and bronze. The pair were beaten by Jeremy Desplanches of France.
The other silver medal was won by Dan Jervis as he produced a lifetime best swim in the Men's 800m Freestyle, finishing in 7:50.65 which was only beaten by a Mare Nostrum record from Norway's Henrik Christiansen.
Jervis said: "I was nervous for that as I'm in a tough block of swimming at the moment and that was a really good time. I'm really looking forward to Worlds in a few weeks now – to do that time, when I'm nowhere near tapered, is really good.
"In fact, before I came out here, I was saying to my coach how nervous I was, because I knew how hard this competition was going to be because I knew how much training we had done. I'm looking forward to swimming my main event in Barcelona now."
The final leg of the Mare Nostrum Swim Series will take place in Barcelona on 15 and 16 June.