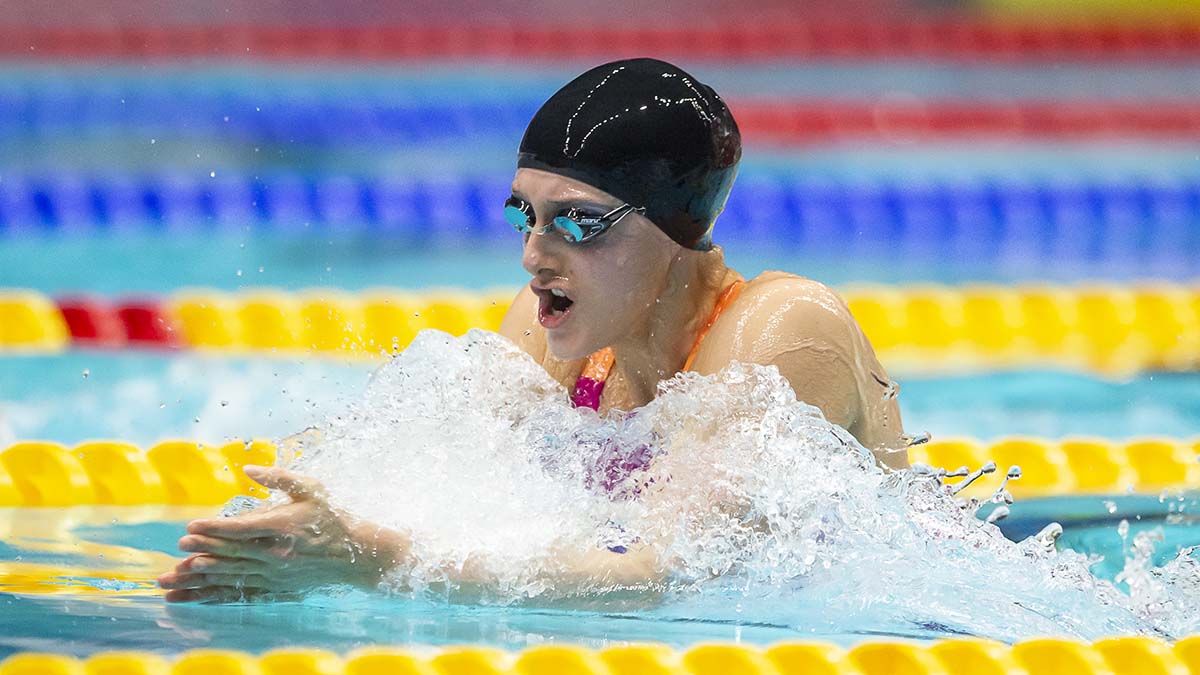 Imogen Clark sets new British record at National Winter Championships
December 15, 2018
Imogen Clark broke her own British record on the way to a second Swim England National Winter Championships title.
The 19-year-old Loughborough University swimmer clocked 29.43 in the 50m Breaststroke A Final to knock 0.21 seconds off her previous best of 29.64 set in Toronto in December 2016.
Clark, who won the 100m Breaststroke gold on day one, said: "I'm really happy with that swim.
"To get a new British record under my belt, I'm really chuffed with that. I broke it a while ago and it's nice to go under that [time] as I was not expecting to do that.
"Now I'm looking forward to the relays."
Loughborough University's Sarah Vasey was 0.90 seconds behind her team-mate as she finished in a time of 30.33, with High Performance Centre Ontario's Kayla Sanchez winning a commemorative bronze in 30.64.
The open bronze medal was win by Stockport's Katie Matts in a time of 30.70.
In the junior competition, RTW Monson's Anna Leman, 15, clocked 31.78 to take the gold medal.
City of Oxford's Illizane Pinfold, 14, was the silver medallist in 31.67, while Ellesmere College's Angharad Evans was third in 32.08.
Second British junior record for Mildred
Edward Mildred broke his British junior record for the second time in a day on his way to junior gold in the Men's 200m Butterfly.
He shaved 0.69 seconds off the previous best of 1:57.52 he set in the morning heats as he finished in a time of 1:56.83.
James Guy was the senior champion to claim his second individual National Winter Championships gold medal.
The Bath University 23-year-old, who won the 100m race on day one, finished in 1:52.08 and was an impressive 2.76 seconds ahead of silver medallist Thomas Beeley, from Plymouth Leander, who touched home in 1:54.84.
High Performance Centre Ontario's Mack Darragh claimed a commemorative bronze medal in 1:55.48, while the open third place went to Warrington's Matthew Domville in 1:55.92.
Behind Mildred in the junior event was City of Sheffield's Reuben Visda, 15, who took the silver in 2:00.15.
Hamilton UAE's Marcus Tambling, 15, won a junior commemorative bronze medal for his time of 2:05.41, while Plymouth Leander's James Hart, 14, was third junior home in 2:05.48.
Trio set personal bests
Three personal bests were set by the medal winners in the Women's 100m Butterfly.
Loughborough University's Marie Wattel took top spot in a time of 57.22, 0.40 seconds quicker than her nearest challenger and 0.72 seconds faster than the previous best time she set at the National Winter Championships in 2016.
Plymouth Leander's Laura Stephens was second in 57.62, which was 0.81 seconds better than the time of 58.43 she set at the Ontario Junior Meet in 2015.
Newcastle's Emily Large won the bronze medal after finishing in 58.15 to knock 0.82 seconds off her previous best of 58.97 recorded at the LEN European Short Course Swimming Championships in Copenhagen in 2017.
Fourteen-year-old Sophie Freeman was the junior gold medallist in a time of 59.01, 0.72 seconds clear of City of Leicester's Maisie Elliott, 15, who won the silver medal in 59.73.
Betsy Wizard, 15, from Northampton, was in third place in 1:00.16.
Thomas takes 50m Backstroke title
Stockport Metro's Thomas Howdle was half-a-second ahead of the field in the Men's 50m Backstroke to win the gold medal.
The 21-year-old finished in a time of 23.61 as he touched home in front of Loughborough University's Luke Greenbank (24.11).
Newcastle's Nichols Pyle was in third place after clocking 24.24.
Millfield's David O'Loughlin, 14, was crowned junior champion by the narrowest of margins.
He finished in 26.01 to beat City of Sheffield's Visda, 15, by 0.06 seconds (26.07).
Hamilton UAE's Marcus Tambling, 15, won a commemorative bronze medal after clocking 26.58, while the third open junior home was City of Oxford's Nicholas Skelton, 15, in 26.651.