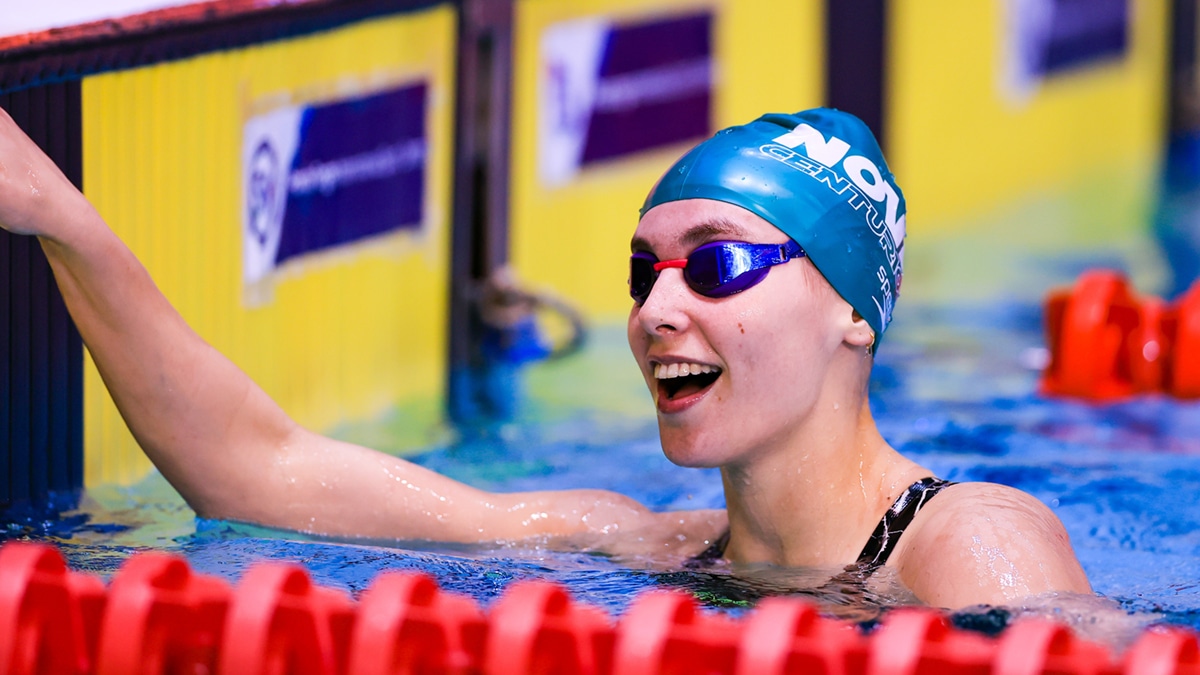 Freya Colbert: 'So special' to be able to compete in home Commonwealths
July 16, 2022
With a home Commonwealth Games just around the corner, we take a look at the athletes who will be competing for Team England this summer.
Teenager Freya Colbert says it will be "so special" to compete on home turf at this summer's Commonwealth Games in Birmingham.
The 18-year-old, was selected by Team England after an impressive showing at the British Championships and is relishing the opportunity to swim in front of her home crowd.
She said: "It's so special to be at a home Games. With Covid and everything, my parents couldn't come and watch a lot of the swimming I've been doing over the past couple of years, so for them to be able to come and watch the biggest competition ever for me is so exciting.
"I've managed to get some tickets and I'm really looking forward to having them there supporting me, so they can watch themselves rather than having to watch by a live stream or TV somewhere."
Looking ahead to the Commonwealth Games, Freya is hopeful of achieving great things at the event, adding: "I've never done a competition like this before so I'm not really sure what will happen, but I'm hoping to get into a final and hopefully a medal in the relay.
"The girl's relays are looking quite strong but definitely swimming in that finals session is something I'm aiming for."
A valuable experience
Colbert, who made her senior international debut at the FINA World Aquatics Championships in Budapest this summer, is looking to soak in the experiences from the more senior members of the team.
"I think that spending so much time with athletes that you never normally would. I think I'm going to learn a lot in watching how they conduct themselves and taking in what I can learn from their experiences as they've been through this multiple times.
"I think I will learn a lot overall and grow as a person."
After an incredible start to the year where she set a new personal best as she won the 400m Individual Medley during the British Championships at Ponds Forge, Freya believes making the squad is the 'cherry on top' of her wonderful year so far.
"I wasn't expecting to have all of these opportunities to represent my country on such a big stage," she said.
"This is definitely the cherry on top and it feels like everything has paid off. I'm so excited to see where this will take me."
Inspiring others
After being inspired by watching swimming at the London 2012 Olympics, Freya is hoping that this year's Commonwealth Games can have a similar impact on the next generation of swimmers.
"I hope so, I definitely remember when I was younger, watching London 2012 on TV and being inspired by all the swimming that went on there.
"I really hope this has a similar effect because I obviously really enjoy swimming and it has had a great impact on my life, so I hope that other people can have that same experience too."
Colbert, who trains for Nova Centurion in Nottingham, was grateful for everything her local club has done for her.
Freya said: "There's no one more important than my club back at Nova. My coach and everyone I train with on a day-to-day basis.
"I'm the one that gets to go to the Games for a week but they're the ones that have to put up with me for the other 51 weeks of the year, so I think they've definitely had such a big impact on where I am. I don't know if I would be here without them."
Colbert's message to people looking to get involved in swimming is to find somewhere where they can have fun.
She added: "Definitely go somewhere where you feel like you will enjoy yourself. I always swim better when I'm having fun.
"Being somewhere that looks after you, somewhere you can see yourself growing in and somewhere where the people around you inspire you, because you do spend a lot of time with them."
See Team England's full swimming squad here.