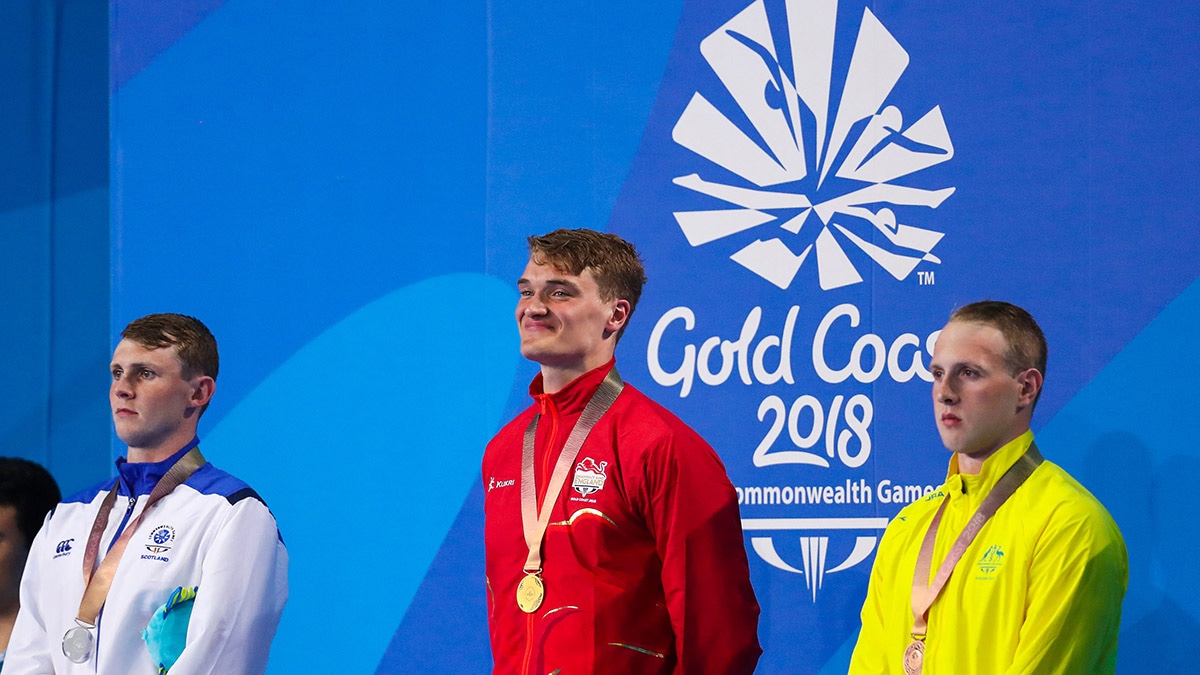 James Wilby 'starting to fire on all cylinders' ahead of Commonwealth Games
January 27, 2022
Double Commonwealth champion James Wilby says he is starting to fire on all cylinders again after taking time away from the sport following the Tokyo 2020 Olympic Games.
Wilby is one of 10 swimmers initially selected to represent Team England at the Birmingham 2022 Commonwealth Games this summer.
The 28-year-old National Centre Loughborough swimmer won a silver medal in Tokyo for his role as part of the Men's 4x100m Medley Relay team – but was disappointed to miss out on an individual podium place.
He then took an extended break from the pool but is now back in full-time training and relishing a hectic year of international competition, which includes the World and European Championships as well as the Commonwealth Games.
When asked if he was motivated following Tokyo, Wilby, who won individual gold in the 200m Breaststroke at the 2018 Gold Coast Commonwealth Games, said: "It's very interesting the points you made about motivation and bouncing back as it's been pretty relevant to me.
"I would be lying if I said it wasn't.
"I've taken a slightly different approach to most of my peers in that I have taken quite an extended step back from the sport. 
"I did a little bit of training here and there and I did focus on myself.
"I spent a lot of time working with people who are very feel equipped to manage that and guide me through the next steps I wanted to make. 
"It's kind of got to a point where I'm back in the water full-time, I'm training at the gym full-time and everything is really starting to fire on all cylinders.
Enjoyment and happiness
"I'm really happy and really enjoying doing that. I feel quite confident about hitting my stride and building real solid momentum going into the upcoming Internationals.. 
Wilby said he is now 'extremely proud' of his Olympic medal and the role he played in helping the team reach the podium.
He swam in the semi-finals to allow Adam Peaty to rest and said: "I played a role – I have to keep reminding myself of that – in getting that team into what ended up being the final result.
"It's quite a new concept. British Swimming is certainly really pushing hard on this aspect of the team element of things and if there are eight people getting a medal at the end of the day, eight people deserve to be praised for that medal.
"It's certainly been a challenge but it's continual work in progress on myself. I've certainly got to a point now where that's in the past and I'm extremely proud of it. 
"I have certainly shifted my focus on the journey on what I'm doing.
"Right now I want to enjoy it. If medals come and performances are great that's ultimately what I want to do – but enjoyment and happiness is a paramount point for me at the moment."
Wilby is looking forward to taking on the best in the world once again and says it's wide open who will be crowned Commonwealth champion.
He said: "I'm very much focused on knowing what I need to work on. 
"I know there are number of things I can work on and tweaks and changes I can make both inside and outside the pool.
Pretty incredible
"Once it comes to international competition, as long as I'm in the best shape I can physically be at that time, it's kind of everyone's race.
"You look at the times, if you want to talk analytically, it's a very stacked field and it kind of comes down to the day and the race strategies and managing yourself through the rounds.
"That's something I have got a decent amount of experience at and constantly working on in training.
"All these pieces of the puzzles coming together is what we need to execute the perfect race at international competitions."
Wilby is relishing the prospect of competing at the Sandwell Aquatics Centre during the six days of the swimming competition, which begins on Friday 29 July.
"I always enjoy the Commonwealth Games full stop," he said. "It's something I have been part of for two Games now and it's really quite a special Games. 
"The friendly Games it's sometimes referred to and it does make it pretty incredible. Having that quite literally not too far away from where I am right now at home with a home crowd is certainly special thing to be a part of.
"I will always be able to look back and say I have raced at a Commonwealth Games at home in England and that's something to be proud of regardless of the result.
"We had an incredible Gold Coast and I think at home the antis will be upped. 
"I'm certainly looking forward to racing and I'm sure all the competitors from Team England are as well."