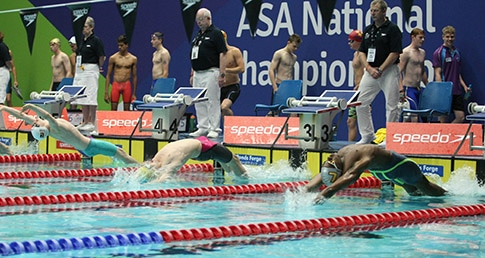 Cuna takes maiden national title
August 3, 2016
Erico Cuna claimed his maiden national title after joining Plymouth Leander in February, while Coral Farrell added gold to her medal tally in the day three finals.
MC 400m Individual Medley finals
Matthew Gibson of Derwentside continued his great form from the morning's heats to claim a gold medal in the Men's MC 400m IM. The S14 swimmer was a good two body lengths ahead of Jordan Catchpole in second, denying the triple gold medallist his fourth title. Gibson touched in 4:24.21 for 882 BDP.
Warrington Warrior's Coral Farrell put in a very similar performance, having a good body length lead by the halfway point and building on that with every lap that followed. The S10 swimmer went four seconds faster than her qualifying time to add gold to her silver medal in the 200m IM. She scored 628 BDP for her time of 5:18.55.
"I've been training really hard all year," said Farrell. "It requires a lot of determination. This is a great sport and you need to be passionate for it.
"This is my first national gold medal and it's an honour to win it. I'm really excited – I've been waiting for this all year.
"The support has been incredible. You get this massive adrenalin rush before you come in and then this is such a nice environment to swim in.
"I've got the 100m Fly tomorrow and the 100m Backstroke on Friday and I'm really excited."
Men's 50m Backstroke finals
In the Men's 15yrs age group, fastest qualifier Harry Noble of Devonport swam a new personal best time of 28.06 to take his first second medal of the competition. He added the 50m backstroke gold to his silver in the 50m Free.
Plymouth Leander's Erico Cuna won his heat in the morning on day three. He was the second fastest qualifier in the 16yrs age group. This was his first ASA Nationals and he touched in an impressive 28.18, winning gold medal and his first national title.
Cuna said: "I came to England this year from Mozambique and joined Plymouth Leander in February, so this is my first nationals. I swam at the British competition last week and I made the final in the 50 Fly.
"It was really good swimming today. It was a lot of effort but the training really paid off," said Cuna
"I'm also doing the 100m Backstroke and looking forward to doing another PB and swimming fast. I feel really happy to be adding to Plymouth Leander's success this week."
Women's 50m Backstroke finals
Borough of Waltham Forest's Emily Iley was the third fastest qualifier in the 12/13yrs age group in this morning's heats.
It seemed that she saved that extra energy to bring into the final. Iley lowered her personal best time for the second time during the final, taking gold with 31.25.
Ciara Standing claimed the 17yrs+ title in the final race of the 50m Backstroke event. The City of Leeds swimmer touched in 30.16 after gaining a good lead over the short sprint.
Men's 100m Freestyle finals
Although Nathan McCleave of Dorking wasn't leading at the turn, he managed to claw his way into gold medal contention over the last 50m. He lowered his personal best time again to claim the 15yrs title.
Cameron Brooks-Clarke of City of Sheffield swam over a second faster than his qualifying time to claim the gold medal in the 17yrs age group.
He managed to overtake the fastest qualifier in his age group, Benjamin Stanford of City of Birmingham, to top the podium.
Other gold medallists
William Barber of City of Lincoln – Men's 13/14yrs 50m Back
William Gayne of Nova Centurion – Men's 17yrs 50m Back
Alasdair Wright of Loughborough University – Men's 18yrs+ Back
Emily Ford of City of Oxford – Women's 14yrs 50m Back
Robyn Moon of Thanet Swim – Women's 15yrs 50m Back
Jane Brown of Newcastle – Women's 16yrs 50m Back
George Robert-Shaw of Dorking – Men's 13/14yrs 100m Free
Daniel Savage of Northampton – Men's 16yrs 100m Free
William Harding of Loughborough Uni – Men's 18yrs+ Free