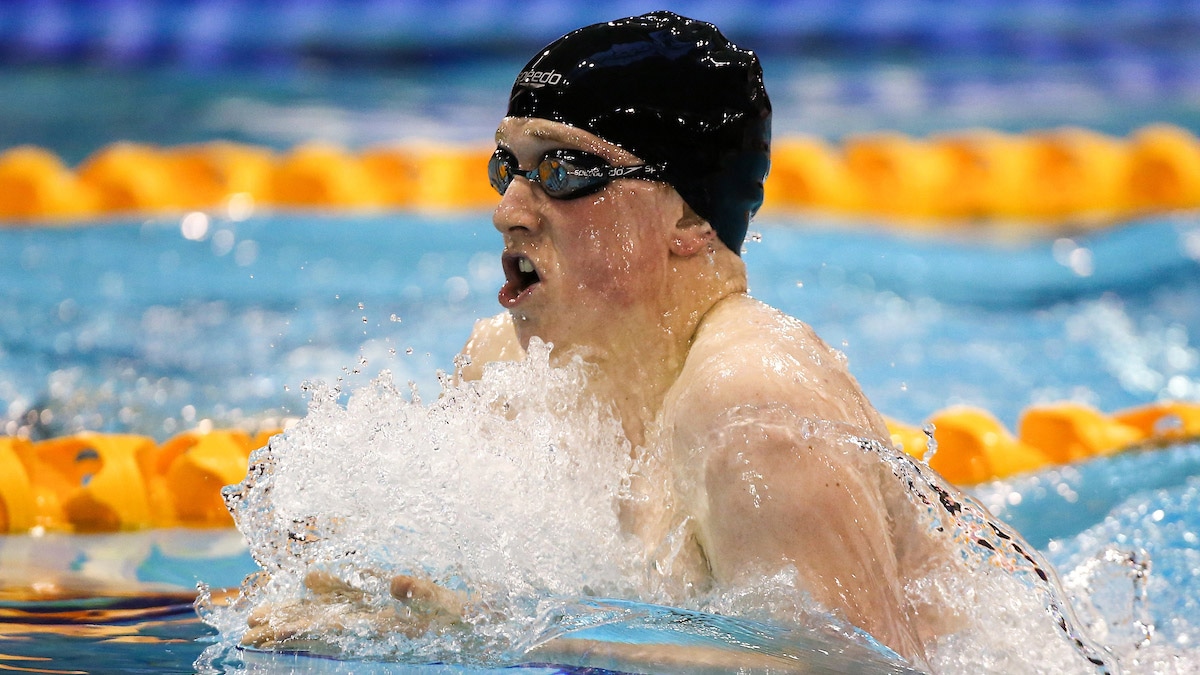 Day Five Preview: Podiums wide open on final day
December 11, 2017
The final day of the Swim England National Winter Championships 2017 is going to be filled with excitement, with some impressive times posted already this year.
With British champions Max Litchfield, Emily Large and Ben Proud competing at the European Short Course Championships, the door is wide open for some new faces to top the podium.
Men's 200m IM: All to fight for
Selected: Max Litchfield (pictured)
Consideration Time: 1:59.76
English Record: 1:56.64 (Max Litchfield, 2017)
Last CWG Gold: James Goddard, 2010
There has only been one English champion in this event at a Commonwealth Games since it was introduced in 1970. That was James Goddard at the 2010 Commonwealths in Delhi, winning the title as part of a double with the 200m Back.
England's best hope to repeat that feat comes from Max Litchfield, who finished fourth at the World Championships 2017 and has already been selected for Team England.
With Litchfield competing at the European Short Course Championships, the event is left open for a few swimmers to take the winter nationals title.
Max's brother Joe Litchfield went under the consideration time with a personal best 1:59.36 to win bronze at the World University Games earlier this year.
Jarvis Parkinson also made the QT this season, winning the British Summer Champs crown in a PB 1:59.71. While these two come in as the fastest on paper, Maidenhead youngster Tom Dean won gold at this year's European Juniors and could improve on his PB 2:01.02.
Women's 200m Fly: Schlosshan leads contenders
Selected: Emily Large (pictured)
Consideration Time: 2:10.19
English Record: 2:04.83 (Ellen Gandy, 2009)
Last CWG Gold: None
England has never won gold in this event at a Commonwealth Games, meaning a place in history beckons for the young English swimmers looking to make an impression.
World junior champion Emily Large stands at the top of that list as the only English swimmer to have made the consideration time this season, and has already been selected for her maiden Games.
While Large is competing at the European Short Course Champs, European Junior Championship silver medallist Ciara Schlosshan is the fastest entry in Sheffield.
Schlosshan was within half a second of the QT with her 2:10.48 PB effort at the European Juniors.  Laura Stephens and Isobel Grant also have PBs within a second of the consideration time and will have their sights set on a podium place at the Winter Champs.
Men's 50m Free: Could be close in splash and dash
Selected: Ben Proud (pictured)
Consideration Time: 22.12
English Record: 21.32 (Ben Proud, 2017)
Last CWG Gold: Ben Proud, 2014
It should be quite a competition in the men's 50m Freestyle, with at least two swimmers who could push for selection as they look to join defending Commonwealth champion Ben Proud on the team for Gold Coast 2018.
Proud has already been selected, having beaten the time to win World Championship bronze earlier this year.
David Cumberlidge is the only other swimmer to have already achieved the consideration time this season, winning the Summer Champs title in 22.03. He will be hunted by Tom Fannon, who set a PB 22.21 earlier this year – just 0.09 seconds slower than the QT.
Men's 200m Back: Youngsters could step up
Selected: Luke Greenbank
Consideration Time: 1:58.67
English Record: 1:55.58 (James Goddard, 2010)
Last CWG Gold: James Goddard, 2010
Like the 200m Individual Medley, there has been no English Commonwealth champion in this event since James Goddard set the existing British record to win gold in 2010.
Luke Greenbank ducked under the consideration time in the heats of this year's World Championships and has been selected for Gold Coast 2018. Greenbank heads the entries in Sheffield as he looks to complete the British Champs and National Winter Champs double.
However, rivals Joe Hulme (pictured), Dan Cross and Brodie Williams have all gone under two minutes this season. It would be no surprise to see one or more go under the consideration time and the 200m Back could prove to be one of the most exciting finals of the week.
Women's 400m Free: Hibbott and Faulkner head-to-head
Selected: Holly Hibbott, Eleanor Faulkner (pictured)
Consideration Time: 4:11.75
English Record: 4:00.60 (Jo Jackson, 2009)
Last CWG Gold: Rebecca Adlington, 2010
The women's 400m Freestyle could be a spectacular finale for the individual events at the 2017 Winter Champs. Both British Summer champion Ellie Faulkner and British champion Holly Hibbott have made the qualifying time for this event and selected for the Team England swimming team next April.
While those two will be favourites to battle it out for the title, the nearest challenge could come from one of Scotland's Olympians Hannah Miley and Camilla Hattersley, both on 4:11 entry times.
Other Events
While no Commonwealth selection will be based on the outcome, the women's 50m Backstroke could prove an exciting sprint on the final day in Sheffield.
Wales' Commonwealth champion Georgia Davies heads entries on 27.49 while teenagers Anna Maine and Cassie Wild, who both competed at this year's World Junior Championships, lead the English and Scottish challenge respectively.
Fourth fastest on paper is Lauren Quigley, who won silver in this event at the 2014 Commonwealths and boasts a PB just 0.12 seconds slower than Fran Halsall's English record 27.57.
Click here to view the draft programme for the National Winter Championships.
Click here to find out tickets and spectator information.