Great Britain second in medal table at inaugural European U23 Championships
August 14, 2023
Great Britain's young swimmers have finished second in the medal table at the inaugural LEN European U23 Swimming Championships.
The British group of 18 won 13 medals across the three days, finishing only behind hosts Ireland in the overall table.
The British contingent impressed throughout with five gold, four silver and four bronzes at the Sport Ireland: National Aquatics Centre in Dublin.
One of those that stood out was Jonathon Adam – who took a double of backstroke titles in the men's 50m and 100m event.
He started with the 50m crown on Saturday after sprinting to the wall in a time of 25.12.
That time won him gold by just one-hundredth of a second as the Loughborough University swimmer held off Greece's Evangelos Makrygiannis to win the title.
He followed that by winning gold in Sunday's 100m final. Adam led the field in the early stages and was the only European to complete the two lengths in under 54 seconds.
He finished second in the race behind South Africa's Piete Coetze but it still earnt him European gold in a strong swim.
Adam's time was a 53.67 which was 0.23 behind the Commonwealth champion in an impressive time from the 21-year-old.
After his second gold Adam said: "I'm really happy. Tonight was more race process but I'm really happy.
"I think the key is just enjoyment. The team we have at the moment is so good and just having a really good team around you and enjoying the competition is really important."
Mildred back on top
Senior European medallist Ed Mildred was also on top form in Dublin.
The 20-year-old won two individual medals with 100m Freestyle gold and 100m Butterfly bronze.
Swimming in lane two, Mildred won Britain's final of six medals on the opening night. He finished strongly in fourth which was promoted to European bronze after the removal of the non-European swimmers in the event.
Speaking after the race, Mildred was happy to have gotten onto the podium after a 'rollercoaster of a season'.
He said: "I'm really happy with that, to be honest. This season's been an absolute rollercoaster for me – anybody that knows me knows that I've swam pretty good my whole life, and then something wasn't working at Trials which wasn't what I wanted.
"I just want to say a big thanks to my dad, especially. We went back to the drawing board and worked through things with my coach and gym coach to get me back to where I was, so I'm really happy with that."
The meet got even better for Mildred on the final night with gold in the 100m Freestyle.
He was the only European to break the 49-second mark with a time 48.90 to become the first U23 European champion in the event.
It was a double British podium after Mildred's teammate Alexander Cohoon followed the Bath University athlete home for bronze.
His bronze was shared with Dutch swimmer Sean Niewold after they both set an identical time of 49.16 to win a medal on his first British appearance.
A proud Mildred was delighted to get back on top of the podium, saying: "It's a pretty good feeling. I haven't been on the top step of a podium for a while so it's nice to be back up there.
"It's a really good place to be in. I can take a lot of confidence going into an Olympic season which is the biggest season of them all and those boys that we have for the 4x100m at the moment are very good so to get on that team would be amazing.
"But that is next year's job so glad to the job here for this year and I'll take that into next season."
Cohoon added: "It's a tough race, you always know it's going to be a dogfight coming down the last 20m but I'm glad to get onto the podium especially with Ed. GB going one and three so that's a great result.
"It's massive for me personally, it's my first GB call up so it's a big learning curve so I'm really happy."
"It's something I've worked so hard for so I'm really chuffed"
A determined Lilly Booker ended her season with European silver in the Women's 200m Breaststroke.
She held off the challenge of Croatia's Ana Blazevic and Denmark's Clara Ryback-Andersen in the closing metres to come home with a medal.
Booker moved into second place by the halfway point but the two behind were always within reach of knocking her outside of the medal places.
But the Loughborough University swimmer kept her cool and gave it everything in the closing stages to finish narrowly ahead of the pair and fellow Brit Gillian Davey.
Just 0.63 split the four swimmers at the finish as Booker took to the podium and Davey unfortunately missed out in fifth. Booker's final time was 2:26.37.
Only Ireland's Mona McSharry – who swept the women's breaststroke events – could go faster than Booker with a time of 2:25.49.
Booker admitted that 'hard work paid off' following her result saying: "I'm so proud.
"It's been such a journey to get here and I've had such a tough season there's been bouts of illness and a couple of injuries to start the year.
"So I'm loving the fact that I've got my hand on a medal and it's something I've worked so hard for so I'm really chuffed.
"A lot of people have seen me in tears on poolside in various different occasions so just like the stamina of motivation is something my coach Dave (Hemmings) always goes on about.
"Just keep the stamina of motivation and the hard work will pay off. So I've had to trust in what he was saying so many times to just go 'yeah it was going to happen'.
"Even if the time wasn't quite right for it tonight, just in the kind of race it's just a matter of who can get their hand on the wall so I think a lot of resilience went into that swim."
Fleur Lewis was proud to win bronze in the Women's 800m Freestyle.
She won the battle for bronze against Italy's Giulia Salin by just 0.32 after a thrilling 16 lengths of the pool.
It was a personal best time for Lewis who set an 8:39.11 to finish as best of the rest behind the leading German duo.
Speaking on her achievement Lewis said: "I feel like I went out a lot harder than I normally do, so I was quite proud of that, as I'm normally quite hesitant, but what we were saying before was trying to go in fearless, so I really tried to do that. I came in and got a PB and a medal, which I'm really happy with."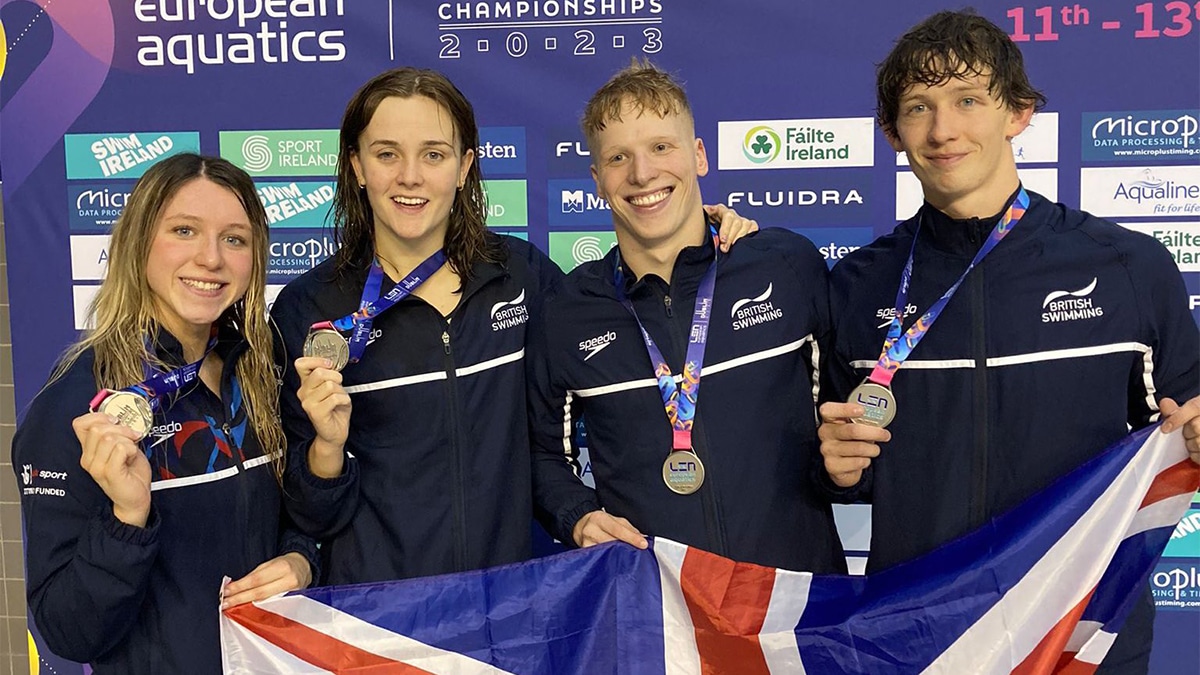 Relay success
There was also more relay success for Great Britain's swimmers in Dublin.
Two silvers in the Mixed 4x100m Medley and the Mixed 4x100m Freestyle showed the great strength in depth of the British line-up.
The Mixed 4x100m Medley opened up the relay account thanks to the quartet of Adam, Greg Butler, Keanna MacInnes and Evelyn Davis.
Adam led the team off and powered into the lead with a strong backstroke leg. Commonwealth champion Butler held his nerve to keep the lead ahead of fast closing Israel at the halfway stage.
MacInnes did well down the third leg of the event making it a four-horse race as Davis dived in with 100 metres to go.
With the Americans storming to victory, Davis was involved in a tight battle with Poland before just getting touched out and seeing the team take the silver medal as the second-fastest Europeans.
Archie Goodburn, Lucy Grieve and Kate Clifton also won medals for their showing in the heats alongside Adam.
It was a similar story in the Mixed 4x100m Freestyle as Great Britain once again narrowly lost out on European gold to Poland.
The team of Mildred, Cahoon, Clifton and Davis teamed up for a time of 3:28.52 that was just 0.20 off the Polish team.
The two teams traded places throughout the contest but in the end, the Brits just missed out despite an exceptional showing from each member of the quarter, who became European silver medallists.
Lewis Fraser also received a medal after he swum in place of Mildred in the heats.
Charlie Brown opened his British medal account with silver in the 200m Backstroke final.
Brown was always in touch of the leading pack but just lost out on the European crown to Kai Van Westering (Netherlands) who came from behind to finish just 0.19 ahead of Brown.
The Loughborough University swimmer was proud of his swim saying: "It was good!
"It hurt a little bit towards the end but I was with two quick guys so I just tried to stay in the race and bring it back.
"I kept the strategy the same [from the heats], I just wanted to get out a bit quicker on that second and third 50 metres, and bring it home as fast as I could."
It was a strong meet for Scotland's MacInnes who won two individual golds of her own too.
She used her early speed to claim gold in the Women's 100m Butterfly on the opening night. A split time of 27.40 gave her the lead at the halfway point before she held off Ireland's Ellen Walshe to touch the wall first.
The University of Stirling athlete then added a second European gold after passing Serbia's Anja Crevar in the run to the finish in the 200m Butterfly final just 24 hours later.
The final British medal went to Scotland's Archie Goodburn who swam well for bronze in the Men's 50m Breaststroke.
You can catch up on all the results from the LEN European U23 Swimming Championships here.
Images – British Swimming