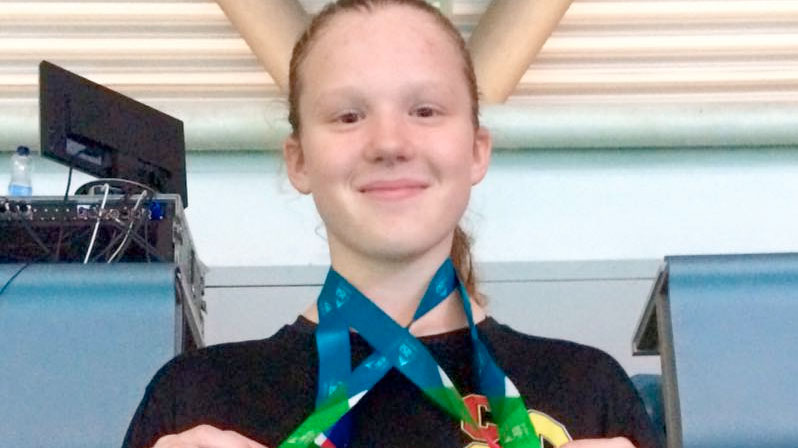 Hat-trick for Herron in day two finals
August 2, 2016
Olivia Herron of Salford completed her golden hat-trick after winning the 100m Fly and 200m Breaststroke titles, while a number of swimmers collected their second golds of the meet on day two of the ASA National Summer Championships 2016.
Men's 100m Butterfly finals
In the Men's 15yrs 100m Fly, Alfie Kelly of Newcastle Swim Team took the gold medal, lowering his personal best time for the second time today. Kelly swam 58.8 to take the top spot ahead of Boldemere's Leo Karski.
In the 16yrs event, James Woodward took his second title of the competition. The Potters Bar swimmer added the 100m Fly to his 200m Freestyle from yesterday. He touched in 57.99 to lower his PB again.
Women's 100m Butterfly finals
In the 12/13yrs age group, City of Salford's Olivia Herron claimed a gold medal, swimming over a second under her PB set in the morning's heats. She was perhaps spurred on by the gold medal in the 100m Breaststroke and silver in the 400m IM yesterday.
Alicia Stephenson seems to have been gaining confidence over the course of the competition. The City of Birmingham swimmer already clocked a bronze and silver medal time in her event's yesterday, and she added the 14yrs 100m Fly title with a significant personal best time of 1:05.22.
Stephenson commented: "The swim today was really good. I haven't PB'd for quite a few months and when I saw the time I was like 'oh my gosh, I've finally gone under 1.06'. I've got one more race, the 50 Fly on Friday and hopefully it will be just as successful as the rest of my other races."
"It's amazing," said Stephenson. "I never expected this at all. The first two [medals], I wasn't expecting them."
Men's 200m Breaststroke finals
In the 16yrs age group, Cockermouth's Connor Joyce put in an incredible swim for the gold medal win. He swam over five seconds faster than his time in the morning's heats, but also lowered his PB by over three seconds.
Oliver Crosby of Stockport Metro smashed his personal best time to take gold in the Men's 17yrs Breaststroke final. He knocked over two seconds from his heat swim to add a second gold to his medal tally, touching 2:22.93.
Crosby commented: "It's really nice to have a PB. I've not had the best season because I've been injured, so it's really nice to come here and get gold. In the first 100m the adrenalin was going, but I hurt my back in the 50, so I was pleased with it overall.
"I wasn't expecting anything as I haven't really raced this season, so I'm happy with how this has gone," said Crosby.
"Everyone has been really supportive so it's been really good. I've got the 200m IM tomorrow so I hope to medal in that as well."
Women's 200m Breaststroke finals
Herron continued her form on day two, securing her golden hat-trick after winning the 12/13yrs 200m Breaststroke. The City of Salford swimmer was over four seconds ahead of second place, and touched the wall in 2:38.98.
Charlotte Nester of Wigan Best put in an outstanding performance to claim the 15yrs title. She swam over four seconds under her personal best time to top the podium with 2:42.74.
Other gold medallists
Ryan Wheeler (Winsford) – Men's 12/13yrs 100m Butterfly
Joshua Reasbeck (Doncaster) – Men's 17yrs 100m Butterfly
Matthew Domville (Warrington Warriors) – Men's 18yrs+ 100m Butterfly
Rebecca Fisher (City of Leeds) – Women's 15yrs 100m Butterfly
Molly Robinson (Guildford) – Women's 16yrs 100m Butterfly
Hannah Burvill (Woking) – Women's 17yrs+ 100m Butterfly
Oliver Watson (City of Birmingham) – Men's 13/14yrs 200m Breaststroke
Dylan Hood (Aquae Sulis) – Men's 15yrs 200m Breaststroke
Alexander De Tullio (Chelsea and Westminster) – Men's 18yrs+ 200m Breaststroke
Tabitha Watkins (Millfield) – Women's 14yrs 200m Breaststroke
Charlotte Nester (Wigan) – Women's 15yrs 200m Breaststroke
Elizabeth Elms (Havant and Waterlooville) – Women's 16yrs 200m Breaststroke
Lucy Davies (Weston-super-Mare) – Women's 17yrs+ 200m Breaststroke
Image credit: City of Salford SC Facebook