Jakob Goodman smashes PB for stunning gold at National Winter Championships
December 8, 2019
Jakob Goodman surged from lane eight for a stunning victory in the Men's Open 200m Freestyle at the Swim England National Winter Championships.
The Millfield School swimmer was looking for his first individual gold medal of the Championships after winning three bronze medals.
After a tactical heat swim of 1:48.91, Goodman knew he could challenge for a podium place if he beat his personal best time.
Loughborough University's Harry Constantine went out strongly from lane three and led at every turn, even opening up a lead of more than half a second at the halfway stage.
Down the final length, it looked line those in the middle lanes – Constantine, teamipswich's Regan Lloyd and Loughborough Uni's Alexander Bregazzi – were going to battle it out for the gold medal.
But they were overshadowed by Goodman, who stormed home to win gold in 1:45.68.
That shaved almost two seconds off his previous PB and secured his first senior national title.
He said: "After three bronze medals this week, it's great to finish with a gold medal.
"In the heats, I was aware that it was going to be a really quick final, so I didn't want to go in having absolutely maxed the heats, so I knew I could make finals just on my PB so having been able to get myself into an outside lane and people not being able to see me out there and then just being able to keep pushing through would be the main reasons [for being in lane eight].
"I want to make my first senior team [in 2020]. But obviously like most people, the main thing is Olympic trials. Most people want to qualify for the Olympics and that's the main target, but if not then making a European senior team would be good."
Constantine held on to win silver with a massive personal best time of 1:45.76, as there was another surprise from the outside lanes.
Jay Lelliott – already a four-time gold medallist at these Championships – finished strongly from lane seven to seal the bronze in 1:46.01.
Lloyd and Bregazzi tied for fourth place in 1:46.19.
Meanwhile, Ed Mildred lowered his own English junior record as he finished sixth in 1:47.21 to win the youth gold medal, improving his PB by more than one second.
Hat-trick for Hindley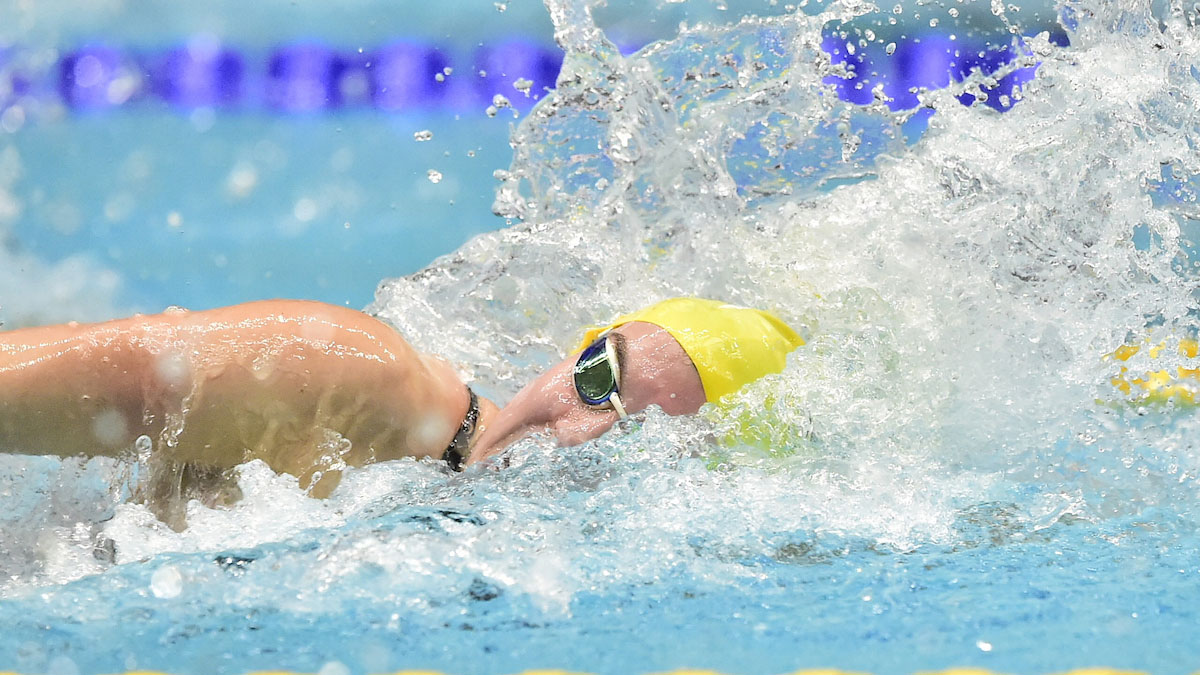 Isabella Hindley won her third gold of the week, adding the Women's 50m Freestyle to the 100m Individual Medley and 100m Freestyle titles she collected earlier at Ponds Forge.
The Brompton swimmer had set a new personal best time in the heats to comfortably qualify fastest, but she still had plenty to give in the final.
Hindley clocked 24.39s to complete her hat-trick of titles and take her medal haul to four, having also won silver in the 100m Backstroke.
She said: "I'm really happy overall with my performances. Swimming short course is always fun as we don't get to do it that often.
"But I'm really happy, 100% best times so I really can't complain about that!
"It's also really fun to just get up and race mid-season and see where you're at.
"The Olympic trials are in April so that'll be the main target [for 2020], but otherwise I want to keep improving and to keep working on the little things. I've focused a lot on technique this year, so I'm excited to see what I can do at the end of the season."
Loughborough University's Emily Crane also set a new PB as she clinched the silver medal in 24.75s, while Mount Kelly's Macy Lawrence went under 25 seconds for the first time in her career to secure the open bronze and junior gold medals.
Bromley's Evelyn Davis, 15, set a new British junior short course record of 25.27s as she finished sixth to win the youth silver medal.
Valsecchi pips Peters
Edoardo Valsecchi pipped Jacob Peters to win the Men's Open 50m Butterfly title.
Poole swimmer Peters had beaten Valsecchi to the 100m Butterfly gold medal earlier in the week, but Valsecchi looked determined to finish his Championships on a high.
After setting a new personal best of 23.24 to qualify fastest for the final, the Plymouth Leander went even better to wrap up the national title.
Valsecchi clocked 23.11s, as Peters settled for silver in a season's best time of 23.33s.
City of Manchester's Sam Horrocks claimed the bronze medal in 23.46, while Plymouth Leander completed a one-two in the youth final, as Reid Jones and Samuel Perks won gold and silver respectively.