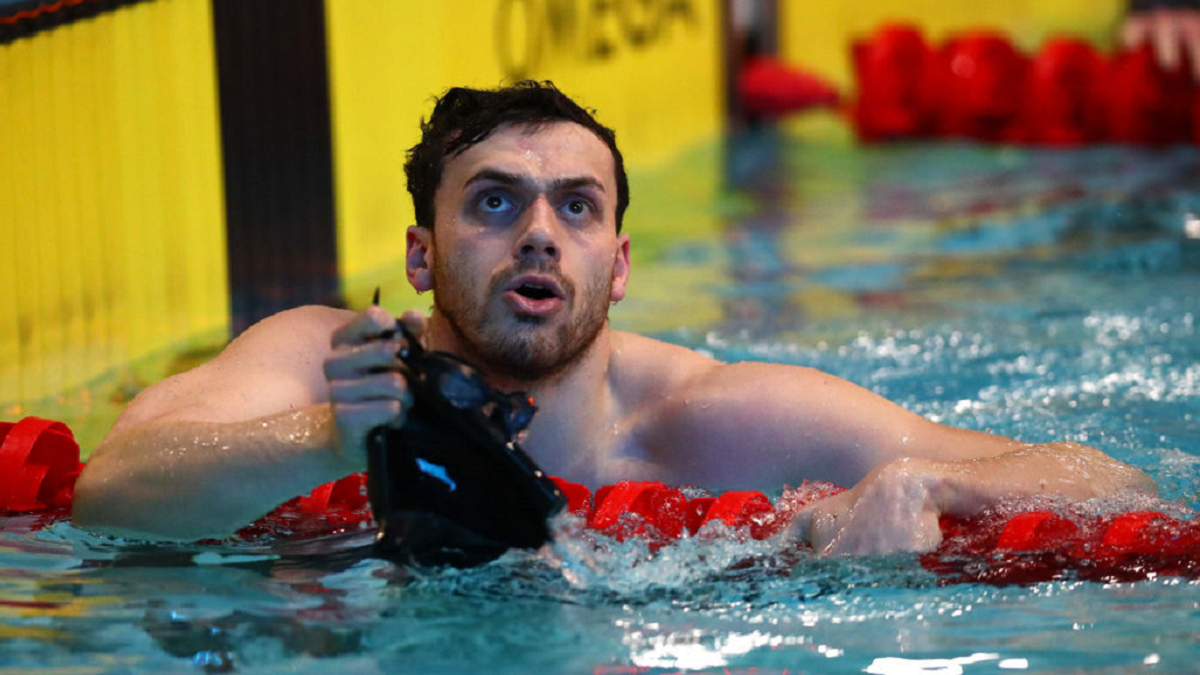 James Guy blows away competition at British Swimming Invitational Meet
March 13, 2021
James Guy blew away his competition on day two of the British Swimming Invitational Meet as he continued his great form.
The Bath National Centre swimmer finished almost four seconds ahead in the Men's 200m Butterfly to make it back-to-back 1:56 times in this event.
Guy claimed victory at the Manchester International Swim Meet in February with a time of 1:56.34 and followed it with another impressive performance, but this time he was just outside of that, clocking in at 1:56.79.
The Olympic silver medallist was 3.72 seconds in front of Northampton's Ed Mildred, who finished in 2:00.07 to take second place.
Bath teammate, Jacob Peters, was in third (2:01.35) with all three swimmers improving on their heat times.
Freya wins freestyle battle
Freya Anderson and Abbie Wood battled it out yet again in the Women's 200m Freestyle final.
Anderson, who is the third quickest Brit of all time in this event, finished strongly to take the win in a time of 1:58.23.
Wood, of Buxton Swimming Club, was just 0.19 seconds behind finishing in 1:58.42. She was followed by Loughborough's Candice Hall who swam a new personal best of 2:00.52 to finish in third place.
The Women's Multi Class 200m Freestyle final saw Zara Mullooly lower her own British para-swimming record in the S10 category, swimming a time of 2:13.30 to rack up 898 multi-classification points.
Aberdeen's Toni Shaw (S9) was in second place in that race with 863 points and a time of 2:16.40 with third place taken by S14 Hatfield swimmer Louise Fiddes who clocked in at 2:14.26 and earning 751 points.
Stirling swims from the Scots
Kathleen Dawson became only the second ever Briton to swim under 59 seconds in the Women's 100m Backstroke.
The University of Stirling swimmer claimed a massive personal best as she touched the wall in 58.65 seconds, beating her PB from the heats and adding to her 50m Backstroke PB during day one of the event.
On her performance, Dawson said: "I'm over the moon with that! I mean I don't want to toot my own horn, but I kind of expected to go a 58 because I've been swimming so well at these time trials we've been doing in Stirling, so it was expected, but I'm still buzzing with it.
"This morning I had kind of relaxed the first fifty so I knew I had more to give in the first fifty tonight, and then I just wanted to repeat the second fifty like I did this morning so it all just came together."
Her teammate, Cassie Wild, was the only other swimmer to finish under the minute mark with her time of 59.56 seconds. In third was Welsh swimmer Medi Harris, finishing in 1:01.19.
Another Stirling swimmer, Abby Kane, came second in the Women's Multi Class 100m Backstroke but was beaten by City of Manchester's Hannah Russell (S12).
Russell's multi-classification points total was 844 after her time of 1:09.90. S13 swimmers Kane (1:12.57) finished on 100 less with 744 and Katie Crowhurst of Wycombe (1:15.36) accumulated 664 points.
All-star line ups
The Men's 200m Individual Medley and Women's 100m Breaststroke saw the best of the best race against each other with some close finishes.
The men's event featured Max and Joe Litchfield, Duncan Scott and the newly crowned 200m Backstroke British record holder, Luke Greenbank.
Scott finished on top of the pile with his time of 1:59.36, after also qualifying quickest in the heats. He was pushed all the way by Joe Litchfield, who finished just 0.35 seconds behind him (1:59.71).
The senior Litchfield brother, Max, was just outside the two minute mark and claimed third place (2:00.96).
The women's event saw five of the top 10 British performers of all time in the event – Sarah Vasey, Molly Renshaw, Kayla Van Der Merwe, Jocelyn Ulyett and Imogen Clark – face each other.
Vasey and Renshaw were not far from new personal best times, with the former finishing first with a time of 1:07.09 and the latter clocking in at 1:07.42 – just 0.33 seconds separating the pair.
It was Winchester's Clark who was next to touch the wall, finishing in 1:08.29.
Peaty and Willmott secure wins
The current world record holder in the Men's 50m Breaststroke, Adam Peaty, produced another great performance as he continues to build up to the Olympics.
The 26-year-old added to his 100m Breaststroke win on day one with a victory in the 50m event.
It was the same names featuring in first and second place in both events, as Peaty finished in 26.80 seconds with James Wilby next up with a time of 27.77 seconds.
Oxford's David Murphy was close to a personal best time with his 27.84 which placed him in third.
Meanwhile, earlier in the session Aimee Willmott set the sixth quickest time in the world this year in the Women's 400m Individual Medley.
Willmott, who was a finalist in this event at the 2016 Olympic Games in Rio, improved on her time from the heats to record a 4:39.11 finish.
It was a battle of the junior swimmers for second and third, as Millfield's Lily Booker (4:47.39) touched ahead of Freya Colbert (4:49.75) of Nova Centurion Swimming Club.